Culpeper hospital
Novant Health UVA Health System

Updated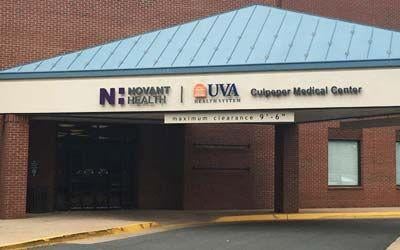 As featured on
Novant Health and UVA Health are in discussions for UVA Health to acquire full ownership of Novant Health UVA Health System, the institutions announced Wednesday.
Rapp News and Foothills Forum are continuously covering the impact of COVID-19 on our community. Sign up to have the C-19 Daily Update delivered to your inbox every morning.
Click here to sign up...
Community support for the nonprofit, nonpartisan Foothills Forum provides research and reporting about Rappahannock County matters, in collaboration with the Rappahannock News.
Here's our work so far...
Humidity:

98%

Cloud Coverage:

98%

Wind:

2 mph

UV Index:

2 Low

Sunrise:

06:46:08 AM

Sunset:

06:04:53 PM
Today
Cloudy with occasional rain showers. High 48F. Winds light and variable. Chance of rain 60%.
Tonight
Periods of rain. Low 47F. Winds light and variable. Chance of rain 80%. Rainfall around a quarter of an inch.
Tomorrow
Showers in the morning, then partly cloudy in the afternoon. High 56F. Winds WNW at 10 to 20 mph. Chance of rain 50%.