The free spirits of Rappahannock's counterculture past
Donnie Mullan was 21 years old when he arrived in Rappahannock County in the fall of 1972 with all his possessions in a footlocker in the back of his Datsun pickup truck. He and a group of 12 other young people had reached their final destination, the place where they would make their new home together in the forested hollow near Spyder Mountain in Sperryville. As far as Mullan was concerned, he had arrived in paradise.
The commune — which they called the Sperryville Spyders after someone wrote a letter addressed to the Sperryville Spyders — was made up of artists and craftsmen. The industrious young crew of seven men and six women were proficient in a variety of skills like leatherworking, metalsmithing and textile artistry. They made a living selling their wares locally and traveling to nearby craft shows.
"Life was cheap down here," says Mullan, now 70. "We didn't have any rent to speak of, so we only had to come up with food and whatever we put into the property."
The group of free spirits practiced a back-to-the-land lifestyle, cohabiting a 3-bedroom log cabin in the woods, disconnected from the modern world without a telephone or indoor plumbing. The mountain dwelling provided a simple life. They fired up the wood stove for heating and cooking, collected water from a nearby spring for drinking, and made use of an outhouse. They spent their days honing their crafts and performing the essential tasks of life, like tending to the vegetable garden or splitting firewood. 
"The appeal was definitely living off the land," Mullan says. "I just love this kind of lifestyle, still do, I wouldn't trade it for anything." 
By the mid-1970s, there were said to be anywhere from 500 to 1,000 hippies living in the county who envisioned themselves as part of the counterculture movement. Aside from the Spyders there was The Valley, a commune located off Fodderstack Road, and Free State near Old Rag Mountain. Eldon Farms outside of Woodville offered up cheap rent at 20 old farmhouses, and other unnamed communities were scattered throughout Rappahannock.
What was the grand attraction for all these young nonconformists to Rappahannock County? Perhaps it was the bucolic landscape, or the inexpensive accommodations by way of mountain cabins and antiquated farmhouses, or the proximity to Washington, D.C., or word-of-mouth from the pioneers who arrived first and established the counterculture movement here in our county.
For the Spyders, it was chance. They discovered their new home after Hurricane Agnes forced them out of their previous river-side residence in Ellicott City, Maryland in June of 1972. Searching for a new place to live, they took out an ad in the Washington Post that, according to Mullan, "said something like: 'looking for farmland, will do repairs.'" It just so happened that the ad was answered by a local Sperryville landowner.
For Sam Cliffton, who later lived on Spyder Mountain, Rappahannock  was a refuge from the city life of Brooklyn, New York. He and his then girlfriend were touring the country in an old van when they found themselves renting a farmhouse at Eldon Farms.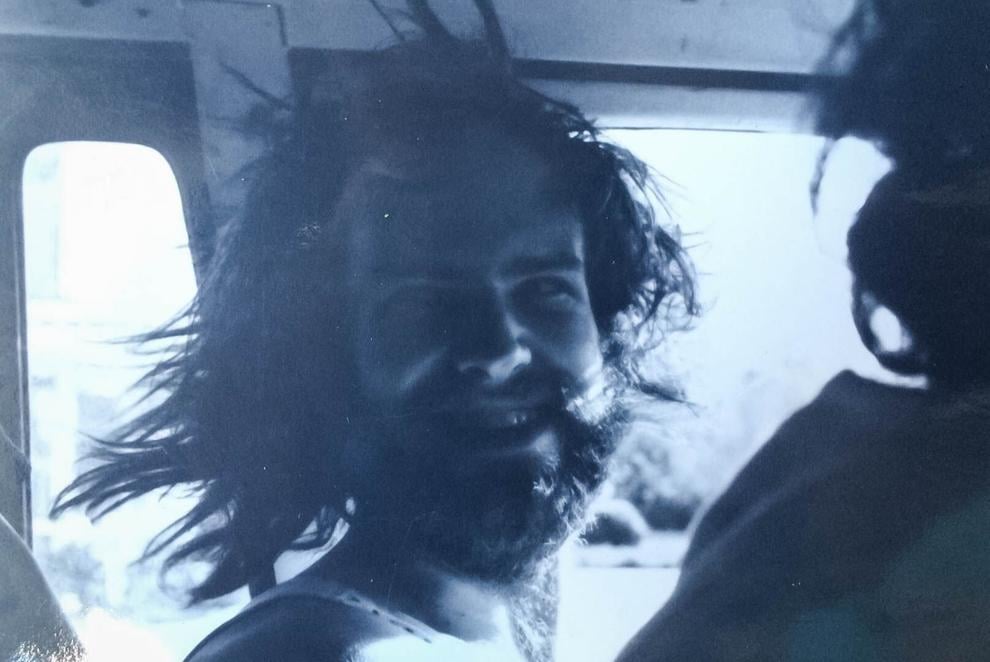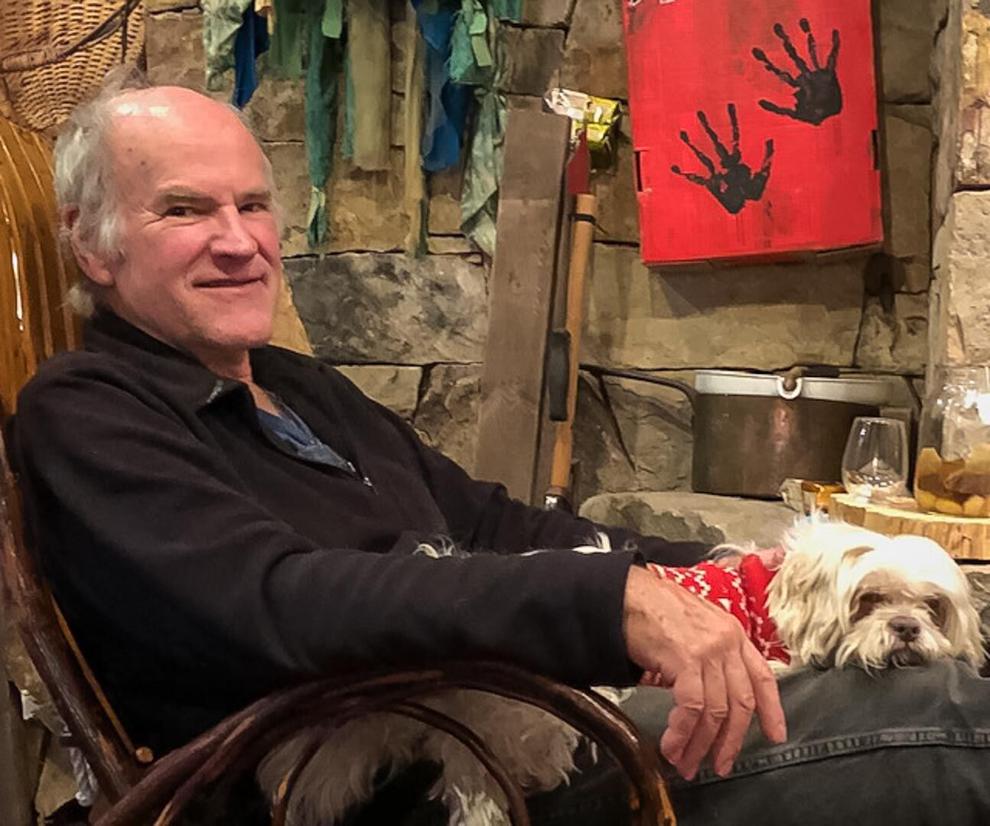 Cliffton says he was immediately taken with "the people, the beauty of the place and the ease of living," adding that the comradery of the counterculture lifestyle was also alluring.  
Immersing himself in the community and the hippie way of life, Cliffton met other like-minded individuals at the Corner Store or the Hillsdale Drive-In movie theatre next to the Hillsdale gas station on Route 211. A few members of the community had refurbished it and made it into a community center of sorts where the groups would gather on Fridays and Saturdays to play music and volleyball in the afternoons and watch such films as "Women in Love" and "McCabe and Mrs. Miller" in the evenings. At the drive-in snackbar, two tacos could be purchased for 50 cents. Any reason was a good reason to congregate and celebrate the spirit of free living and community.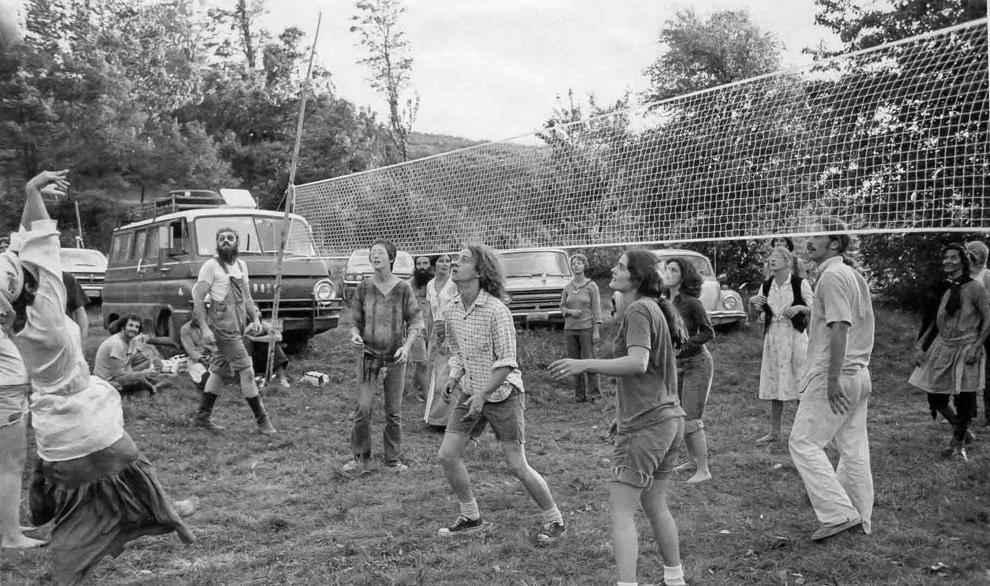 "Pretty soon word got out that I had hot water and a great big bathtub," Cliffton says. A hot water heater was a rare commodity. "Well, pretty soon I was having bath nights. Thursday night was bath night at my house. … and that's how I met the boys and the girls from Spyders."
Every month, the communities would alternate hosting a gathering on full moon nights. They would convene for live music performed by local bands. A free school for the children and a food co-op were other communal elements that would bring the people together. 
"It didn't take much for people to get together," Cliffton says. "Weekends, there was always something going on."
And everyone, it seems, recalls one of the biggest parties of the decade. It was held at the Sperryville Spyders' commune to celebrate the birth of Mullan's first child. 
Unable to get in touch with the midwife, the group used what they had at their disposal: a midwife manual written in Spanish. With none of them able to read Spanish, they followed along with the illustrations and, fortunately, the birth went smoothly. Once word got out, people came together to celebrate new life.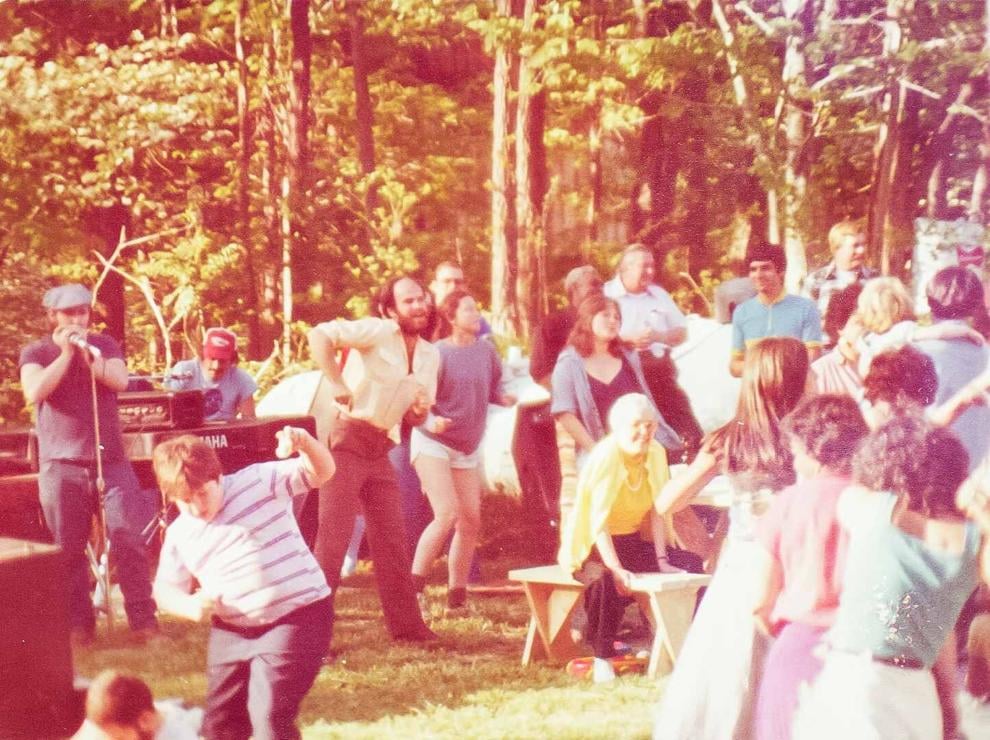 Over the years the hippie way of life seemed to fizzle out. Times changed and the counterculture kids grew older. Affordable living became scarcer in the county, forcing some to relocate. Many members of the various communes moved away to new sanctuaries. "Just about everybody went to Key West," says Mullan, referring to his fellow Spyders.
Others started families and careers that were not tenable within the boundaries of their communal settlements. "People just found their way I believe, and their way might [have been] no longer being a free spirit," Cliffton says. "In their heart they're still a free spirit but in reality, they've got to make the rent and the car payment."
But Mullan remained on Spyder Mountain and has made his living in the county as a skilled builder and cabinet maker. After he started a family he built them a home, one section at a time, and continued the off-grid life, living without electricity or running water until 1988.
Sam Cliffton also stayed in the county and made a family of his own. He started a successful construction company and years later started another business building high end hot tubs. Eventually, Cliffton made a career out of designing and building dozens of homes for people in the area.
Nowadays some of them still gather, albeit not quite as often as before, for special occasions or events. And they may reminisce about the good old days filled with peace and love, a handful of years when life felt serene.
---
Sign up for the C-19 Daily Update, a free newsletter delivered to your email inbox every morning.
---