A magazine article 42 years ago launched the Sperryville glass artist's passion
The Birds of Hope strutting and preening in Washington's Gay Street Gallery are the perfect introduction to stained glass artist Patricia Brennan.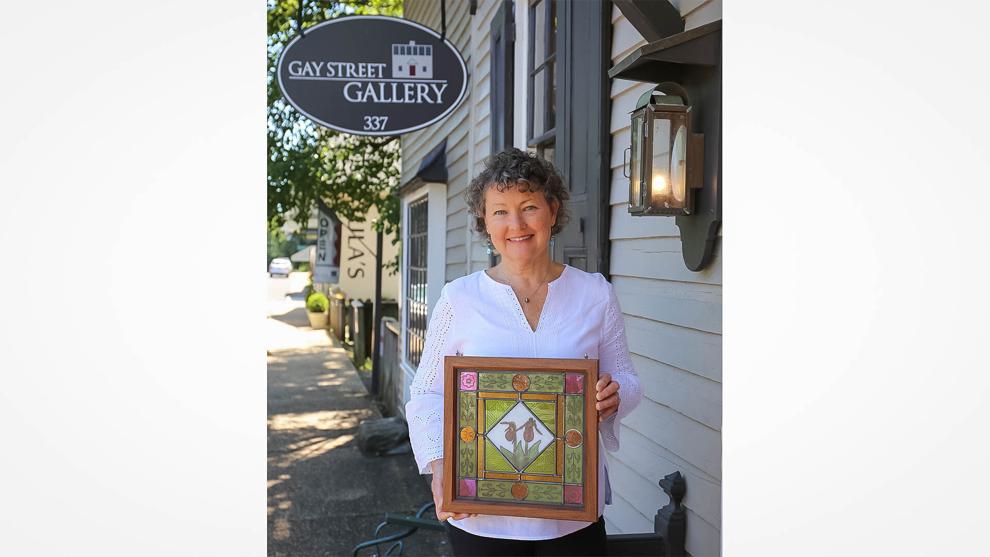 In vivid colors that dazzle and sparkle, the engaging avians are her Covid project, hatched in her imagination during lockdown while she watched cardinals, goldfinches and indigo buntings flock to the feeders around De'Danann studio on Spyder Mountain. "Flying around and being silly, they bring me such joy," she said, grinning at the recollection of a red bellied woodpecker who repeatedly performed a pole dance to reach the suet. "They make me smile, and in this time of turmoil when we're not feeling much joy, we need those smiles!"
And there's another reason to look to birds for lessons, Patricia noted. "Birds are so adaptable. If their food source disappears, they'll change the size of their bill to fit the new food. This is a time of change. Birds show us that change can be managed."
Patricia started her study of glass 42 years ago with a how-to article on stained glass in Mother Earth News. "It inspired me!" she recalled. She found a class in nearby Boulder, Colorado, and then she found an apprenticeship. "I was intrigued by glass from the beginning — the light and the color, the color influenced by the light — and it's never stopped. I'm still mesmerized today." 
It was light that drew her to Rappahannock County as well. In the mid-1970s, she visited old friends who rented a tenant cottage at Piedmont Farm in the F.T. Valley. Recalling a summer evening, staring at the heavens from blankets spread in a field, watching for shooting stars, she was captured by a billion bright twinkles. "It was so beautiful! I had never seen so many stars. I couldn't believe it was real."
She packed up her glass tools and her two-year-old daughter, Brie, and moved to Rappahannock to continue her exploration of glass arts. (Her husband came along, too, but the marriage ended soon after the move). She rented a cabin under the shadow of Old Rag. To pay the bills, she was co-manager, waitress, cook, dish washer, custodian and whatever at the Last Nickle Café on Culpeper's Main Street. Meanwhile, in her off hours, she was learning by doing with glass. And there was so much to learn.
She pored over the SGAA (Stained Glass Association of America journal), the official stained glass Bible. It's about a foot thick, and she read it backwards and forwards. "Again and again, over and over." Followed by long hours of trial and error, mistakes and more practice while the discard glass barrels overflowed. She took a few classes, spent primarily sitting and watching. "Well, that's great. Now how do I do it?" she'd ask herself before puzzling it out. "I work from an intuitive place," Patricia explained. "I gather knowledge, draw it up, and then solve the riddle of how to use it. And I have to keep practicing everything I've learned, or else I'll forget!"
At the Last Nickle Café, she met Donnie Mullan. They married in 1983 on Spyder Mountain above Old Hollow where the master carpenter built their home, and in 2000, he transformed an old barn into her studio. Patricia home-schooled three of their five children, gardened, landscaped and filled in part-time as carpenter's helper on the house and studio projects, all the while continuing her self-study in glass arts and refining her style.
She says she "totally stumbled on a direction and market focus" in the Celtic history that she loved. Tutha De'Danann was the Lord of Light in Celtic mythology and light was the heart of glass art, so De'Danann became the name of the new studio just a few hundred yards down the mountain from the house. 
Glass painting, fusing, silk screening, sand blasting, etching, mosaics and slumping (a kiln technique for shaping fused glass into bowls and other forms) — Patricia mastered them all. But silk screening came first.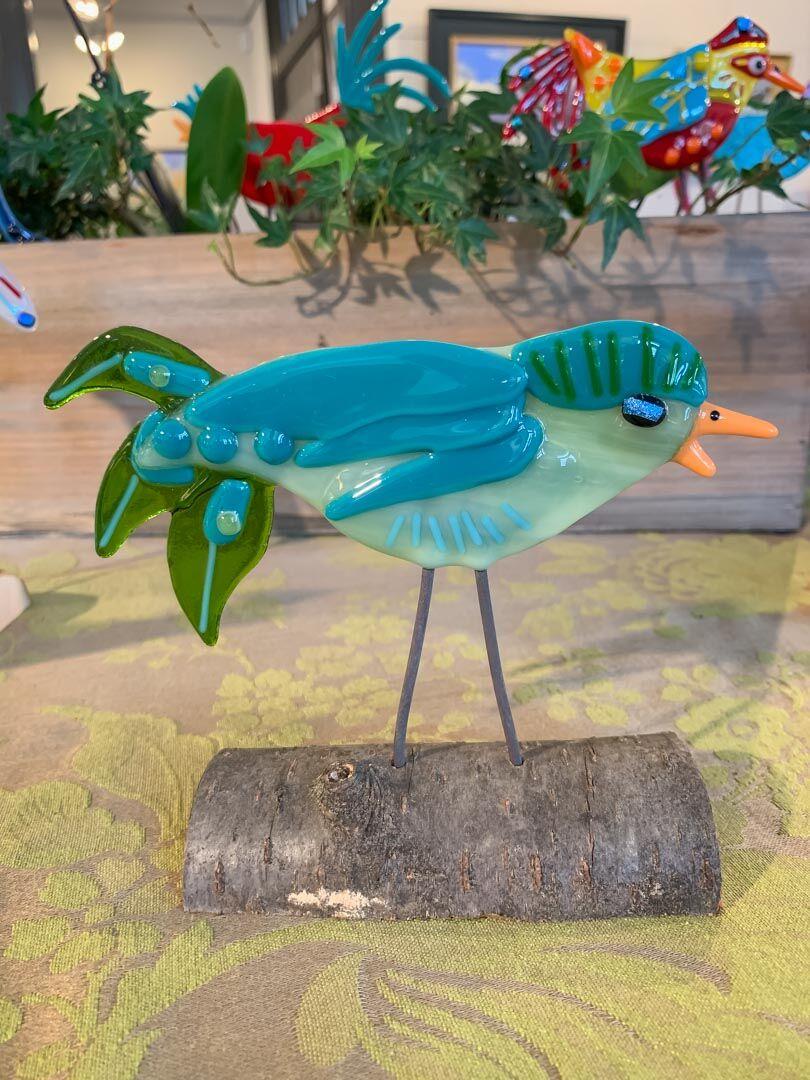 "Celtic designs were too ornate for hand painting but I could print hundreds of pieces of glass from one silk screen," she noted. And so she did. "Hundreds and hundreds of sun catchers decorated with a Celtic cross or a dragon. That was basically how I made money — $12 at a time." 
She and Donnie followed the Celtic festival circuit for a decade. "He would pack me up, get me there, set me up, then hook up with our family of festival artists until it was time to break me down, load me up and drive me home." From as far away as New Orleans, Boston and Milwaukee, she added. "Donnie made it happen."
Patricia expanded her specialties to include family crests and heraldry work. In between festivals, she explored combinations of different approaches, like incorporating painting and fusing in mosaics, finding new ways to meld techniques to achieve the look and the feeling she wanted in a piece. Flora and fauna from her gardens were transposed to glass, her work was featured in local shops and shows, and commissions for stained glass windows turned from a trickle to a flow.
"I love the process of co-creating with my clients, learning what style talks to them, what images are meaningful, their favorite colors, and then coming up with a design that captures it all. I've done hundreds and hundreds of stained glass windows, and I've never for a second been bored."
With the end of the festival circuit, the climb in commissions and the completion of De'Danann Studio, Patricia added classes to her repertoire. "Teaching feels like art to me, too. It's more co-creation, trying to figure out what my students want to do and giving them the tools to do it."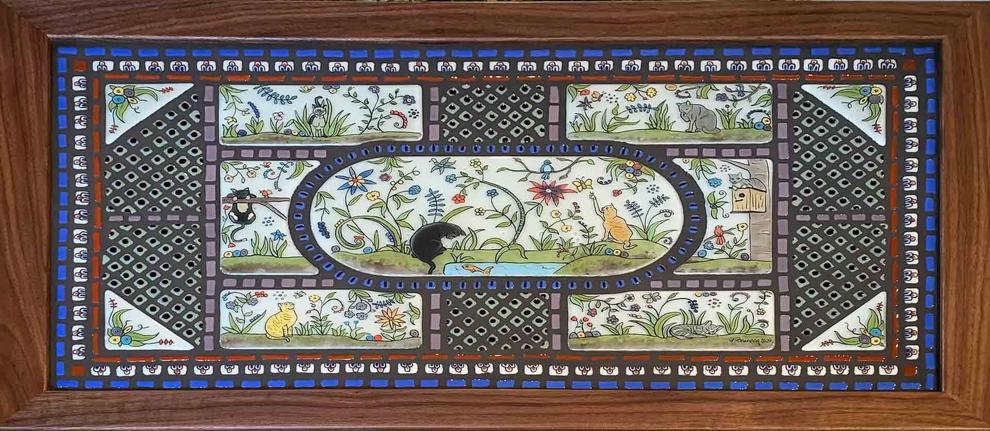 When things don't turn out exactly as planned, the teacher is right there to troubleshoot. "No problem" is always the answer to "Help!" and there's always a way to fix everything. Never is there a discouraging word, not even when a student's vision reaches a little beyond skill level. "Let's try to do everything!" is always the response, and in a flash, Patricia manages to boost skills to match vision. This happy blend of talent with enthusiasm and good cheer makes studio time restorative as well as productive. 
"It's cheaper than therapy," noted one satisfied 12-year veteran of De'Danann classes, "And bonus! You come away with beautiful things."
Studying with a museum restoration specialist in 1998 gave Patricia a solid grounding in historical work. It was a new adventure -- taking apart, repairing and putting back together centuries-old stained glass. "The magic moments come when the pieces fit together perfectly!" Patricia enthused, the audible exclamation point conveying her excitement at the successful re-assemblies.     
Art adventuring and willingness to dare continue to push her work in new directions, adding intricacy and dazzling color in unique designs that draw and hold the eye.  Who knows where the light will take her next, but for today, she's most proud of the 13 stained glass windows at Macedonia Baptist Church in Flint Hill. 
"My grandchildren and their grandchildren can come back to that church" Patricia concluded, explaining why her journey to the light will go on as long as she can cut, foil and solder.  "They can see something I created with my own hands, from my own heart, something that stands the test of time, something to pass on to the generations." 
---
Light, light and more light
Patricia Brennan's glass art will be shown at Gay Street Gallery in Washington until August 17. 
This three-artist show is full of light. 
Light shines softly from the sunrises and sunsets of Martin Woodard's luminous landscapes of Rappahannock vistas. His viewscapes will be familiar to those who love the Earth's oldest mountains, where he finds his muse. 
In gallery-owner Kevin Adams' rural scenes of farms and villages, light plays hide-and-seek and contrast games with shadows. Noted here and abroad for his American landscape paintings, his work is also featured in D.C.'s Watergate Gallery and the Handiworks Gallery in Blue Hill, Maine.  
The gallery is open 10 a.m. to 5 p.m. every day but Tuesday. View works by Brennan, Woodward and Kevin Adams at gaystreetgallery.com.
---
Click here to sign up for the C-19 Daily Update, a free newsletter delivered to your email inbox every morning.