The story of a sewer system might seem an odd chapter to feature in 200 years of village history. But without that sewer system, there likely would be no village — at least not the vibrant and bustling Sperryville of today.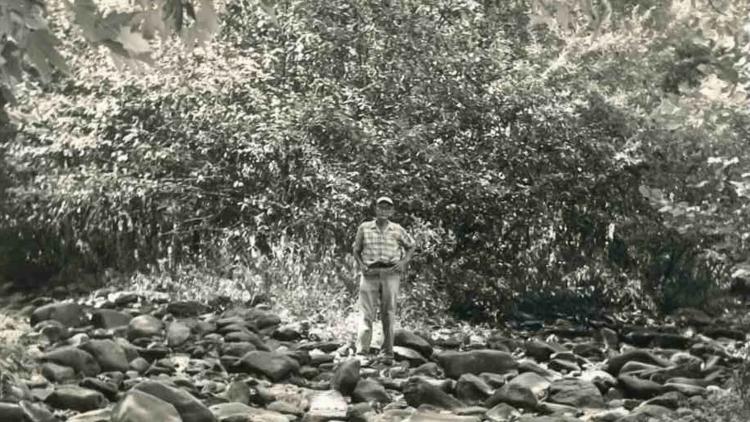 It's a suspenseful tale 30 years in the telling. It has danger, threats, false starts, mistakes, missed chances and every-day heroes. And it ends well . . . with clean wells and a clean river, thanks to plenty of persistence from community-minded local officials, piles of federal money and a little bit of the luck of the Blue Ridge.
Flood plain, septic tanks and soil percolation rates were unknown terms and unfamiliar concepts when Francis Thornton laid out the village of Sperryville in 1820. There was no zoning, no land use planning, no Health Department and no building inspector. Homes and businesses popped up wherever along the banks of the Thornton, without a thought to wastewater or sewage.
And so it went for almost a century and a half.
Pollution no secret
It's not that the problem was invisible. Everyone knew the river was polluted. The water was too foul for fish life. During low flow periods, it smelled, and the black sludge of sewage was visible. Folks now in their 60s and 70s who grew up around the village remember being forbidden to swim or wade in the river when they were kids. "Don't you dare go near that water!" was the standard admonishment when children headed for the playing fields around the Sperryville school.
Official recognition of a problem dates back to 1954, according to a grant application from the '60s for building a sewer system. But there's no mention of who did the recognizing and to what end. At any rate, no corrective action was taken.
Then in 1964, a Health Department survey found sewage in the Thornton, and in 1966, the State Water Control Board was advised that dairy cattle drinking regularly from the river were aborting their calves.
In 1968, a study proposed building a $300,000 sewage treatment plant, with almost half the cost covered by federal grants, leaving the local share at $165,000. But Rappahannock's Board of Supervisors made it clear that the problem was Sperryville's and there would be no general fund tax dollars directed to the solution. That left the funding to a village that was already financially depressed.
Eighty percent of Sperryville's residents were low or moderate income and many were widows, dependent on World War I widow's pensions and Social Security. Based on income levels, the most they could afford for sewage disposal was deemed to be $10-$12 a month.
The Rappahannock Water and Sewer Authority was created in May 1968 to figure out how to construct, maintain and operate an affordable sewer system to serve the village of Sperryville and the populated portion of Rt. 211 west of town. The legal ad proposing the WSA's establishment outlined a collection system with lagoon treatment and set a tentative budget with projected connection fees, user fees and maintenance costs for 20 years with little capacity to serve additional growth.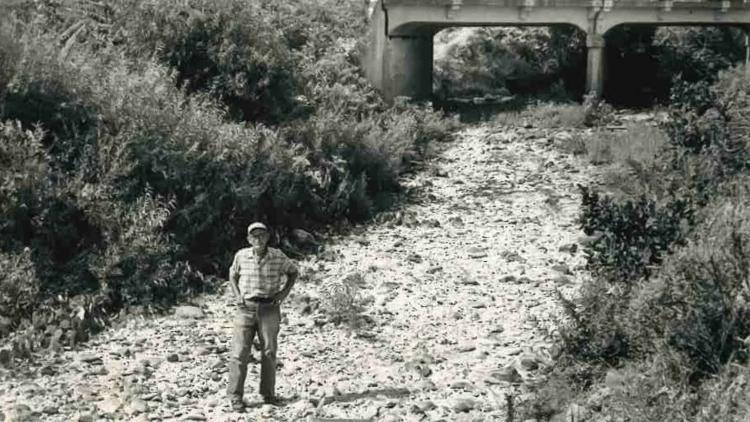 From the outset, the solution envisioned by local leaders was a correction to the existing problem — nothing more.
Commonwealth's Attorney George Davis, one of the prime movers behind the county's first zoning and subdivision ordinances and its first comprehensive plan, voiced the universal concern: "We don't want a developer to come in and demand hook-ups." 
But he stressed the need for a solution. "Banks won't lend for development or mortgages in Sperryville if the illegalities aren't corrected" he warned.
Davis wasn't alone in his concerns. There was consensus on avoiding overbuilding and excess capacity. State Water Control Board representatives, Health Department officers and county officials confirmed repeatedly that any system would be intended as "no growth," designed to serve the designated area in Sperryville with sewer problems.
Windmill to a lagoon
Between 1968 and the mid-70s, engineers assessed a community septic field, an aerated sewage lagoon, windmill power to supply electricity, a sand mound and more conventional package facilities. The innovative alternatives were rejected as insufficiently tested or unreliable in a flood plain. The $300,000 sewage treatment plant, even with partial federal funding that left Sperryville covering only $165,000, was deemed too expensive.
Meanwhile, Health Department representatives continued to "bend over backwards" — their words — in issuing the permits that allowed restaurants and other businesses serving the public to stay open despite evidence of contaminated drinking water.
Dr. R. S. Legarde, the county health officer, described the forbearance as "grandfatherly" when he warned the Rappahannock Board of Supervisors that the patriarchal approach could not continue. By 1975, a new Health Department survey pinpointed 24 pit privies piping directly into the Thornton and 40 malfunctioning septic fields leaking into the water table and contaminating wells with fecal coliform bacteria. 
Nine out of 10 wells tested were fouled, and not a single Sperryville well — even those without fecal contamination — met Health Department standards. Continuing to grant permits for businesses to operate clearly violated state law, LeGarde noted.
Speaking on behalf of the county, the chairman of the Board of Supervisors, Newbill Miller, assured the county's health officer that the "board won't be critical of any officer who enforces the law . . . I won't tell you to close down Sperryville, but I'm not going to tell you to violate the law."
Others noted that Sperryville lies in a flood plain, where the county's zoning regulations preclude or limit further development. Said E.P. Luke from the Planning Commission, Sperryville didn't need a big system for just 40 malfunctioning septic fields and 24 pit privies. "We need only to solve their problem, not plan for more houses."
Gen. Daniel Noce, then chairman of the Planning Commission, agreed: "There are real estate men with their mouths drooling. We don't need any kind of a big project. It's in a flood plain."
So progress puttered and stuttered along as meetings, studies, grant applications, design proposals and debate continued. Meanwhile, ten commercial establishments in Sperryville were notified that they were violating Virginia health regulations and three food-related businesses were closed.
The chips are down
In July 1976, with water resources under increasing scrutiny, the Health Department raised the ante. The Federal Clean Water Act and the State Water Control Law had been enacted, and Virginia's James River was so despoiled by the industrial chemical kepone that the governor closed 100 miles of its length. Back in Rappahannock, Dr. LeGarde advised the supervisors that "the chips are down," with more Sperryville business closures AND condemnation of residences to begin in six to 12 months.
In August 1976, Dr. Malcom Tenney, the regional director for the Health Department, upped the ante further, cautioning that the state "will proceed against each property owner discharging raw sewage into state waters . . . If the community refuses to work on the problem, the State Health Department will hold individuals responsible. It can't go on."
The Board of Supervisors responded by establishing mandatory hook-ups for whatever system was eventually constructed, and in 1977, at a community meeting, Sperryville residents chose the design by show of hands — a STEP (septic tank effluent pump) and secondary package treatment plant.
From a $188,000 grant from Housing and Urban Development for piping, $10,000 was set aside to help 27 families with pit privies install bathrooms. Sperryville was expecting a $785,000 construction grant from the Environmental Protection Agency, and affordable user fees of $10-$12 a month were projected to cover maintenance and operational costs. 
The facility was to be built on 4.986 acres gifted by the Miller family, whose neighboring Mt. Vernon Farm predates the village by a century. (According to the agreement, should the plant close for more than 24 months, the Millers have the option to purchase the parcel and its 20-foot easement right-of-way).
It looked like everything was falling into place. Instead, it all fell apart.
Cost of clean water
Construction estimates had soared and funding was $1 million short, thanks to inflation and "very, very optimistic cost estimates" by the project engineers. WSA chairman Maurice Biddle was still sure the system was coming "but it's going to be a while yet," he noted. If the shortfall was to be covered by a Farmers Home Administration loan and amortized with user fees, those fees would top $50 a month.
So despite the dire warnings of enforcement, the Health Department agreed to hold off on condemnations while the Water and Sewer Authority explored cost reductions and more grants.
Supervisor Chairman Pete Luke, Col. Biddle and WSA member Carson Johnson drove to Richmond and talked their way into Gov. Chuck Robb's office. They managed to gain an audience without an appointment, according to Johnson's widow, Aline. Robb knew the rural county and its gateway village to the Blue Ridge. His wife, Lynda Bird Johnson Robb, was a long-time family friend of the Sommervilles, whose farm was between Washington and Sperryville, and the Robbs spent time at The Shade while he was campaigning for governor.
When the trio left Rappahannock for Richmond, a sewer for Sperryville ranked #125th on the state's project priority list for funding. After they returned from the caucus with the governor, Sperryville's sewer ranked #5.
Too dirty to drink
By 1981, the water in 75 percent of the wells in Sperryville was classified as unsafe for human consumption . . . and the village had a new sewer design plus the money to build it. The Environmental Protection Agency was contributing $690,000, based on the health threat, funding priority and innovative design. Housing and Urban Development was on the hook for $188,000, due to income levels in the service area. Together, the two grants brought close to 100 percent funding for the sewer system with monthly bills projected in the $10-$12 range.
Initial hook-ups were for 21 businesses and 136 residences, with an estimated 200-225 gallons of wastewater a day expected from residential users.
But the innovative mound system wasn't suited for a flood plain; it would be flooded and inoperable 20 percent of the time. "Needs more reliability," held the State Water Control Board, rejecting the design. And the$188,000 HUD grant — awarded five years earlier and still unspent — was cancelled.
For the local activists pushing for a pollution solution, this had been considered the only affordable sewer design for Sperryville. Now, it was back to the drawing board to find cost reductions in the package treatment plant alternative. The circumference of collection pipes was reduced by a few inches, and the plant design was scaled down, with the town of Culpeper agreeing to take the solids pumped from individual septic tanks for processing — 30,000 to 40,000 gallons per year for 20 years . 
The Rappahannock Board of Supervisors guaranteed front money for planning until the almost-for-sure grants were received — about $1.5 million expected from the Environmental Protection Agency (EPA) in October with another $900,000 Community Development Block grant to follow.
But the first week in December 1982, the almost-for-sure EPA grant was denied. It was a major "OOPS." The grant application was not filed under "imminent health hazard," and the omission cost the Sperryville project 150 points, leaving it with 625 points in EPA's ranking system. The lowest rated project approved for funding in that cycle scored 723 — Sperryville would have topped it easily with those lost points.
The blame for the failure to declare as a health hazard was divided between John Capelle, the executive director of the Rappahannock-Rapidan an Planning District Commission, who filled out the grant application; the Water and Sewer Authority members, who reviewed the application prior to submittal; and the bureaucrats on the receiving end who didn't pick up the phone to say, "Hey, you forgot something."
But there was little time for finger pointing. A week later, the State Water Control Board announced that Sperryville's $1.4 million construction grant would be deferred, as the project couldn't proceed without both grants. A shake-up in the WSA came next. Chairman Maurice Biddle resigned, citing his year-long inability to gather a three-member quorum. More resignations followed.
With a new chairman, new members, the support of state agencies and good odds for funding in the next grant cycle eight months away, the Water and Sewer Authority focused on dotting i's and crossing t's on its 1983 applications to HUD and EPA.
The State Water Control Board reconfirmed Sperryville's spot as Virginia's #5 health hazard and its 5th ranked priority for funding. The Health Department reconfirmed the public health threat from raw sewage. Eric Barsch, director of the department's Division of Water Programs, called Sperryville's pollution "one of the worst in the state," so well documented that additional surveys were unnecessary.
And he also promised there would be no danger of Health Department enforcement while the county waited for the decision on the grants.
The stakes were alarmingly high. The Reagan administration was lowering the federal share of pollution abatement projects like Sperryville's to only 50 percent the following year, and that would put a sewer system out of reach. Period.
Cause for optimism
But confidence was also high. "Now we know exactly where we made our mistake and we won't do it again," said WSA member Bob Dennis, adding the State Water Control Board, Health Department and Housing and Community Development agreed that the outlook was good for Rappahannock. "I feel even more optimistic about our chances," Dennis noted.
And this time, the optimism was well founded. Grants were awarded in August 1983 — $1,531,000 by EPA and $520,100 funneled through the state from the Department of Housing and Urban Development. Together, the grants covered nearly 100 percent of the cost, making pollution's end affordable.
Six years later, with the new system in operation — 32 years after the search for a pollution solution began — Sperryville was finally pumping and processing. Fish and the macroinvertebrates that signal a healthy waterway returned to the Thornton. Businesses flourished, Main Street got a face lift and the village again attracted tourists and travelers.
"A heckuva gift," is how Dr. William Strider, executive director of the Planning District Commission, termed the federal largesse bestowed on Sperryville. "It will never happen again. Those days are gone forever."
---
Click here to sign up for the C-19 Daily Update, a free newsletter delivered to your email inbox every morning.