'I heard all this astounding music and I thought, well, that's what I want to do, is to be a musician'
It was promoted as "3 Days of Peace & Music," and despite 400,000 free spirits — twice as many people as the number of tickets sold — descending on Max Yasgur's 600-acre dairy farm for the Woodstock music festival the mellow slogan would live up to its billing.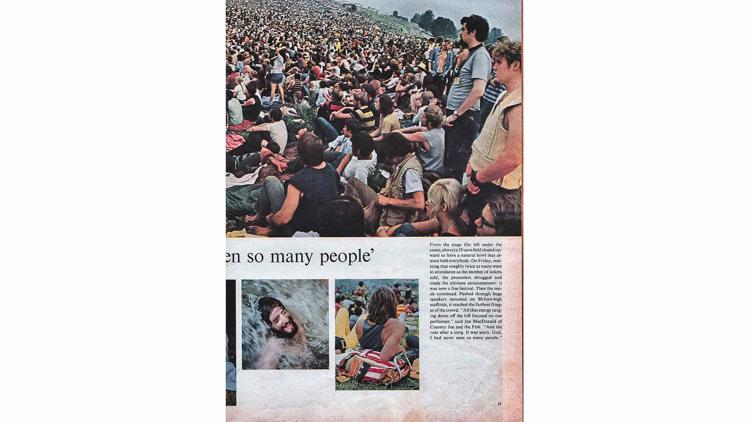 Among the tens of thousands of young festival-goers: 20-year-old Paul Reisler of Kid Pan Alley fame. In fact, Paul's smiling bearded face being drenched by a cascading waterfall was published in Life magazine 50 years ago this month, the issue with Norman Mailer on the cover.
"It changed my life," recalls Paul, as he celebrated his 70th birthday this past week. "It's what made me realize what community can be. It was an amazing community for a weekend."
So unique a "community" that the rural New York concert site — where 32 well-known acts would be heralded for creating a pivotal moment in popular culture and music history — is listed on the National Register of Historic Places.
"It inspired me musically," says Paul, whose longtime Kid Pan Alley mission is to inspire and empower children from Rappahannock County to Hawaii and beyond to work together to become creators of their own music.
"I heard all this astounding music [at Woodstock] and I thought, well, that's what I want to do, is to be a musician. I want to get up there and bring people together," says the Tiger Valley resident, who had turned 20 years old just days before the outdoor festival lasting August 15-18, 1969.
"I was already into music — I'd been doing music, but I never thought of myself as being a professional musician until then," he explains. 
Being up front and personal with several of the world's leading musicians of the 1960s era surely helped Paul fulfill his dream.
"We were close to the stage because I went with a friend of mine who was a writer for U.S. News and World Report, so we had press passes," reveals Paul. "So we were up really close."
His most memorable performances of the four days?
"I really loved Jimi Hendrix," Paul says of the influential rock guitarist, singer and songwriter, who because of rain delays was the final act to take the stage at 8:30 Monday morning. But he would bring the 30,000 audience members who stuck it out in the mud what arguably became Woodstock's most memorable moment — a psychedelic rendition of "The Star-Spangled Banner," segueing into "Purple Haze." 
"And that was incredible," Paul says with a smile.
"I also loved Richie Havens. I was always a Richie Havens fan," he says of the late guitarist who encompassed assorted elements of funk, folk, blues and soul — not to mention he released five albums that same year of 1969. 
But it was written that Havens' appearance at Woodstock as the festival's first performer became the turning point of his career, his nearly three hour performance — extended to allow for the late arrival of subsequent acts — catapulting him into stardom.
"It was just an amazing event," says Paul.
Despite the several days of rain?
"As you can see from that [Life magazine] picture I was already wet. Really wet."