Local archaeological sites unearth copper and shell beads, doorway and support post patterns, stone burial mound clusters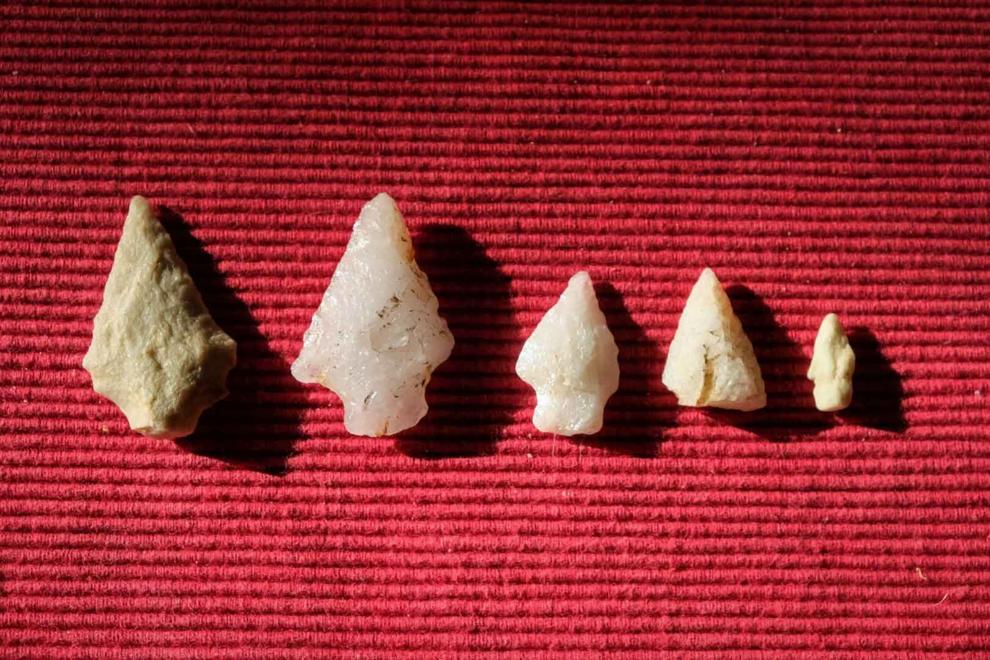 Powhatan referred to the Manahoac tribe as Anchanachuck — "those who hunt in the mountains." The small band of Native Americans — barely a thousand strong when wiped off the map in the early 1700s — are among the proclaimed "indigenous peoples" of Rappahannock County.
Now for the first time we're learning fascinating details about their prehistoric ancestors.
The Archeological Society of Virginia and Council of Virginia Archaeologists have just completed a "yearslong" effort to produce The Archaeology of Virginia's First Peoples — those with "pre-European" contact. Edited by Elizabeth Moore, Virginia's State Archaeologist, and Bernard K. Means, anthropology professor at Virginia Commonwealth University, the new book surveys an astonishing timespan of history stretching back more than 15,000 years, with much of it transpiring right here in our own backyard.
Not one, not two, but hundreds of significant prehistoric archaeological sites, many now discussed for the first time, have been discovered and excavated in the counties of Rappahannock, Page, Warren, Fauquier, Culpeper, and of special note Madison.
"The county presented an ideal opportunity for study," one archaeologist writes of Madison, its impressive 233 archaeological sites being "of particular relevance" to advancing the understanding of prehistoric settlements in the northern Piedmont and adjoining Blue Ridge region. 
"In addition to having a large number of recorded sites and collections for review, Madison County cross cuts the Piedmont and Blue Ridge provinces. East to west the study area encompasses the Mesozoic Basin, Inner Piedmont, the Blue Ridge foothills/slope, each with differing elevation and environmental characteristics. The study area is drained by the named headwater forks of the Rappahannock, with its westernmost limits defined by the Blue Ridge summit."
The oldest of the archaeological sites in our region is "Brook Run" in Culpeper County, dating to the late Paleoindian (10,900 BC-8000 BC) and early Archaic (8000 BC–6500 BC) periods. 
A "distinctive" jasper quarry, Brook Run was discovered during a Virginia Department of Transportation (VDOT) road-widening project. Initial shovel tests produced nearly 12,600 jasper artifacts, with subsequent excavations between May 2000 and March 2001 yielding 700,000 artifacts along a fault mined extensively by "prehistoric flintknappers" using bifaces and hammer stones as tools.
During the Paleoindian Period, rainfall was about half what it is today, with temperatures 10 to 15 degrees Celsius colder. Only 800-plus years earlier 33 to 35 large animal species had become extinct, including mastodons, wooly mammoths, camelids, ground sloths, and towering carnivores like the short-faced bear.
Analyses of wood charcoal and pollen determined that the Culpeper quarry was surrounded by a mixed conifer/hardwood forest, including eastern hemlock.
A major source of archaeologists' understanding of the oldest Paleoindian occupation in Virginia was through research conducted at both the "Thunderbird Ranch" and "Fifty" sites near Front Royal.
Paleoindians established quarry-related base camps like Thunderbird "from which more specialized task groups engaged in quarrying or food procurement." At least three "macrobands" of 175 to 475 individuals were operating in Virginia at the end of the Paleoindian period, and choosing this immediate Blue Ridge region, with its abundance of minerals and food sources, for settlements better guaranteed their survival.
In fact, of the state's five physiographic provinces, there are 30 distinct Paleoindian components within Rappahannock's shared Piedmont and Blue Ridge provinces.
Moving forward into the early, middle and late Archaic periods (8000 BC-1100 BC) witnessed subsistence activities, the exchange of information, and the search for raw materials — "and mates" — outweigh the quest for rocks. 
"Utilizing a collecting strategy, a series of base camps were served by smaller exploitive camps," the book educates, "based on hunting and gathering. ... With the increased biotic production of the hardwood forests and warming trends, nuts and seed crops were likely to have been heavily exploited."
As for "social organization," groups of 25 to 50 people operated as "units," coming together during certain periods and then breaking up into the smaller micro bands. The social system was egalitarian with some roles based on age or sex, while leadership was determined by each individual's ability. The units were exogamous and patrilocal — marriage partners selected from other bands and wives moving to the husband's unit.
Numerous sites here date to the Middle Archaic Period (6500 BC–2500 BC), when "populations appeared to have been robust … as small groups of highly mobile hunter-gathers intricately adapted to the upland forests blanketing the region."
There was increased use of ground stone tools, cobble and flake tools, and a shift to local lithic materials in projectile point manufacture, many of these artifacts excavated by archaeologists.
As for the environment, the Rappahannock climate experienced "a peak in post-glacial warmth and dryness that likely resulted in spread of oak/hickory species, while more frequent fires would have promoted pine and other forest communities in the upland area."
In Madison County alone, a total of 233 archaeological site locations — discovered at the lowest of elevations to the peaks and summit ridgelines of the Blue Ridge — produced artifact collections that greatly assisted in painting the region's prehistoric settlement patterns.
"The relatively small social units," archaeologists write, "perhaps consisting of a few extended families, could not be fully self-sustaining. Regular interaction with a sphere of neighboring groups would have been undertaken in order to maintain extended kin relations, facilitate mate selection for eligible group members, and exchange information on resource opportunities or external threats." 
Fully half of the 233 sites in Madison were included in a "settlement pattern" analysis, with 118 exhibiting Late Archaic (2500 BC–1100 BC) occupation. For instance, at the popular mountaintop setting of Big Meadows in Shenandoah National Park, steatite vessels fragments were found.
"Use of stone containers would have resulted in significant economic benefits, particularly in terms of food processing and cooking," we read. "Steatite vessels were likely utilized in a variety of cooking activities including but not limited to rendering of oils, slow stewing meat and bone, and the processing of seeds and acorns.
"Prior to the adoption of durable vessel technology, these functions would have been carried out in lined pits or hide bags using indirect heating techniques. Steatite vessels can be seen as an efficiency improvement over these activities both in terms of labor input and resulting nutritional yield."
But "modern" vessels weren't easy to produce and might have been "prestige items," their use or ownership meant to confer or express status. Similarly, beyond nutritional yield and status, such vessels could be valued trade currency.
Big Meadows and other nearby mountaintops were "rich in seasonal resources" and "extensively utilized for much of the prehistoric period," the book continues. The complex geology offered a wide range of available lithic materials for tool manufacture, some not found in other regions. The outcroppings of material included a variety of high grade quartzite, ferruginous sandstone, and basalts. 
"The foothills and toe slopes likely supported oak, hickory and other mast bearing species," the book notes. "American chestnut was undoubtedly an important resource and a major draw for prehistoric peoples. Intermediate elevation ridge lines and benches were the preferred habitat for the chestnut. (Palynological evidence reveals that by 3500 BC "chestnut groves" were well established in the "east facing Blue Ridge side slopes and foothills" — as in Rappahannock County).
"Of particular importance were likely high elevation bogs, fens, or alpine meadow areas. The Big Meadows locality," archaeologists write, "is perhaps the best known of these types of settings. Game resources would have been seasonally abundant and hunting forays into the Blue Ridge from surrounding areas was likely a major component of the areas prehistoric use."
The Early Woodland Period (1100 BC–250 AD) witnessed pronounced settlement shifts to increased size and duration, as well as major changes in lithic tool manufacture and use. The adoption of ceramics "stands as a hallmark of the era."
"In general, one sees a greater utilization of lower elevation, stream-side [settlement] locations, while a nearly 5000-year pattern of short term encampment near summit areas ends during the period," the book notes, pointing to discoveries in Madison. "Stream and river confluences appear to have seen the most intensive Early Woodland use."
Excavations north along the Shenandoah Forks in Front Royal, which were sponsored by VDOT, unearthed long-term Early Woodland settlements revealing "numerous house outlines containing a repeated pattern of central hearths, doorway locations, large interior support posts, and interior flat-bottomed storage facilities. 
"Somewhat larger flat-bottomed pits were also documented outside of the house lines. Ceramics from the '522 Bridge Site' were predominantly Accokeek, with Marcey Creek and Ware Plain occurring in limited numbers. Projectile points resembled Piscataway, with one Susquehanna also found."
This area's central feature of the Middle Woodland settlement pattern are numerous stone burial mound clusters, interpreted as signaling ranked social organization and possibly "nascent chiefdoms," with clusters functioning as sociopolitical and population centers.
"Mound cluster size may have mirrored the social rank of a particular family or lineage: major clusters include 13-18 mounds; medium clusters, 4-5 mounds; and minor clusters, 2-4 mounds," archaeologists write. "An impressive viewshed also factored into mound site selection, with most mounds overlooking broad stream valleys."
As is discovered with the spatial distribution of 16 mound clusters of the "South Fork Group" stretching through Page and Warren Counties. Distributed over a distance of 25 air miles, the mound sites are separated by an average distance of two miles. The largest mounds are located at either end.
At Warren County's "Indian Grave Ridge," the largest of three documented stone mounds is positioned on a bluff overlooking a settlement and fish weir in the South Fork of the Shenandoah River. The largest mound documented was 33 feet in length, visible from seven floodplain sites below. 
At nearby Thunderbird, 11 mounds have sight lines connecting them to each other, and all mounds are visible from three settlement sites on the floodplain. "Together, these sites establish a cosmological-residential complex, centered on mortuary features and perhaps associated with fish runs and feasting rituals," the book states.
Luray's 'intrusive' settlers
During the middle to late Woodland periods, starting around 300 AD, researchers have debated whether the "Luray Complex" settlement sites were inhabited by an "intrusive group from the west." Luray's people, the book points out, were eastern Siouan in origin — rather than Algonquian — "and perhaps related to the Manahoac."
The most recent research at the Keyser Farm settlement site in Page County determines that as many as 200 people lived there.
"The original [1940] excavations at the Keyser Farm site ... uncovered nearly 100 refuse-filled pits and 26 graves. More intensive archaeological recovery techniques were implemented at the Keyser Farm site during the 2003 to 2007 investigations," which were conducted under the direction of the U.S. Forest Service, the Virginia Department of Historic Resources and the Archaeological Society of Virginia, among others.
A "wealth" of archaeological discoveries at Keyser included "large quantities of plant and animal remains," as well as numerous deer "bone tools." 
Archaeologists at the site tied the large quantity of bone tools "to the overproduction of hides by the occupants of Keyser Farm, which they may have traded with Iroquoian middlemen to the north. Coastal Plain groups may also have exchanged various items for deer skins produced at the Keyser Farm.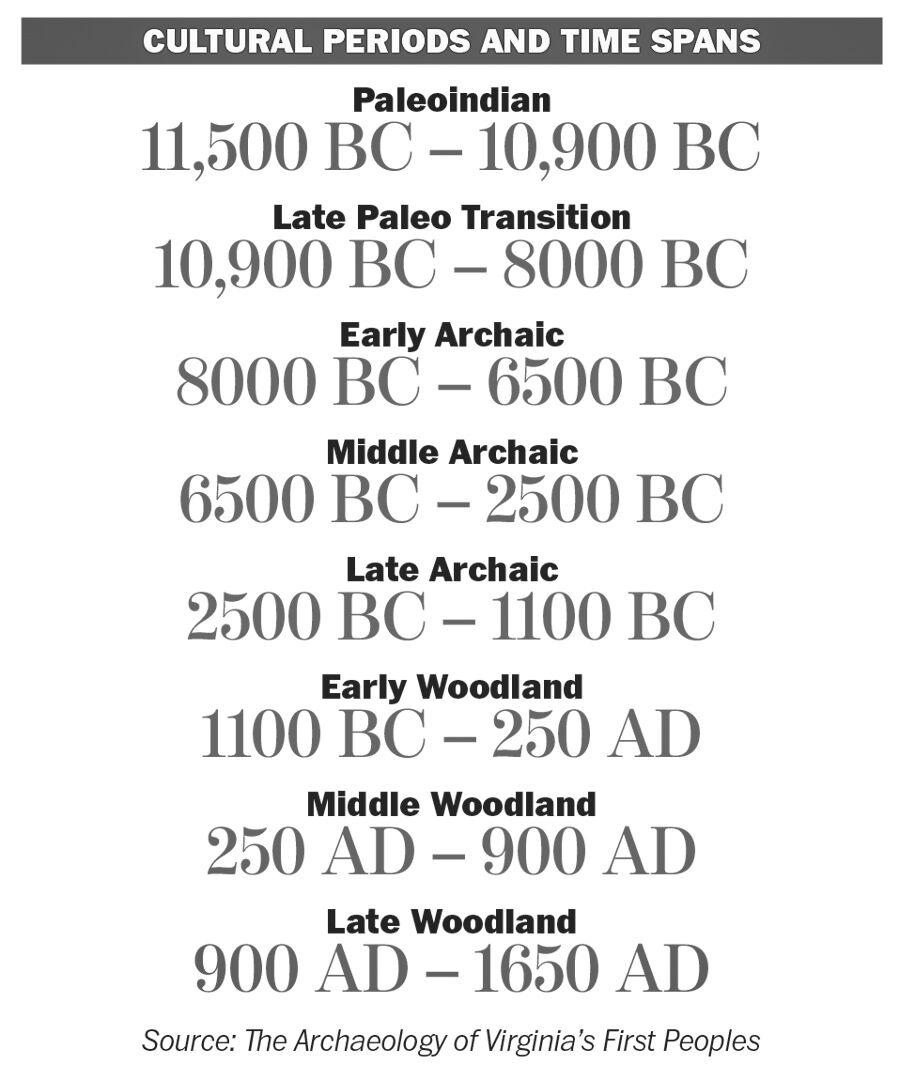 "The venison created by the intensive deer hide production effort may have been incorporated into ceremonial feasting efforts — this certainly would have been a very visible way for individuals to gain prestige and strengthen ties within and outside the village community."
There was also the discovery at Keyser of a "large quantity of shell disk beads," while additional beads manufactured from copper also were discovered.
"The beads probably had symbolic value and were worn as necklaces, or were sewn into clothing as status symbols, as is known to have been the case for Powhatan's mantle," the book states. "Some of the small shell disk beads were heated to turn from white to gray, perhaps to change their symbolic properties. White and gray beads might have been strung on necklaces in alternating colors on a single line, conveying meaning important to the wearer and other members of their social group."
One on-site archaeologist suggested shell and bone beads and pendants could have been viewed as "visual tools" reflecting social nuances, such as rank, status, clan membership, or even wealth.
As for Rappahannock County specifically, generations of landowners have collected Native American artifacts consisting of arrowheads and shards of ceramics. State Archaeologist Elizabeth Moore, co-editor of the book, tells this newspaper that just because the most extensive excavation sites aren't specifically located in Rappahannock doesn't mean the oldest of prehistoric settlements didn't exist here.
"There is … a difference between sites that exist and sites that have been recorded," Moore stressed. "There are some areas that have many sites but if those sites aren't recorded we don't know that they exist. There are undoubtedly thousands of sites in the Commonwealth yet to be recorded."
One map in the new book, for instance, suggests that Rappahannock County could have as many as nine Early Archaic (8000 BC–6500 BC) sites. 
— Featuring more than 100 photos, maps, tables, and illustrations, The Archaeology of Virginia's First Peoples can be purchased for $40 through Amazon.com. Proceeds support future state archaeological publications.
---
---