The death of H.B. Wood on October 19 marked the passing of Rappahannock's Old Guard. 
Henry Barnett Wood Jr. was the last survivor of the local leaders — supervisors, planning commissioners and commonwealth's attorney — who developed and enacted the ordinances that have guided and protected the county in its transition from isolated agrarian community to today's combination of niche agriculture and tourism.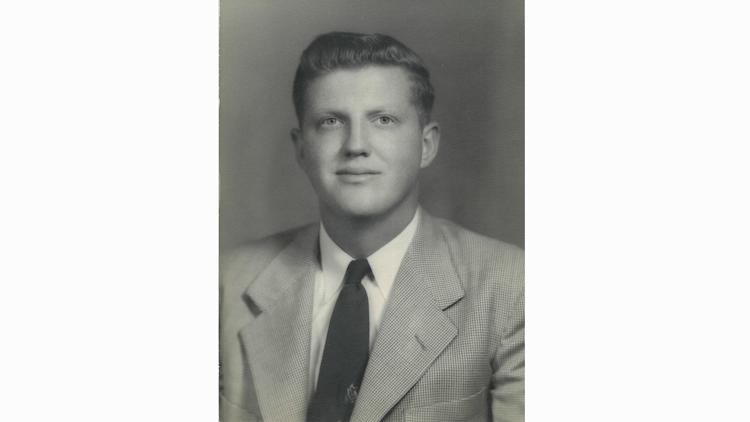 A lifelong farmer and orchardist, he was also analytical and forward thinking. He knew that farming traditional to Rappahannock — apples and beef cattle — was threatened by changing times and development pressures bringing spiraling land values and an expanding urban fringe. Just as he worked for ordinances to manage the county's growth, protect its agricultural base and preserve its character and resources, so too did he adapt the family's farming operations for survival into the future. 
When his son was a teenager, H.B. warned that farming as they knew it would be drastically changed and instead of following his dad into the orchards, Henry B. should go to college and find an easier path in life. Father convinced son, but later in life, H.B. confided that after dropping off his only child at the dorm, he came home to sit in the garage and cry.
H.B. loved Rappahannock fiercely and protectively, almost as much as he loved his family. Friends joked that he simply couldn't bear to be away from the county, and to illustrate, they would tell the story of his brief fling in college. He and Gordon Thornhill (who went on to be the long-time manager of the Rappahannock Farmers Cooperative) packed off to Blacksburg and Virginia Tech after their graduation from Sperryville High School. H.B. lasted just 14 days before he was back in Woodville. 
And he was happily welcomed home. "I have the smartest son! He graduated in two weeks," his father is said to have announced. And H.B. paid it forward, giving that same unconditional family support as a husband, a father and a grandfather. (He also kept his ROTC cadet card for a lifetime. His grandson found it last week, tucked away in the wallet he inherited from his Pop-Pop.)
On the county's board of supervisors for 12 years, H.B. was plain spoken and unpretentious, with no hidden agenda. He didn't like politics. He served because he felt a responsibility to Rappahannock. He knew its history. He knew its people. He knew their parents, too. Sometimes their grandparents, or at least he knew of them, and their great grands, as well. 
And they all knew him — the man and his character. It's what led an outspoken and formidable opponent to abandon his battle against the use value taxation system proposed for the county once he learned that H.B. had been won over. "I can oppose Supervisor Wood no longer. Our ancestors shed blood together at the Battle of Cedar Creek," announced Robert Eastham, packing up his files and reports and leaving the courthouse. 
An expert practitioner of disagreeing without being disagreeable, H.B. was an arch conservative, but he worked across socio-economic divides, been-here/come-here labels and party lines for what he saw as the good of the county. He listened to his constituents, from Nelson Lane, scion of the Lane Industries family with the largest land holdings in the county, to Howard Jones, World War I veteran, who cautioned him on real estate taxes every year, "H.B., don't you let them raise my rent!"
Always composed, controlled and polite, H.B. nonetheless clearly signaled when he was hearing what he didn't want to hear from those constituents. He didn't have to voice his disagreement — fellow board members and audience alike could read it in the bright red flush that crept up from his neck.
He was most famous — or infamous, depending on perspective — for his battles against handouts of money and mandates, state or federal, that he viewed as unnecessary or overreaching. That's when the red really spread. "We should oppose any foolish program," he insisted. "What do they know about Rappahannock? Why should we just sit still while they force us to do things that may not be feasible for a rural county? Why create more government if you don't have any use for it?"
He was also famous or infamous for his suggestion that the courthouse fire code violation of only a single exit from the second floor courtroom be corrected with a rope ladder rather than a complicated and expensive elevator or external fire escape. Reported in the Rappahannock News, his proposal was quite the talk of the town, and the reporter expressed apologies for the furor. His response? A laugh, his eyes twinkling, and the admonition: "Don't ever apologize for reporting the truth."
His roots in Rappahannock ran deep. Part of the family farm on Red Oak Mountain came through a land grant, written on sheepskin in the 1740s. H.B. was the 8th generation steward, his grandchildren will be the 10th generation of Woods to own and protect the land. 
Friends and family say that H.B. and Betty, his wife of 56 years, were perfectly compatible and devoted to each other. All agree they were homebodies, and what better place to be than at home with a home economics instructor who practiced the home-maker arts she taught at Rappahannock County High School? 
H.B. believed in personal responsibility. He was born in the middle of the Great Depression, and he claimed this cataclysmic event barely registered in Rappahannock County. According to H.B., it was already depressed here and always had been, with people subsistence farming, depending on each other and living off the land. Independent and self-reliant, he expected others to be the same. 
H.B. had a reputation as a tight wad, and it's been said he was as frugal with the taxpayer's money as he was with his own. That certainly was his public persona but it's at odds with the stories of medical care for farm hands, help with bills for families struck by disaster and other acts of H.B.'s kindness shared by long-time school principal Mary Botts Quaintance, county nurse Francis Thornton and other all-knowing, all-seeing oracles of the old days. 
He also enjoyed a reputation for being a good employer, and when his orchards were running full apple after the local labor supply dwindled, his were a favorite with early migrant crews. Word was H.B. believed in win-win with everybody — orchardist and pickers — making money,
And here's another H.B. story. A would-be full-time reporter for the Rappahannock News, newly divorced, with four children, three of her own and an unofficial foster child, all boys, ages 15, 13, 12 and 10 plus a menagerie that included three horses, two ponies, three dogs and two cats, needed to find a house in the county. She'd been covering government meetings and writing occasional features for the paper for a couple of years, so she was a known quantity as a reporter. 
Despite the daunting prospect of menagerie plus five, H.B. answered the house-wanted ad as soon as the paper was out. He invited the reporter to look at a place in Woodville. But first, he said, they had to drive up Red Oak Mountain. He told tales from time gone by, they peeked in the windows of the fire tower and he pointed out home places and farms and shared their histories. Only after an hour or so of Rappahannock lessons did he drive halfway down Red Oak to show the rental, surrounded by acres of orchards. It was perfect, and the reporter was already in love with the mountain. Yes, she wanted the house and the job. But could she handle the rent on the salary of a reporter for a weekly newspaper? "How much?" she asked. "What can you afford?" H.B. replied. 
And that was it — that's how I landed in Rappahannock County 40 years ago, thanks to H.B. 
"Everyone should have to make a living on a farm for a time to understand life," he often advised. The land, the people and the character of the county. That and family. That's what mattered to H.B. Wood. And he mattered and made a difference to Rappahannock.