Teacher and principal at Sperryville School from 1929 to 1969, then principal of the new Rappahannock Elementary School until her retirement in 1977, Mrs. Quaintance touched the lives of thousands of youngsters. She taught them science, English and math, coached them to excellence on the basketball court, gave them lessons — and an example — in deportment, manners and responsibility.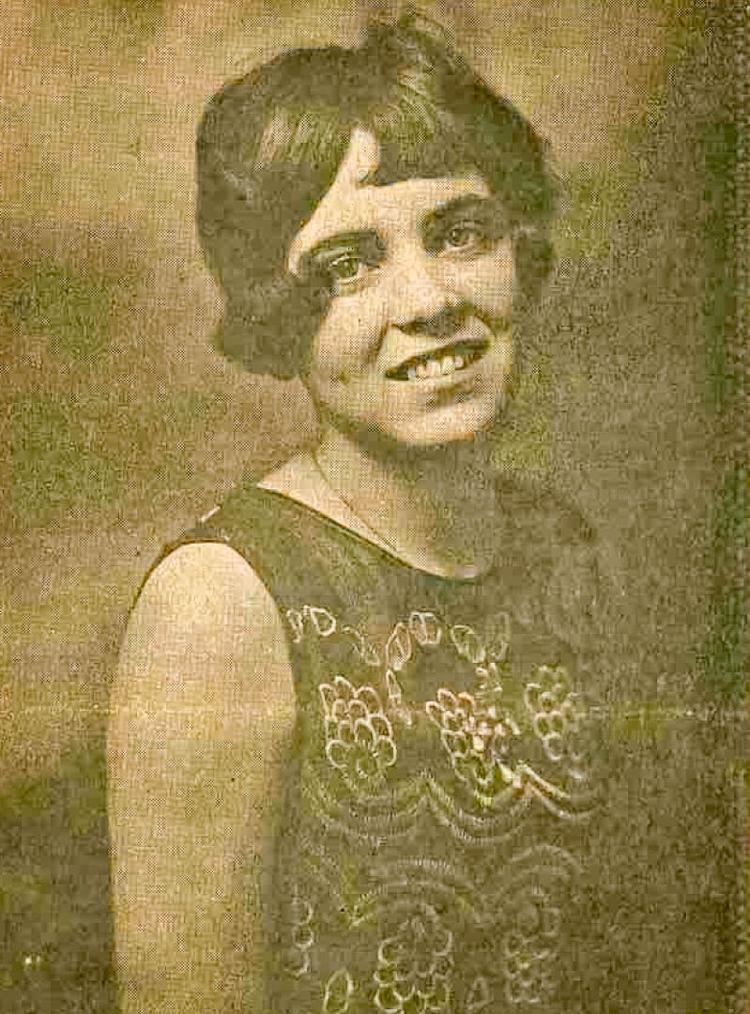 But her lasting legacy also flashes bright in the broad toothy smiles of long-time Rappahannock folks in their 50s, 60s, 70s, 80s and 90s who were in her classrooms and schools and learned to brush, floss, swish and keep regular dates with a dentist.
She was the Tooth Fairy of a different sort, ensuring that children had access to dental care under their pillows. It's not too much of a stretch to say that plenty of locals have teeth instead of gums and dentures, thanks to Mary Botts.
She was a Hollow girl. She grew up dueling with dried corn stalks, playing tennis, swimming and riding horses in Gid Brown. She attended the one-room Smedley School, and her teacher from first grade until high school, was her cousin, Bertie Lib Moffett. Mary Botts rode a carriage to Washington on weekends to visit her grandmother at The Meadows; on weekdays, she rode her horse to town for high school. After college, she taught in Arlington for two years before coming home to Sperryville in 1929.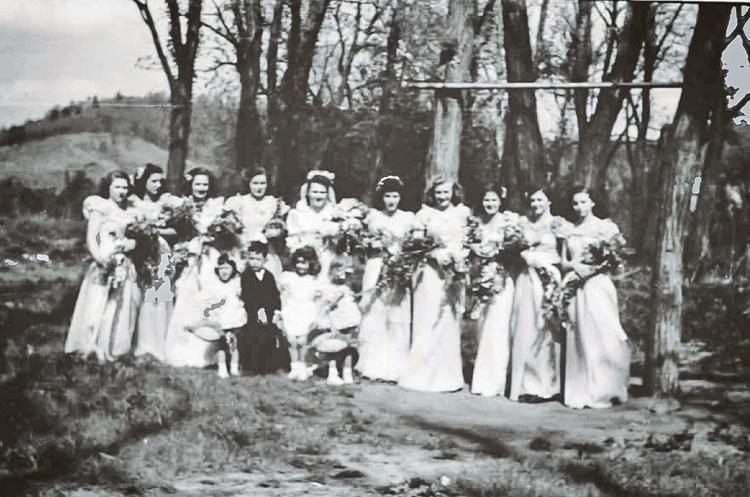 She returned with a new awareness. "It was obvious to me that most of our rural children were healthy except for their teeth. It was a shame to see a beautiful boy or girl with rotten teeth," Mary Botts recalled in an 80th birthday interview with the Rappahannock News. 
And so a cause was born.
She persuaded three Culpeper dentists to provide free dental care for youngsters from the Sperryville School. She squeezed kids into the rumble seat of her car and hauled them 25 miles to offices in the next county. When the load grew too big, she used a bus. When the free services were no more, a wealthy landowner gave money to continue the dental care program, his generosity spurred by gratitude for the assistance of Ruby Jenkins, Extension Office secretary and one of Mrs. Quaintance's partners in the dental hygiene campaign. The tooth fairy then recruited new dental school graduates to take on young Rappahannock patients at starter rates. Next she found a retired dentist to bring his own equipment and set up a little dental office in the Washington School. When he returned to private practice in Northern Virginia, he left an office full of equipment behind. So she tapped Public Health Nurse Francis Thornton, another partner on behalf of Rappahannock's children, for a share of her space to continue the school dentistry program with young dentists that she recruited.
The big deal at Little Washington High School was County Commencement, and to take the spotlight there, kids needed good grades. The big deal at little Sperryville High School was May Day, and to be part of those festivities, kids needed good dental care.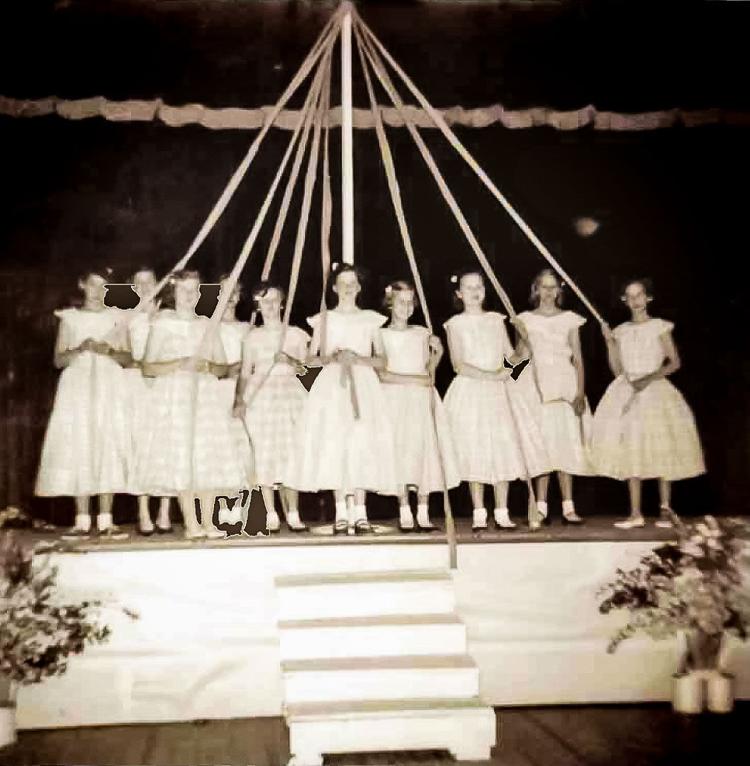 Through it all, Mrs. Quaintance continued her person-to-person tooth fairy work behind the scenes. Carolyn Thornton, who rode to school from Piedmont Farm in the F.T. Valley in a woody station wagon driven by teacher Pauline Bruce, remembers hearing a talk through the principal's office door left ajar. Mrs. Quaintance was speaking to a little boy from the mountain. "These are yours," the principal said, handing the child a toothbrush and a tube of toothpaste. "You take them home, you use that toothbrush twice a day, and you do not share it with anyone!"
(Carolyn also remembers Mrs. Quaintance's Board of Education, a legendary paddle with holes about the size of dimes. It was employed only in the direst of disciplinary circumstances, and Carolyn swears she was never on the receiving end, but she does own up to having to write "I will not talk in class" 500 times on the blackboard).
Sally Latham Haynes remembers two punishments from her four years at Sperryville: "The entire school was required to come outside and watch. Mrs. Quaintance and the miscreant would be up on the porch, and we'd be standing on the ground. She had the boy bend over a desk, and she whacked away. The paddle punishment was for fighting, I think. I don't know where cheating and lying fell. For cussing, she had the kid wash his mouth out with soapy water. A whole glass of it)."
But Mrs. Quaintance was much more focused on keeping the peace so learning could happen than on imposing punishment when the peace was broken. In the early 1930s, before the establishment of Shenandoah National Park evicted families from the mountains, poorer children would sometimes show up for class in torn and worn clothes unsuited for school, attire that drew attention in unwanted ways. So Mrs. Quaintance set up a school loan closet — clothes and shoes to be donned for the day and returned before the children walked home. And she saw to it that smudged kids washed first. "I know that's true," affirmed Aileen Johnson. "I know because my older sister helped. Mrs. Quaintance did so much for so many. No one will ever know all that she did." 
In addition to employing the legendary Board of Education, Mary Botts posted a legendary record — 15 years undefeated as coach of Sperryville's girls' basketball team. Aline Johnson, a 1947 grad of Sperryville high, recently looked back on life in the village from her front porch at Chestnut Cove. She recalled bumping over the mountain and down the valley to Harrisonburg for one memorable game, the team packed into Mrs. Quaintance's car. "Three of our girls came back over the mountain that night with scholarship offers from Madison College," she remembers.
In another memorable victory over Charlottesville High School — a true David versus Goliath, 100 enrollment against 1,000 enrollment — the Sperryville girls held the giant scoreless for the entire contest. Not a single goal was scored by the opponents. With characteristic modesty, Mrs. Quaintance attributed the success to the natural ability of her girls. But in a 1991 Rappahannock News interview, a former player had another explanation: "You know the way she blinks those eyes. We were afraid to mess up!"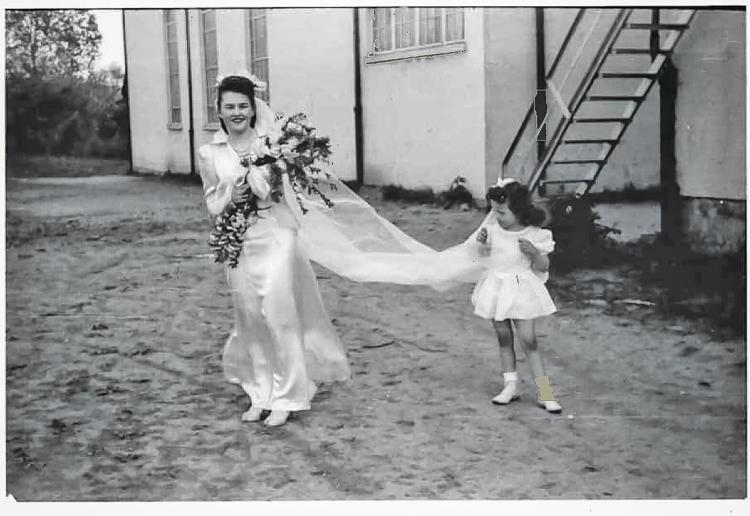 Blinks aside, in most times for most things, Mrs. Quaintance relied on strength of personality and breadth of knowledge. She knew where kids hid out when they skipped school, and she sent the custodian to collect them. She knew the families in crisis. She knew the parents and the grandparents, the aunts, uncles and cousins. She knew the children who needed extra watching or extra comfort. She knew the children who could give comfort and keep watch. She knew where and how to find help. She could say the right thing at the right time in the right way for a young person to hear . . . and remember. 
Named principal for Sperryville's elementary grades in 1950, she shouldered those "part-time" duties while keeping the books, doing her own typing, and teaching seventh grade English, math and physical education. In 1967, Mrs. Quaintance became the first principal of the new consolidated elementary school, and thereafter until her retirement in 1976, she could be found most days walking the halls for 15 minutes after the first bell and 15 minutes before the last bell — the best times for observing classrooms and seeing where help might be needed, she maintained.
Her husband, Dike Quaintance, died in 1972, and she remained a widow for 15 years. In childhood, Mary Botts Miller had been best friends with John Snead, also born and raised in Gid Brown Hollow. One Sunday the Millers would visit the Sneads and the next, the Sneads would visit the Millers, and in between the kids played together. Her brother and the Snead boys did the typical country pranks, like shooting out windows with BB guns, and she and her sister put on performances of original plays for the often impatient boys. They went to different elementary schools but the same high school, different colleges but they both returned to Rappahannock to teach. After one year, John gave it up for med school. Following graduation and an internship in Abington, he opened an office in Sperryville. He and his nurse bride, Lydia "Pinkie" Crabbe Snead, became great friends with Dike and Mary Quaintance, and for decades, they moved in the same social circuit.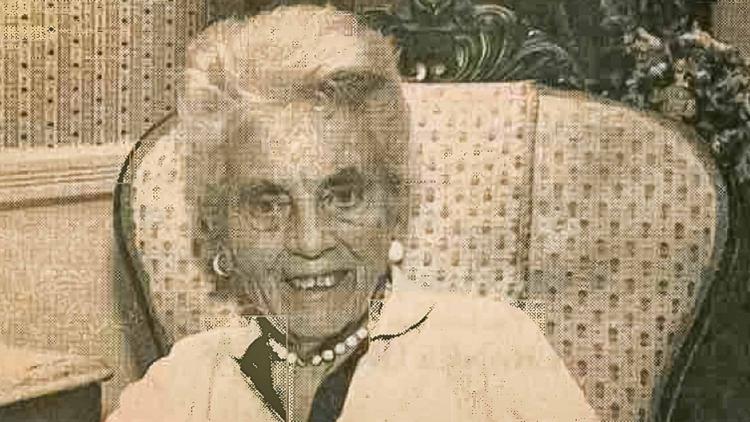 In 1986, Dr. Snead was also a widower who had devoted a lifetime to caring for Rappahannock's children, and the two old friends began keeping company. Aileen Johnson remembers the call from Mary Botts one morning, likely in late 1986. "She asked for Carson (Aileen's husband, another Hollow boy of that same generation) but he was out, so I offered to take a message. She said she was getting married and wanted Carson to give her away! I thought it was a joke, that she was kidding me." But it seems Dr. Snead invited Mary to go to Florida with him. Aileen remembers Rappahannock's educator for a half century saying that she explained to Rappahannock's country doctor of 39 years: "I can't do that! What would all the children think of me? What would they say? "He responded, 'Well, what if we were married?'" 
And that was that. They wed on Valentine's Day, 1987, and they went south to Boca Raton for the winter. She was 81, and he was 80.
A few years later, after Dr. Snead's death, Aileen took a call and another message from Mrs. Quaintance. This time, "Mary wanted to ask Carson to do her funeral. She said 'He gave me away to my second husband. I want him to help lay me down for the last time.'"
And that was the Sperryville tooth fairy, beloved teacher, winningest basketball coach and performer of good deeds who served in loco parentis for so many of the county's children. No fuss. No nonsense. Just Mary Botts Miller Quaintance Snead.
---
Click here to sign up for the C-19 Daily Update, a free newsletter delivered to your email inbox every morning.