Every year, Amissville's award-winning Gray Ghost Winery celebrates the season with a grand display of holiday spirit. The weekend before Thanksgiving, the winery fills with Christmas symbols, from a Nutcracker towering 14 feet to Santa's workshop and a sleigh with reindeer — all fashioned from corks. Thousands and thousands and thousands of corks.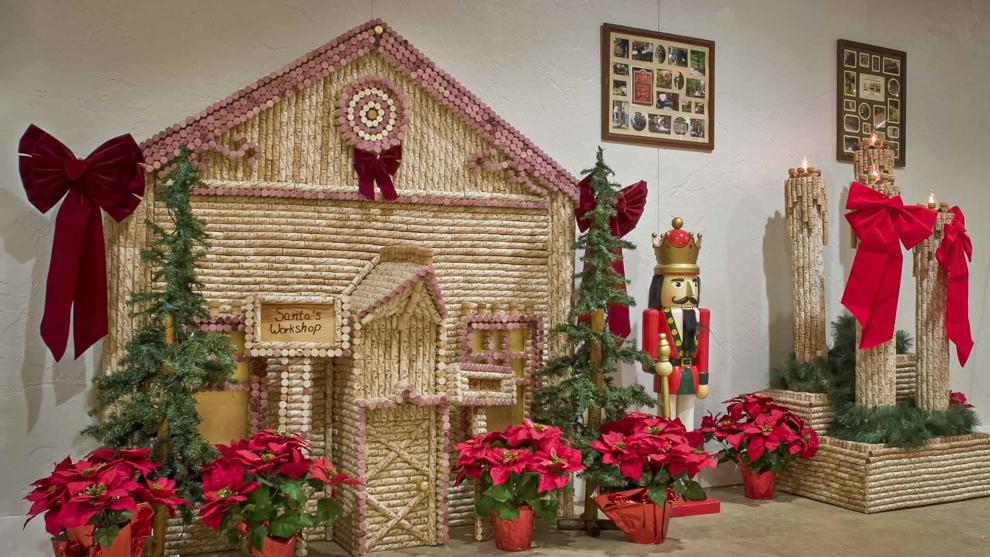 The total approaches 200,000, estimates vintner Al Kellert, who glued each cork in place. Every cork is stamped with the Gray Ghost logo, every logo is exactly right side up. The sight sends children's imaginations soaring and a Christmas crafter's heart reeling.
Christmas has always been a family affair for the Kellerts, just like the winery is today, where mom, dad, kids, their spouses and their children plant, prune, harvest, blend, serve, promote and publicize together. Even four-year-old Albert makes a contribution, keeping an eye out for anything he may need to attack with broom and dustpan. 
"I love Christmas, more than you can imagine," confided Al. He directed the church choir and his wife Cheryl played the organ, so "the kids were brought up with Christ and Christmas." 
They keep that tradition, with their children hosting an elaborate Christmas Eve buffet and the unwrapping of presents, then going to church together and raising a family toast to the season with homemade eggnog (a White House recipe from the Reagan years.)
But the corker of a Christmas scene? That's Al's creation and his alone.
He began 35 years ago with one little Christmas tree. And like Topsy, it just grew. The following year, Al added a giant tree. Well, that one actually took three years. It's done in three sections that come apart to nest for convenient storage. All are Al's designs — trees, snowman, Christmas throne, sleigh, rocking horse, chimney hung carefully with stockings, grandfather clock, Christmas airplane and more. The base of each is wood, covered with corks that are attached with a glue gun.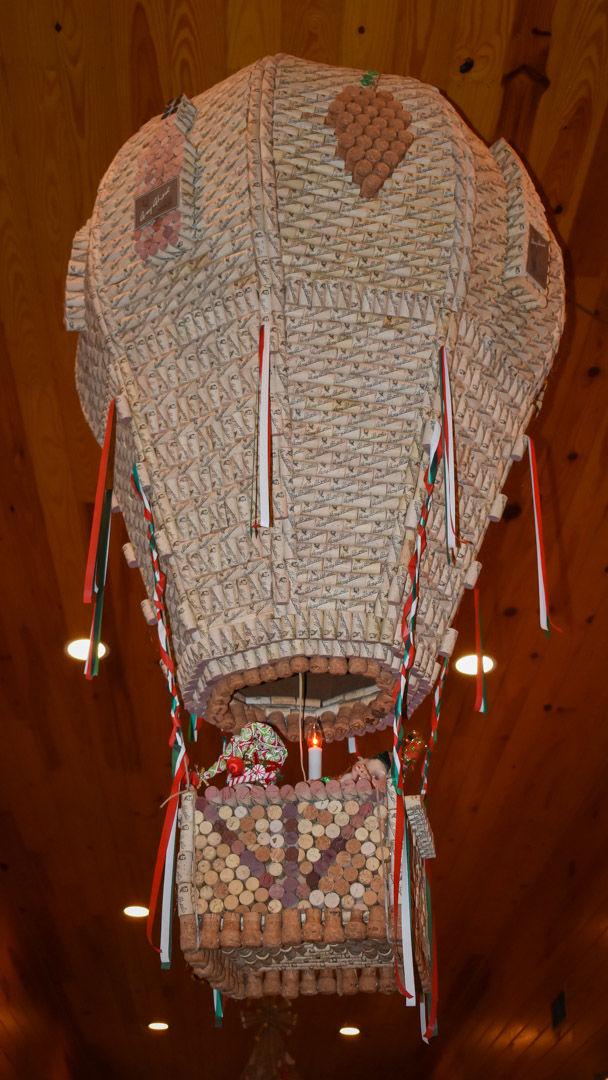 It takes about 10 months to go from the start of an idea to the finished Yuletide piece. Al spends days in the vineyards but evenings, he swaps pruners for a glue gun and combines two passions, crafting Christmas to a soundtrack of his favorite classical music. 
The unveiling of the collection's latest addition comes when pieces are hauled from the warehouse to the winery just before Thanksgiving. For 2019, it's an enchanted forest of lights. 
The wine selection adds an opportunity for spirited shopping to the holiday attractions at Gray Ghost. Reserve Chardonnays and Cabernets are top medal winners, and tasters will find it a challenge to choose. "There's not a one I don't like!" is a frequent pronouncement at the tasting bar.
"I love hearing that," Cheryl added. "The praise validates all the time, effort and care we put into our wines. Like our Christmas celebration, it's a family deal."
Note from the North Pole: Santa takes his seat on the Christmas throne at Gray Ghost on Sunday, December 15, 1-4 p.m. The event is free, there's a gift for every child, and cameras are encouraged. In addition, the Christmas spirit will be there for the catching through the New Year during winery hours, Friday-Sunday, 11 a.m.-5 p.m.