A Rappahannock woman spreads peace and prosperity in Africa
As a young woman, Melanie Kopjanski of Rappahannock County wanted to join the Peace Corps. While she didn't get her wish, her daughter, Maddie, did.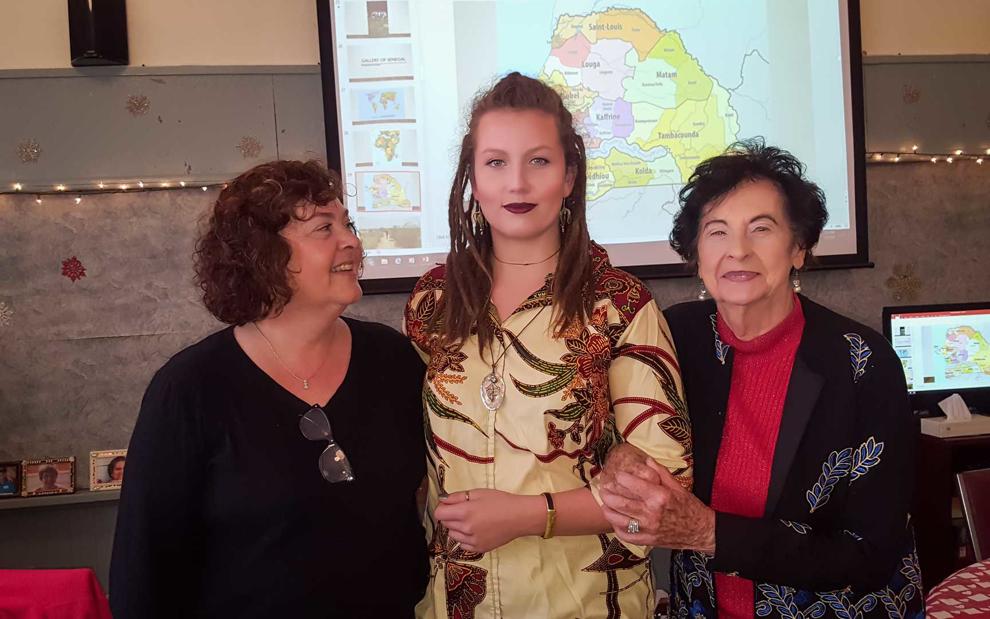 In Senegal, her ongoing Peace Corps assignment, Maddie is known as MG, although her host family has named her Hawa — it means Eve, from the Bible and the Koran. She is statuesque, sporting beautiful long cornrows, traditional Senegalese attire, a dashiki, vibrant and bold colors, and she flashes a bright, engaging smile.
Both of her grandmothers, one no longer with us, have belonged to the Rappahannock Senior Center, where Maddie over the years has volunteered. She now speaks before a crowded room of these elders sharing her Peace Corps tour of Senegal — a year-plus into a 27-month assignment.
Maddie was inspired to join the Peace Corps by an improbable speaker, an alumnus of Rappahannock County High School who visited her class while she was a student. 
As her mother and "grandma Baba" — Sallie Thornhill — sit in rapt attention, Maddie shares stories and experiences of a most rural region of Senegal, its landscape, the lifestyle of its people, passing around photos of her fellow villagers, and her adopted family. The room is silent, transfixed in fascination.
Senegal, Maddie educates, is a coastal West African nation, bordered on the west by the Atlantic Ocean, with the nation's longest border shared with Mauritania. She lives in the region of Matam, which lies below the desert, and while seasonal rains provide relief the area is primarily arid. The language spoken is Pulaar, a lyrical language of which Maddie now has full command.
She lives in a compound, her bed a cement slab covered with an insect net, sleeping outside under the stars. Her facility is a hole in the ground, her toothbrush coming from a tree — bark stripped from a branch and chewed until soft. A bush taxi — a horse drawn carriage — is the transportation. 
A water hole, caramel brown, is the primary source of water. Food for Maddie and the villagers consists primarily of fish and rice. The country is 98 percent Muslim, so pork isn't part of the diet. Most food is imported, and what is domestically grown and harvested (primarily for the livestock) doesn't come easy — the weather is a hot 100 degrees for most of the year.
During the rainy season, roads become seasonal rivers, with horse drawn carriages kept afloat by a canoe while the horse swims alongside. 
Senegal is a country where polygamy is practiced. These wives of the same husband (a man is allowed to have four) often wear duplicate outfits, a sign of respect, although all the women wish to be "the first wife." Henna tattoos are popular and considered a standard of their beauty. 
Weddings are of a 10-day duration, the groom never present, the bride at the closure of the festivities brought to him at midnight, escorted by villagers. The newlyweds would most likely never have met, perhaps just a phone call. Some of the brides are quite young, 15 and 16 years old.
Many of the men live overseas to work and send money home to their families. Women, at the same time, tend to the children and daily chores, washing clothes in the caramel colored waters. 
Maddie trains others to train their fellow villagers. This is a Peace Corps mantra, to allow the indigenous peoples the opportunity to train themselves, acceptance therefore of the principles and lessons shared. Maddie, when not teaching about water conservation, lectures women's groups on everything from gardening methods to making diapers. 
Senegalese, she concludes, are a happy people who glow in the warmth of family. They find great joy in a sense of community and by and large do not know what they don't have in material wealth. Their wealth is more profound.