Nina McKee is well known in Rappahannock County and surrounds, not only is she an expert horsewoman, a talented fox hunter, as is her lovely daughter Lily, all of 12 years old and riding first flight, but she is also a gifted CPA, in fact many a resident are her clients, myself included.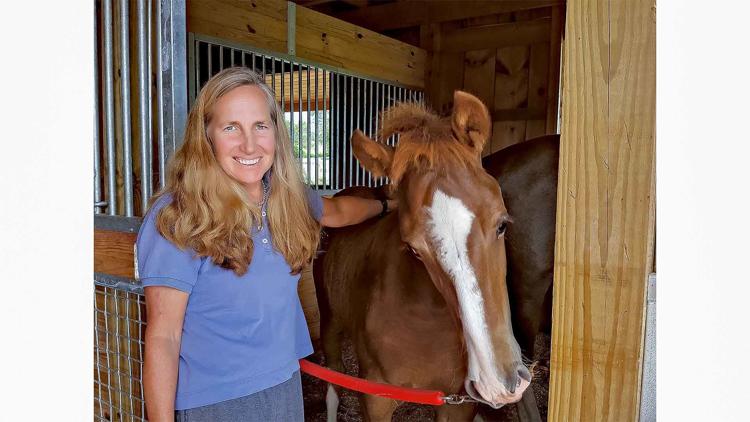 She grew up in Maine riding and showing Morgans and American Saddlebreds, holds a BS in Animal Science/Equine Studies and MS in Accounting from UMass Amherst. While at UMass, she got hooked on fox hunting (with Guilford Hounds in Vermont) and moved to Virginia with all her beloved Saddlebreds to fox hunt, as we have a longer season.
She lives on her beautiful Rappahannock Oronomo farm, named after Orono, Maine where she met Dan Avery, her current husband 30 some years ago, and her Piedmont office is in her barn. She tells that her great grandmother was born at Crednal Upperville, near Wellbourne, so she's only part Yankee!
She is also, along with her brother Charles (Charlie), the founder of Equine CH, LLC a U.S. venture dedicated to importing and breeding top quality Swiss Freiberger horses, the only facility of its kind in the United States and located right here on Rudasill Mill Road. 
A recent holiday trail ride on Freibergers in the Juras of Switzerland inspired both Charlie and Nina, both life-long equestrians, to envision introducing the Freibergers to North America. A press release published in Switzerland, entitled "Freibergers reach land in American Shores," states "A milestone for the beloved Freiberger, Equine CH, a U.S. venture dedicated to importing and breeding top quality Freiberger horses, advancing the breed and its purity in the US and Canada, is delighted to announce its first US born foal, Piedmont Uri."
The horse breed originates from the Jura, one of Switzerland's 26 cantons, this one forested in the Jura mountains, and traces to the year 1619. Since 1997, the breed's studbook has been closed to any external admixture.  
Nina and her brother just bought 3 more mares, two pregnant, so now have 4 broodmares, 2 yearling fillies, and one suckling colt. Future breedings will be via imported semen — insemination courtesy of our very own Dr. Kevin Dippert, of Amissville's Equine Reproduction Concepts.
For further information please contact Nina at nina@equinech.com
Horses aside, World Hope touches the lives of millions, and a number of selfless Rappahannock volunteers are involved with the water initiative inspired by Sara Hastrieter, an adventurer the likes of Amelia Earhart. 
Marianne Clyde, Monica Fernandi and her husband Mike King are trekking to Mt. Everest Base Camp to help provide access to clean water for thousands of people. They are inspired by Hastreiter, who has set out to become the first woman in history to achieve both sailing the seven oceans around the world and climbing the highest peak on each continent in a quest for good drinking water for millions. 
The goal is to raise at least $200,000 for World Hope to continue empowering communities with clean water. Every climber is asked to raise $5,000.
I recently met with Marianne, Monica and Mike and they shared their passion. Both Monica and Marianne have known each other for sometime, and Monica was inspired by a recent talk given by Marianne regarding this water initiative. Monica in turn inspired her husband, who on his bucket list included visiting Nepal, and he was "in," he shared with me, a twinkle in his eye. 
Marianne, Monica and Mike share a profound faith in humanity and welcome anyone who would like to join this effort. "Reach Out" is their mantra and "Say YES!" Please visit World Hope's site regarding this initiative and also the general fundraising site should you wish to contribute towards their efforts: https://support.worldhope.org/7-seas-7-summits/