As a young boy, growing up in upstate New York, Kevin Dippert was not particularly fond of horses. His daily chores, however, involved all manner of barn work, including the requisite mucking of stalls, warranted by the presence of his mom's horses on the farm.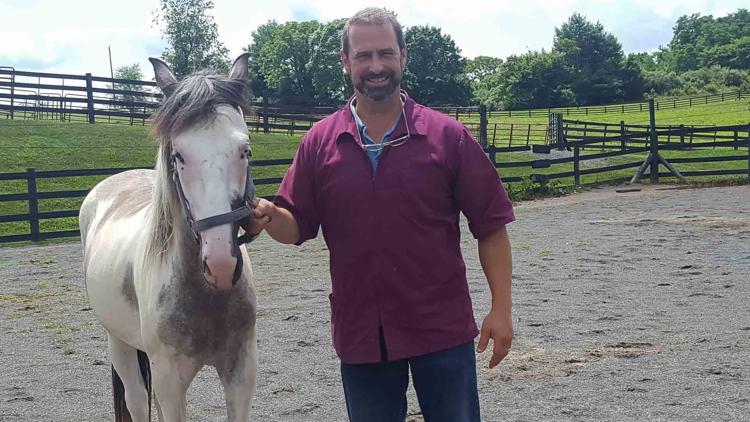 He tells with a smile that his interest in horses changed markedly when at the age of 12 those same duties garnered him pay. He worked for a local quarter horse breeding facility and within a short period of time progressed from mucking stalls to assisting with the actual breeding, holding the mares and stallions, collecting semen and implanting. His fascination with all things equine grew exponentially, fast forward.
He now holds a PhD in Equine Reproductive Physiology, earned in 1995 from Colorado State University, one of the nation's premier equine educational institutions. He is the founder of Equine Reproduction Concepts, a state of the art reproduction facility housing over 80 horses during peak season, including a herd of recipient (or surrogates) for the embryo transfer program.
It is located in Amissville and serving not only local but national and international clients. 
His talented staff include Robin, now with him for close to 20 years, also an interning veterinarian from Australia, an on site veterinarian, and the veterinarian-in-charge — Derek Vandrey, whom many in Rappahannock know from his years with Tom Massie's highly regarded veterinary clinic. He and Tom Massie and Monika of Rosehill vet fame brought my beloved Friesian Xerxes into the world. 
Sitting across from Kevin in his office surrounded by amazing paintings of horses thundering across hill and dale, I share with him my limited experience with breeding, the one day shipment picked up courtesy of the Utah stallion Feike, the sire I chose, and upon arrival at baggage claim, being presented with a very large container. 
The agent asked kindly if I was a breeder of horses and shyly I said no, that in fact it was my first time and my Friesian mare Madeline's first time, upon which, the gentlemen standing behind me in line handed me two cigarettes and a lighter. Kevin bellowed with hearty laughter at this somewhat humorous anecdote. 
He is at once warm and open, possessing high intellect coupled with great charm and appeal and an intensity that reveals clearly his passion for his work and the esteem in which he holds his clientele, the excellence he demands from himself and from his employees and his love of all things equine. One can't help but like him and trust that he's all about serving his clients. His facility, knowledge and leadership, is a slam dunk for anyone wishing to breed their beloved horses.
I asked Kevin of his initial inspiration, the beginning of his journey and he told of "observing nothing prettier than a herd of thundering hooves, of mares and foals frolicking in abundant pastures, of the quiet joy observing their natural bliss."
Kevin tells that he chose to house the facility on the east coast because he wanted to be centrally located, near a large horse population and an airport to enable transportation of frozen semen, cool semen and embryos, locally, nationwide and internationally.
He was drawn to Rappahannock's sheer mountainous beauty, and property taxes played a role as well.
Currently the facility houses over 50 mares, both recipients and surrogates, the embryo transfer mares, also known as surrogate moms. As Kevin describes the embryo transfer program he tells that 8 days after the genetic donor mare ovulates, the embryo is flushed out, bathed, washed and placed in the embryo transfer recipient mare. At 65 days into the pregnancy, the recipient mare goes to the owner's home to live or remains, a decision made by clients. 
Once the foal is born, the embryo transfer recipient mare nurses it and treats it as her own, but it is of course genetically tied to its original mother (donor). Another service offered at the facility is the collection and transportation of semen, either cooled or frozen. The cooled semen can be shipped anywhere in the country within a 24 hour period and semen can be frozen at the facility and stored there, using liquid nitrogen to keep it at a minus 196 degrees Centigrade, or shipped somewhere else in the country or internationally. 
The advantage of frozen semen is that it preserves the genetics for future progeny and also a horse owner can still show the stallion during show season and not have to keep taking him to other farms for breeding purposes. 
The facility offers expansive pastures, 25 acres, a beautiful state of the art barn constructed in Colorado and then reconstructed here, along with a spacious laboratory celebrating all manner of high tech equipment including a densimeter to count sperm cells.
For further information or to service your equine, please contact Kevin at https://www.equinereproduction.com.