Local equestrian's techniques aid horses, riders, vets around the world 
Dances with Wolves may be a Hollywood blockbuster featuring Kevin Costner but here in rural Rappahannock lives the real deal, a Dances with Horses leading lady, namely Wendy Murdoch. 
She is an equine force of nature, in demand throughout the world for access to her equestrian skills. As a youngster, she was enamored of horses, her first birthday cake decorated with a candle in the shape of a horse, a foretelling of tales to come.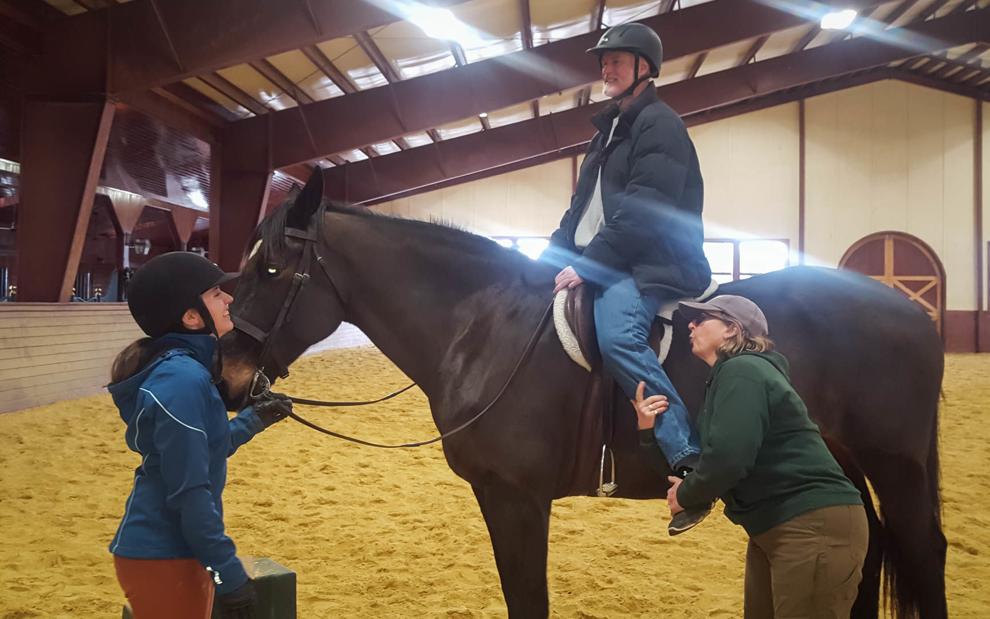 Selling newspapers in Stamford, Conn., as a young teen, she earned enough money to buy herself a horse, strong minded as she was and is, she never asked permission. Her dad then transformed his 2-car garage into a barn and so it began, her love of horses flourished, her extraordinary interaction with them nourishing not only these fine animals but their doting owners as well and now on a worldwide scale.
She is currently off on yet another overseas excursion, and her Sure Foot Equine Stability Program technique, now being taught in veterinary schools applauded and lauded world wide as a vehicle to obtain, in its purest form, a return to nature's original vision of the dance, the medley of movement between horse and rider, celebrating balance, correcting ineffective techniques unfortunately taught to so many riders, often resulting in injury and poor horsemanship.
Meeting her in Flint Hill at Matt Neiswanger's High Meadow Manor, his barn manager Carin and her mount Charlotte enjoyed the benefits of Wendy's teachings. 
Indeed, Matt, a foxhunter with Old Dominion Hounds (ODH) as is Carin, he an avid carriage driving aficionado also enjoyed Wendy's extraordinary gifts.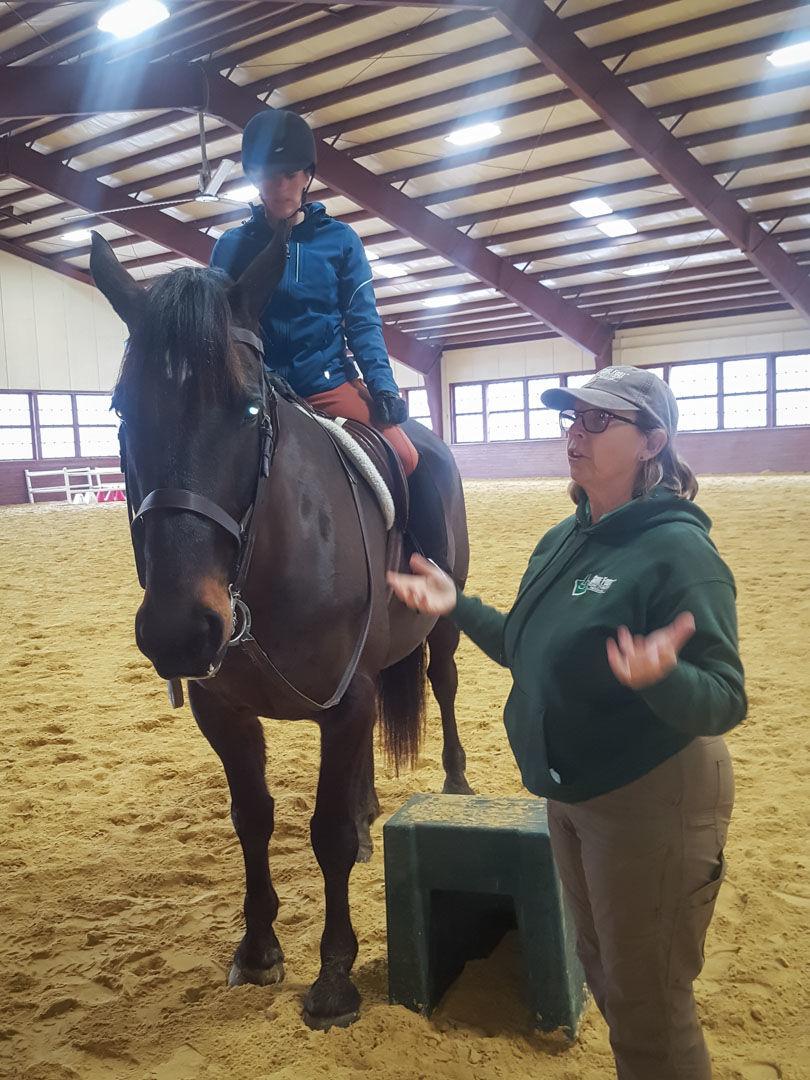 The transformation of horse and riders was astounding to observe. Charlotte, a beautiful animal, even tempered, well trained yet clearly unbalanced consistently cantered on the wrong lead, a correct canter is a lead with the inside leg, allowing for balanced movement.
Wendy was quick to point out to all riders present, the over reliance on stirrups, the incorrect heels down concept pounded into riders over years of training, resulting in unnecessary tension to horse and rider, the consequent stiffness of joints, and the learned posture that places additional pressure on the horse, namely the rigid hollow back position, and she shared the importance of a relaxed flat back position that feels like slouching in the saddle. 
With quiet requests, not demands, over a relatively short period of time, Wendy asked Charlotte to place her hooves upon the spongy Sure Foot equine pads, of varying firmness and riders watched in utter amazement as each subsequent canter resulted in an observable softness, a rounded movement, Charlotte licked and chewed at the halt, a reflex actually an indicator of a release of stress or tension. 
In most instances it occurs as a "lets down" reaction. In some cases the horse may have been concentrating on a problem, thinks it has found a solution and the lick chew reflex indicates the release of concentration tension. Charlotte then began picking up her correct lead, not consistently, old habits, as they say, die hard and often learned habits of horse and rider require time to erase, but the improvement within such a short period of time was mind boggling. 
In fact she picked up a flying lead change without being asked. Her tail while cantering swished gently, hanging loosely often a sign of a happy horse. A raised tail is often a sign of high excitement or just feeling great. Young horses, or horses with excess energy, galloping freely in a field often hoist their tails high to show their exuberance.
Wendy's life experiences painted her future accomplishments. In 1984, while attaining her master's degree in equine reproductive physiology, she suffered a severe riding accident. Her self-rehabilitation started a quest to understand and answer the question of how to ride pain free, using the body as it was designed. She utilized her scientific training to break down larger concepts of riding into simple easy to do exercises for students of all ages, abilities and disciplines, to make learning enjoyable, engaging and fun through in-depth presentations both mounted and unmounted she helps her students connect the dots and achieve their goals.
Her studies include apprenticeship with Sally Swift, extensive training with Linda Tellington-Jones, Dr. Joyce Harman, Jon Zahourek (Anatomy in Clay) and Dr. Hilary Clayton. To help her guide students towards better function Wendy became a Guild Certified Feldenkrais Practitioner and continued her study through MBS Academy and Dr. Feldenkrais' first assistant, Mia Segal. 
Her fascination with the mind/body connection between horse and rider has led her to explore courses outside the equine world and bring that information to her students. Her willingness to embrace new ideas led Wendy to develop the Sure Foot technique, which allows horses to reprogram their own brain in order to feel more grounded, secure and confident so they can become a more willing partner using Sure Foot equine pads. This innovative Program is an extension of Wendy's beliefs; we each have within us our own teacher that recognizes what is best for our own well-being, we simply need the options and opportunity to discover what we innately recognize and know.