Astronaut to Byrd
Shenandoah National Park will conduct its Fourth Annual Night Sky Festival this weekend — Friday through Sunday — where rangers and guest speakers will present a variety of programs at sites throughout the park focusing on space, celestial objects, and the importance of dark night skies.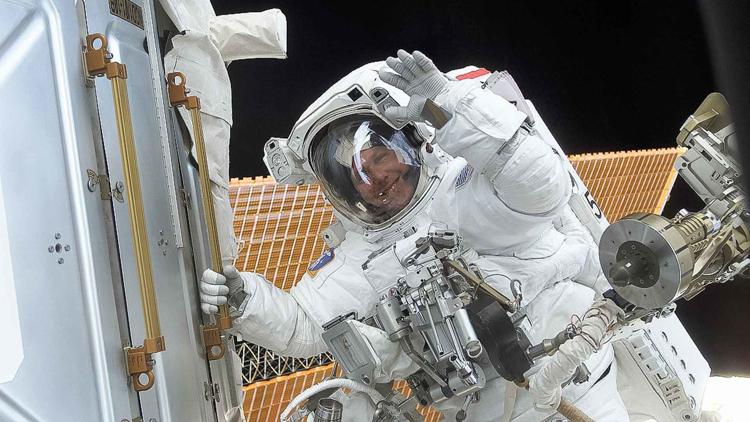 Guest speakers on Saturday, August 10, will be veteran space shuttle astronaut Tom Jones and NASA/JPL Solar System Ambassador Greg Redfern.
Jones will present two programs in the afternoon at Byrd Visitor Center auditorium (mile 51 on Skyline Drive): "Skywalking: an Astronaut's Journey" at 1 p.m. and "Beyond Earth: Humanity's Future in Space" at 4:30 p.m. Redfern will present "This Isn't Your Grandaddy's Moon" at 7 p.m. and will repeat it at 8 p.m. These programs are sponsored by Delaware North, the park concessioner.
Other activities throughout the weekend include ranger talks, audience-centered discussion, children's activities, and telescope/night sky viewing. Special programs will take place at Dickey Ridge Visitor Center (mile 4.6), Byrd Visitor Center (mile 51), and the amphitheaters at Mathews Arm Campground (mile 22.2), Skyland (mile 42.5), Big Meadows (mile 51) and Loft Mountain (mile 79.5).
All programs are free, no reservations required. There is the $30 per vehicle entrance fee to the park that is good for seven days. Annual passes are available that make visiting the park on a regular basis quite affordable. 
An artistic journey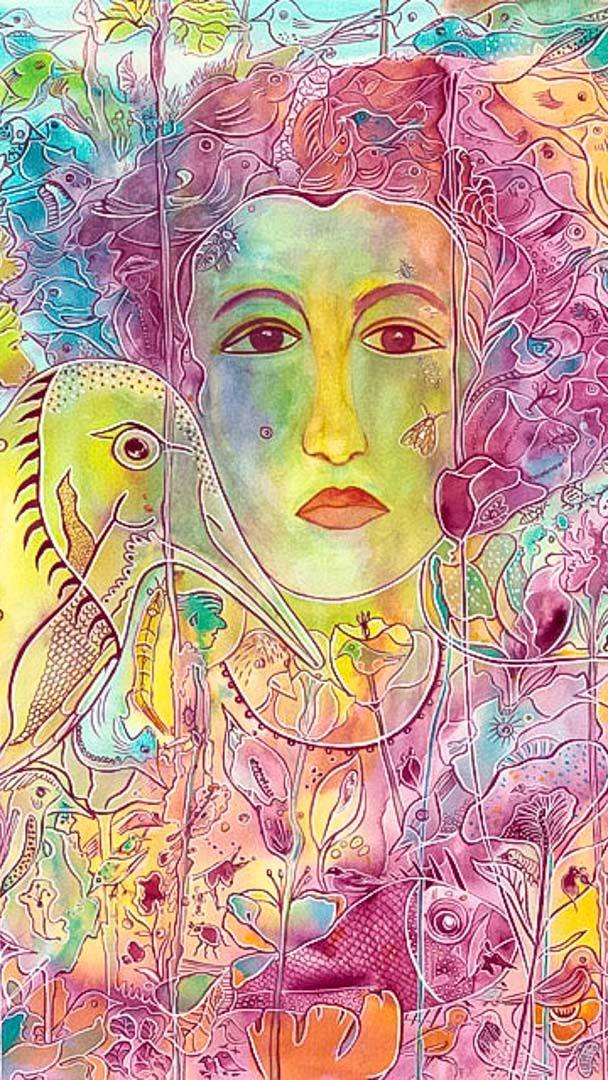 Two local painters will offer glimpses into the art-making process at Middle Street Gallery in Washington from Aug. 16 through Sept. 8, writes the gallery's Gary Anthes. The gallery will spotlight their work at a reception on Saturday, August 17, from 3 to 5 p.m.
"What is painting all about?" the two artists ask. "For us, making art begins with an impetus to create something new under the sun . . . something not quite ever seen before."
But just how "something new" emerges is vastly different for these painters, as they will show at their exhibition, "Less Talk, More Monkey." 
"I begin with swirls of watercolor applied freely and without a conscious goal in mind," says Anita Zymolka Amrhein of Boston. "I look at this amorphous veil of color and begin to see figures of all sorts of creatures — animals and human — with which I populate my work. I create a world that reveals more and more detail the longer one looks."
Sperryville painter Linda Croxson, on the other hand, begins with a definite plan — a drawing of a still life, a portrait or a landscape. "I then immediately find the plan in need of major rehabilitation," she explains. "So begins a process of seemingly endless scraping down and repainting which — since I work in oil — can go on indefinitely, until I realize that a new form has emerged and I recognize something both unexpected and absolutely right."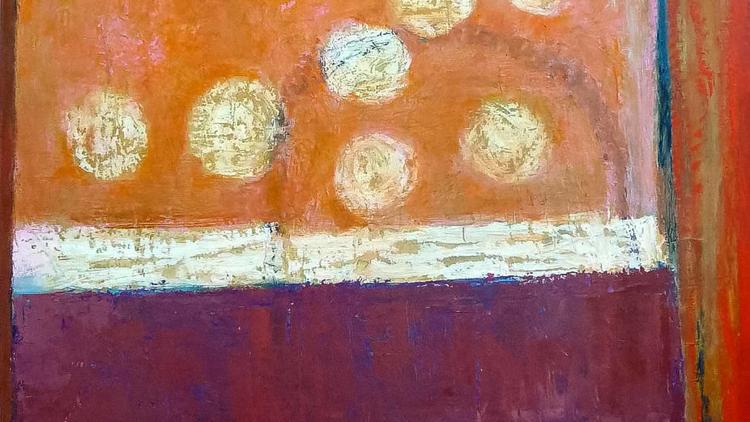 Other members of the artists' co-operative will also show works during the period. The gallery is located at 325a Middle Street in Washington. Hours are Friday-Sunday, 10 a.m. to 5 p.m. Call 540-675-1313 or visit www.middlestreetgallery.org
RAAC Holiday Show
RAAC Community Theatre at 310 Gay Street in Washington will hold auditions for its holiday show Saturday and Sunday, Aug. 24 and 25, 2 to 4 p.m. both days.
This year the theatre is presenting The Talented Clementine, a fully staged musical that Kid Pan Alley director Paul Reisler adapted from Sara Pennypacker's award-winning children's book. Patty Hardee will direct the show, with help from Reisler and other talented community artists and volunteers.
The musical has several roles for adults, but most parts are for kids. "We invite anyone who is interested to audition," says Hardee, who is also the theatre's Artistic Director. "And don't worry if you don't sing or dance; we'll help you." In fact, it's a RAAC Theatre tradition that all who audition for the holiday show get a role.
"We also invite kids and adults to help with other parts of the production," Hardee says. "There is so much more that goes into theatre than what is on stage, such as lighting, sound, props, set painting, make-up and a myriad of other activities." 
Auditions will be readings from the script. Rehearsals begin in early September on Tuesday and Thursday evenings and Sunday afternoons. Not everyone will have to be at every rehearsal. Final performances are Dec. 7, 8, 13, 14, and 15. And the cast will participate in the Christmas in Little Washington parade on Dec. 9.
Questions or more information: pahardee@gmail.com or 540-675-2506.
Becoming Cutro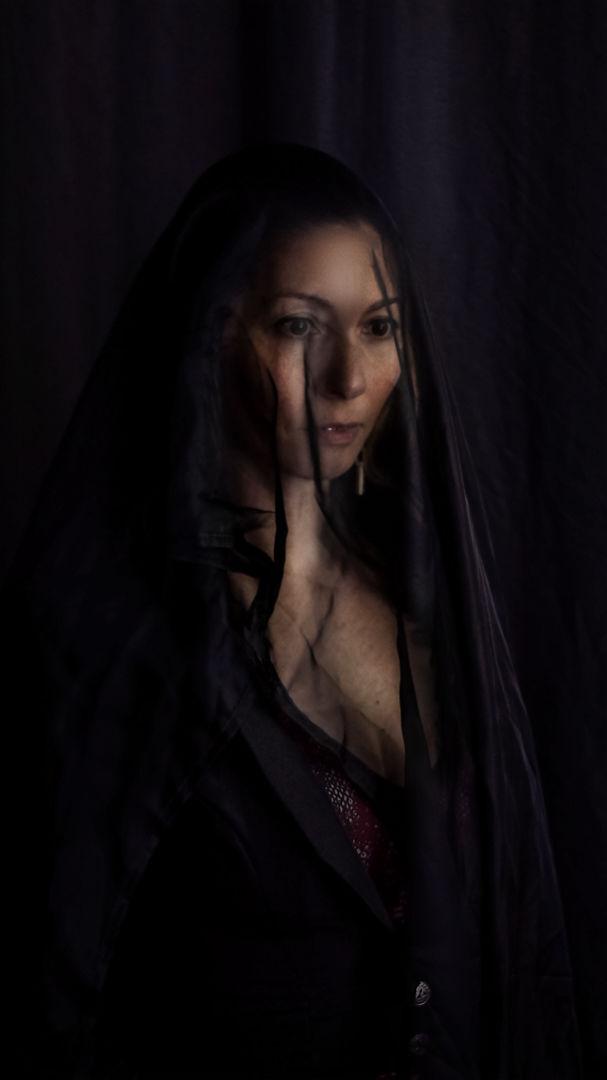 This week, Rappahannock Radio's final show of the season features Cara Cutro.
She is a Reiki master teacher, herbalist, licensed massage therapist, and passionate reader of the tarot. 
A phoenix from the flame, listen to the story of how Cara completely remade herself and became an independent business woman. Rappahannockradio.com is hosted by Kiaya Abernathy.
Second Saturday
This weekend is the monthly Second Saturday on the Rappahannock Artisan Trail:
Amissville/Viewtown
Magnolia Vineyards & Winery: Entertainment by Madonnas in a Field Duo, a rockin' country Rappahannock-based family band. 2 to 5 p.m.
Narmada Winery: Singer/guitarist Janna Audey performs 2 to 5 p.m. Winery open from 11 a.m.to 7 p.m.
Sperryville
Before and After: George Mason reveals in incredible detail the life of Rob Nickersen, a Sperryville area mountain man who lived off the land and moonshining, and whose life spanned two world wars and the creation of Shenandoah National Park. Mason, author of a trilogy of books about Nickersen, will speak at 7 p.m. Wine, beer, tea and other beverages will be for sale.
De'Danann Glassworks: Create your own Celestial Star from stained glass in a workshop for all levels of experience. 9:30 a.m to noon. Fee: $30.00. Phone 540.987.8615.
Old Rag Photography at Glassworks Gallery: Francie Schroeder will be present noon to 2 p.m. introducing her amazing exhibition Birds.
Washington
Hazel River Arts and Antiques: Features the large expressive paintings of Maggie Carlson. Meet her in a reception from noon to 4 p.m.
Middle Street Gallery: Exhibition of fine art by 21 gallery members, also featuring oil paintings and pastel of new member Carol Iglesias and watercolors, oils and drawings of new member Fae Penland. 10 a.m. to 5 p.m.