Lights, camera, action!
Thirty-two alumni, friends, and family shared their stories over two weekends recently about Rappahannock County's segregated schools. All were affiliated with at least one of the four Rosenwald Schools in the county, which were located in Scrabble, Washington, Flint Hill, and Amissville and closed with integration in 1968.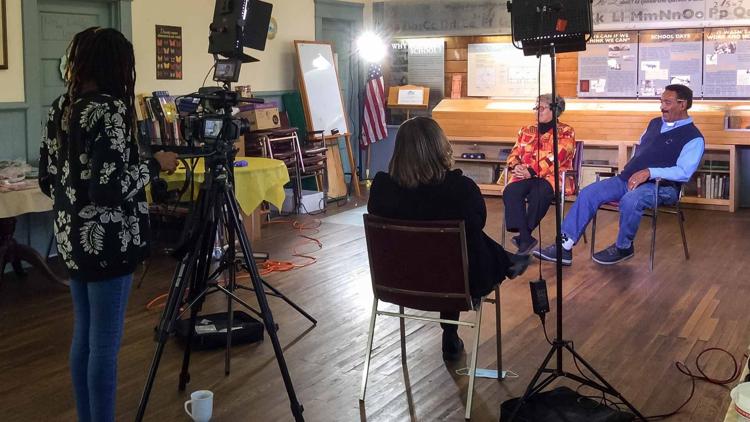 The project is the latest of the Scrabble School Preservation Foundation's work to collect oral histories of the county's African-American residents. 
As seen here, SSPF President Nan Butler Roberts, and project advisors Mary Baldwin history professor Dr. Amy Tillerson-Brown and historian/curator Terry Miller, took turns with the interviewing (subjects removed their masks for brief moments during interviews and doors were kept open to ensure good ventilation.) Metta Bastet, an award-winning filmmaker from Norfolk, was behind the camera.
The project was made possible by a grant from Virginia Humanities, as well as a matching grant from an anonymous donor. Release of the final product will be in 2021.
Cats get a grant
The Ursula Landsrath Animal Rescue Fund has provided a grant of $2,000 to For the Cats' Sake, the non-profit cat rescue located in Flint Hill.
Landsrath founded the Animal Rescue Fund of Virginia as an independent organization in 2008, distributing more than $1 million to Virginia-based animal rescue organizations before shutting down grantmaking operations in 2017. 
Her husband and friends created the Ursula Landsrath Animal Rescue Fund at her passing in January 2019 to ensure her grantmaking legacy.
Vodka and oysters
Dida's Distillery at Rappahannock Cellars is among 14 Virginia agribusinesses that have received U.S. Department of Agriculture grants to help them expand production, distribution and marketing of agricultural products.
The companies received a combined $2.8 million in funding that can be used to develop new merchandise from agricultural products, expand established product lines, and increase marketing opportunities.
Other nearby agribusinesses that received grants include Backroom Brewery in Warren County, as well as Messick's Farm Market and Philip Carter Winery in Fauquier County. Rappahannock River Oysters in Middlesex County, enjoyed locally on occasion, also received a grant.
Virginia cattle boost 
Viewers tuning into the Hallmark Channel this holiday season will see that for the first time since 2003 the popular "Beef. It's What's For Dinner" advertisements.
"The Virginia Beef Council is excited to see [the ads] aired on television again," said Stephanie Weiss, the council's executive director. "With the COVID-19 pandemic keeping more people at home, the Hallmark Channel provides an excellent opportunity to speak to consumers during the holiday season. Beef is a delicious comfort food that reminds folks of happy times with family and friends ...
"Virginia cattle producers work hard to provide an excellent product, and consumers can have confidence their beef is produced safely, sustainably and with high animal welfare standards."
Bordering disaster areas 
Two counties bordering Rappahannock, and another county close by, have been designated "natural disaster areas," with farmers there now eligible for federal emergency credit loans.
The U.S. government determined that Culpeper, Fauquier and nearby Orange suffered losses caused by "drought and excessive heat" during the summer of 2020. The federal loans can be used to replace livestock and equipment, reorganize farming operations and refinance debt.
---
{ Sign up for the C-19 Daily Update, a free newsletter delivered to your email inbox every morning. }
---