Plans set for a Rappahannock 'Winter Wonderland'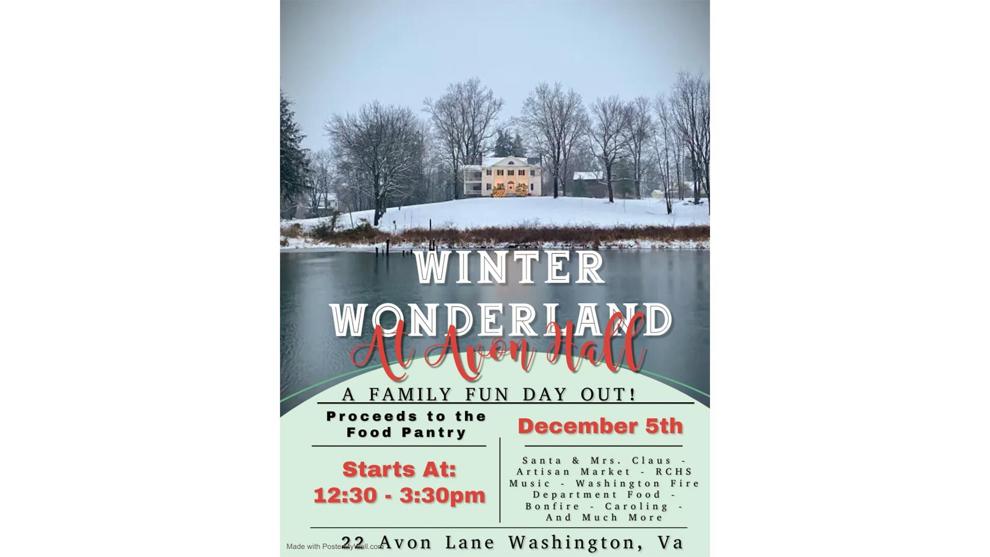 Avon Hall in Washington will be transformed into Rappahannock's Winter Wonderland on Sunday, Dec. 5, from 12:30 p.m. to 3:30 p.m. The Christmas parade may be on pause again this year, but rest assured all of the usual favorites will be on hand, led by Santa and Mrs. Claus with a gift for every child.
Plus, there will be carolling, music from the RCHS band, kids storytime, the annual Artisans Market and a bonfire. Watch this space next week for a full schedule of events on the 5th and also Dec. 19, when the holiday festivities will continue in Sperryville.
Rappahannock high school students compete in state cross country championship
Plaksin came in 39th with a time of 19:05.
County website receives a makeover
The Rappahannock County website was recently updated for a more user-friendly experience. The website features photos from across the county (some taken by Rappahannock News photographer Luke Christopher), the latest news and a calendar of public meetings.
County Administrator Garrey Curry wrote that officials are "soft launching" the new website, and it will be more formally introduced to the public at the Dec. 6 Board of Supervisors meeting. The site can be visited at rappahannockcountyva.gov.
Rappahannock Schools Gallery on display
The Rappahannock Schools Gallery, which was featured last weekend in the Fall Art Tour, will be on display at the Washington School through the month of November.
Those interested in viewing the gallery can visit the Washington School Monday through Friday from 10 a.m. to 4 p.m. until Nov. 30. Admission is free of cost. 
"We hope neighbors and school families will be able to drop by to see the creativity and imagination of our Rappahannock kids," Art Tour organizer Barbara Black wrote in an email.
Five schools are represented this year — Rappahannock County High School, Rappahannock County Elementary School, Belle Meade Montessori School, Wakefield Country Day School and Wonderful Wednesdays Day Camp, according to the Fall Art Tour website.
The Washington School is at 567 Mount Salem Ave., Washington. Masks are required indoors, regardless of vaccination status.
Castleton concert will benefit Afghan refugees
"My father, conductor and composer Lorin Maazel believed music is a voice of change and was deeply committed to major philanthropic work. He always felt we cannot allow any regime to seek to eradicate music!" writes Orson Maazel. 
In keeping with this conviction, the Castleton Festival is presenting "A Time to Break Silence," a concert to benefit Afghan refugees this Sunday, Nov. 21, at 4 p.m. at Theatre House. All proceeds from ticket sales will be paid in an equal share to The Justness Project - Afghan Assist and Restore Her Voice.
This year's event combines traditional Afghan styles, ghazals and classical music. The performers share their voices and extraordinary musical skills as they also describe their traumatic as well as inspiring experiences. 
Foothills Forum to hold board meeting
Foothills Forum, Rappahannock's community news nonprofit, will conduct a regular meeting of its Board of Directors this Friday, Nov. 19, at 5 pm at Gadino Cellars, 92 Schoolhouse Rd., Washington.
Foothills meetings are open to the public. All attendees are asked to be fully vaccinated and/or masked. For information, please contact: info@foothills-forum.org.
RCPS-Foothills Forum Essay Contest deadline approaching
We invite all Rappahannock County Public School students in grades 6-12 to join the 2021 Essay Contest sponsored by RCPS, the Rappahannock News and Foothills Forum. Winners will earn cash awards.
But act fast: The deadline is Monday, Nov. 22. Essays should be emailed to essaycontest@rappahannockschools.us. On the "Subject" line, write: "Essay Contest. Grade     (your grade in school)." 
Essays will be judged in two separate categories: Middle School (grades 6-8) and High School (grades 9-12).
Judges will award 1st, 2nd, and 3rd places in each category. Honorable Mentions may be awarded at judges' discretion.
History: Explain why history and government courses are important for students in a free nation like ours.

Diversity in school: What does diversity in the classroom mean to you? Describe what a diverse education would look like to you.

Consider a time that you changed your mind about something important. Why did you do that? What results did it have?

STEM topic: Rappahannock County has a Dark Sky Park where people come to see unobstructed views of outer space. What impact, if any, does light pollution have on people living in the United States? How do you propose fixing the light pollution problem?

Climate change: The state and national data show that Rappahannock's temperatures are warming. How will this climate change affect farming and agricultural production? What would you do to address the problem if you had the ability and resources to make a difference?

Explain the role of sports and/or music in your educational journey.
---
---