Rappahannock's Winter Wonderland takes shape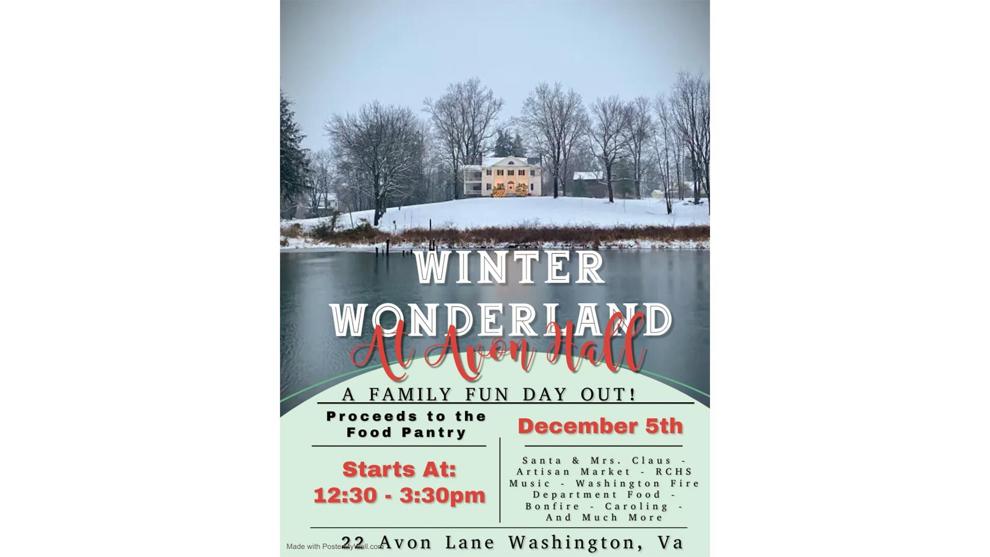 A holiday family fun day for all is coming to Rappahannock County on Sunday, Dec. 5 — and for a great cause, the Rappahannock Food Pantry.
The center of this year's community celebration is Avon Hall, 22 Avon Lane, near the Warren Avenue entrance to the Town of Washington. 
Here's a look at how the day is shaping up:
Noon: Bonfire lit (wind and weather permitting)
* Artisans market opens, featuring local and regional vendors. 
* Story time begins, with readings of Christmas favorites to children of all ages.
* Raffle table opens, featuring local products, gift baskets and cards; proceeds benefit the Rappahannock Food Pantry.
1 p.m. - 2 p.m.: Santa and Mrs. Claus have gifts for the county's kids.
1:30 p.m.: Rappahannock County High School Band plays
1:30 p.m. - 2:30 p.m.: Cookie decorating
3 p.m.: Christmas hymn sing
Washington Volunteer Fire and Rescue will be serving food throughout the event.
Elsewhere in town, the holiday spirit will be alive and well with:
* S'mores outside Town Hall on Gay Street
* A farmer's market by Whippoorwill Farm
* Carolers strolling through the streets
* Historic tours every half hour
The Winter Wonderland will move to Sperryville on Sunday, Dec. 19, at the Headmaster's Pub/Sperryville School complex, featuring juggling, ukulele players and pony rides.
County library offers free rapid at-home COVID-19 testing
The Rappahannock County Library is one of 18 libraries partnered with the Virginia Department of Health as part of a pilot program to provide rapid at-home COVID-19 tests to the community.  
The library will distribute test kits as a curbside service during operating hours, according to Director Amanda Weakley. A valid photo ID, a computer, mobile phone or tablet with a camera, microphone and internet connection will be required for the testing session, which will take place online.  
Please call (540) 675-3780 or email rapplibrary@gmail.com to request test kits and establish a pick up time. Library staff cannot assist with administering tests. The pilot program began last week and will run through Friday, Dec. 31.
Individuals will be given a virtually-guided Abbott BinaxNow COVID-19 Antigen Card Home Test from the library to be used in the privacy of their home where they will receive digital test results in 15 minutes, according to VDH. The program is designed to increase access to COVID-19 testing, especially in rural, remote and under-resourced communities, as well as other vulnerable populations.
"We are pleased to work with public libraries to provide another testing option for our community and to increase accessibility," said Dr. Laurie Forlano, DO MPH, deputy director of VHD's Office of Epidemiology."Testing continues to be important to stop the spread of COVID-19, particularly as we enter the holiday season when people gather."
The at-home test kit uses the eMed digital platform. Users will need a mobile device or computer to create an account and to join a virtual testing session with an eMed assistant who guides users through the testing process. Once the test has been completed, the user will receive results within 15 minutes, and eMed will report the results to VDH.
VDH recommends that tests be used within two weeks to avoid expiration. If you are feeling ill, call the library about contactless pick-up options or send someone to pick up the test kit for you.
Fundraiser assists Sperryville man whose landscaping equipment was stolen
A yard sale held in Sperryville on Saturday raised more than $500 for Rappahannock County resident Ryder Johnston, whose landscaping equipment and trailer hitch were stolen in October.
"It was great. It's not something that you expect from people that don't know you. Mind you, it doesn't cover the cost of the equipment that's lost, but it definitely does help … being the only provider for my family," Johnston said of the fundraiser. Rappahannock resident John Cappiali also donated to Johnston a weed wacker and leaf blower, according to yard sale and fundraiser organizer Elizabeth "Ibby" Bibby, who coaches Johnston's sons in youth soccer.
The thefts forced Johnston, who manages an independent landscaping company, temporarily out of business. He was left without work for weeks and had to fall back on his background in carpentry to find jobs. "They didn't just take from me, they took from everybody [in my family]," Johnston said.
Turning the page at a community news nonprofit
Foothills Forum, a journalism partner of the Rappahannock News, met on Friday and selected its new board chair Andy Alexander, longtime Rappahannock resident and former ombudsman of The Washington Post. Alexander succeeds Larry "Bud" Meyer, Foothills co-founder and board chair for the past seven years. The Foothills officers are (from left): Secretary Sheila Gresinger, Treasurer Steve Vick, Vice Chair Stephen Brooks, Alexander and Meyer.
Toys needed for Rappahannock's kids
Meanwhile, the Sperryville United Methodist Church is teaming up with the Rappahannock Food Pantry to provide toys and holiday goodies for the community's children. Donate online by Dec. 1 at rappumc.com/christmas-4-kids. 
Live nativity scene coming Dec. 4; volunteers needed
Join the Rappahannock United Methodist Charge for its 43rd Annual Living Nativity on Saturday, Dec. 4, between 6 p.m. and 8 p.m. at the red shed (aka the Book Barn) beside the Rappahannock County Library in Washington.
Those interested in taking part in the event should contact Judi Burke at 540-631-6103 or jnorthburke@gmail.com to sign up for a 25-minute shift. Each shift is in need of people of all ages to be Mary, Joseph, three kings, shepherds and angels. Costumes will be provided.
---
---