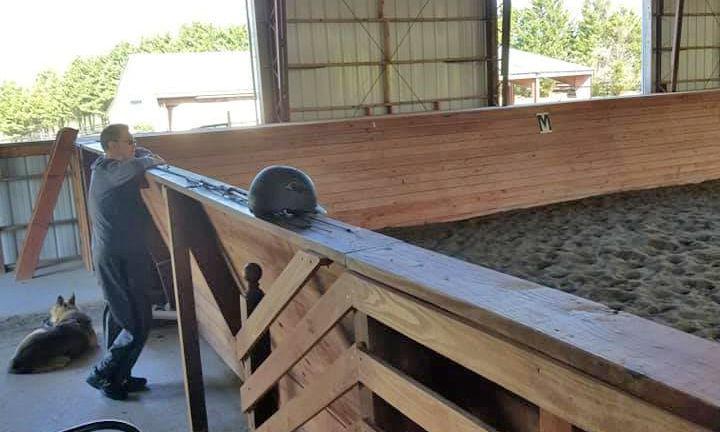 By the time Tony Pullen celebrated his 18th birthday he was a skilled horseman. He credits his horse management to the summers spent training racehorses on his grandfather's farm in Rhode Island and later working alongside his cousin on a horse farm in Orange County.
Both his father and uncle were in the Air Force, and after high school Tony followed in their footsteps, looking sharp in his crisp blue uniform. He served for 13 years in special operations. 
Tony began his training in Texas, taking a liking to the hot, spicy food served up at local eateries in San Antonio. His next stop was Louisiana, where he savored the local seafood dishes. He made frequent trips to the Philippines, where he fell in love with a broth-based soup consisting of fresh thinly sliced pork, sprinkled with spring onions. It was served by women in small wooden huts alongside the road who always greeted the G.I.s as they passed by. 
After a series of bone-chilling assignments in the northern U.S., Tony was delighted to be stationed in Hawaii. 
"I couldn't believe I was being sent to Hawaii," he says, fondly recalling swimming beneath papaya trees and having the large fruit fall into the water. "What do you do when a papaya falls into the water?" he asked. "You eat it!"
It was while stationed in Hawaii that Tony was deployed to rescue Americans during the Iran hostage crisis. A few months later, his kidneys were no longer functioning properly. He and others, it turned out, were exposed to an unknown chemical agent while in Iran. Some were diagnosed with cancer, while Tony suffered from an undetermined circulatory disease.
Uncertain how his illness would progress, Tony was given an honorable discharge. While still in his thirties, he lost circulation to his feet and ultimately underwent a double amputation. He has since had both his liver and pancreas replaced, heart surgery, four stents and numerous hospitalizations.
Tony took these bumps in the road as best as he could, working for seven years as director of finance with the Ford Motor Company. He went to college, at the same time, earning a degree in embalming and operating a funeral home for twenty years. 
Today, Tony has taken up cooking to maintain his health. He takes great pride in his son, Nathan, a journalism major who has played hockey for Penn State. Tony also gives thanks to his wife, Liz, who has helped care — and cook healthy foods — for him over the years. 
"Liz has been there to pick me so many times," he says. 
When he isn't testing new recipes at home, made with local, fresh ingredients, Tony can be found at Mountain Vista Farm in Amissville during Hero's Bridge Farm Therapy visits, where he helps with the horses and many chores around the farm. 
The farm therapy program was brought to the attention of Hero's Bridge by volunteer Will King. Britta Johnston, owner of Mountain Vista Farm, and international dressage trainer, was looking for a way to serve veterans. 
"My husband was in the Air Force for 20 years, sharing our farm is our way of giving back," says Johnston. 
The peace Tony experiences at the farm does much for his mental well-being. He has even vowed to get back on a horse soon. Because Tony can't be kept down for long.  
---
About Hero's Bridge
Mission: Hero's Bridge is dedicated to serving elderly veterans, age 65 and older. We serve, stand by and honor our aging veterans through six distinct programs. These services are available to our heroes wherever they call home, at no expense to them or their families. Do you know a Veteran that needs help? Please call us at 540-341-5378. Visit www.herosbridge.org for more information. 
Farm therapy program: It is well-known that gardening can have a powerful impact on one's health. The simple act of literally getting your hands dirty can cut anxiety and lift your mood. Interaction with animals also has proven benefits to health. Farms combine both of these, offering an enriching, relaxing and pleasant environment for all of our members.
Hero's Bridge has built on the concept of farm therapy and launched a program to bring Veterans to area farms and expose them to a bounty of benefits by bringing veterans to Mountain Vista Farm in Amissville. 
Mountain Vista Farm is a special place with 25 acres of incredible views. There are anywhere from 14 to 20 horses at the farm at any given time, often imported from overseas. "At Mountain Vista, we have access to nature and livestock. Veterans can interact with the dogs and groom the horses. It is motivation for veterans to get out of their house and go somewhere," says owner Britta Johnston. On hot days, guests often gather in George's Garden, named for George Sullivan, a Vietnam veteran and close friend of the Johnston's.
 "George was one of the first advocates for treatment of PTSD and a dear friend. He visited with us one day and suffered a massive heart attack the next and sadly passed away," shares Johnston.  
Farm Therapy events will resume in the spring and are scheduled monthly at Mountain Vista Farm. Contact us at info@herosbridge.org for more information on this event. 
Volunteer with Hero's Bridge: Hero's Bridge welcomes individuals, couples and families to volunteer, provide support and social interaction to veterans aged 65 years and older.