In the early 1900s there were few opportunities for organized social entertainment. People spent time playing baseball, riding horses, buggy riding and sleigh riding in winter. Dances were popular. The whole upstairs of the Washington School could be converted to a dance hall, and dances also took place on the second floor of Thornton's Garage. The expansive upper space in Thornton's building evolved into the town's first community entertainment and recreational center. Over time, there was a barroom, poolhall, poker and cardroom, dance hall, basketball court and a theater to show movies. 
The venue also saw the birthplace of basketball in Rappahannock County in the early 1920s. Both boys and girls teams played there until the gymnasium was constructed at the Ashington High School. Poker playing was a major social event for men in Washington. One favorite spot was called Buzzard's Roost, above the butcher shop across Main Street from Washington House. Sometimes table stakes at Buzzard's Roost went as high as $400-$500.
Washington had a reputation for its drinking and gambling. The people in Flint Hill called the town "the hell hold of Rappahannock County." Court days were high points on the calendar. In the early 1900s, there was a saloon on Gay Street across from the couthouse. 
In 1885, John Dulin had purchased the property and turned the building there into Dulin's Saloon. After moving to California, he sold the property to George G. Bywaters, who also maintained a barroom on the property. People would flock to this establishment. According to historian Maureen I. Harris, "everybody would get drunk, fight, and run their horses around town." In the 1930s to the 1950s, J. A. Swan, the Culpeper automobile and farm equipment dealer, owned much of lot 28, and on March court days he would bring his new machinery, tools, and wares to the empty lot for people to see. Children were even let out of school for this event.
In addition to these somewhat raucous activities, however, there was also a tea room in the town called The Cherry Tree and Hatchet, operated by Mrs. Ruth Meigs and her daughters. In the 1930s one could purchase a chicken dinner for 75 cents; with the chicken came potatoes, vegetables, salad, hot rolls, preserves and dessert. The economy breakfast was 40 cents and included fruit, cereal, eggs, ham or bacon, toast, preserves and coffee. The Washington House Hotel and Tavern, operated by the John Edward Thornton family, was located on town lot 8 as the successor to Mrs. Coxe's tavern and Dear's hotel. In the 1930s, George E. Cary constructed a two-story frame building on the southern part of lot 11 for recreational purposes. A poolroom serving beer was in the basement. The private Rappahannock Club had Saturday night dances, dancing lessons, and children's parties on the main floor; there were apartments above.
Editor's note: This information was culled from Maureen I. Harris' book, "Washington, Virginia, a History, 1735-2018."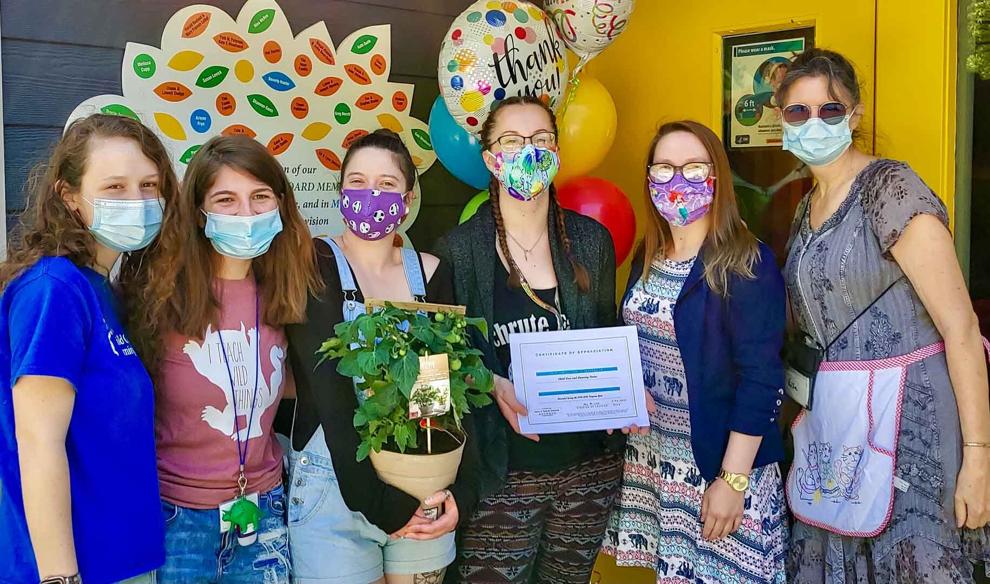 The Child Care and Learning Center Infant Toddler and Two's program was honored with an award from the Virginia Infant Toddler Specialist (ITS) Network. The VA ITS Network is a program of the Child Development Resources supported by the Virginia Department of Social Services Grant. Christina "Tina" Castro is an Infant and Toddler Mental Health Consultant for the North Central Region and our beloved Infant Toddler and Two's Mentor. She came to deliver the award along with a cherry tomato plant for the children and teachers to enjoy watching them grow and then eat. "I had no doubt what school I was going to nominate for this award because I knew right away how dedicated you teachers are to your class children," she said.
"It has been such an honor to have Tina here to visit and help us increase the quality of our programming these past few years," said Lisa Pendleton, CCLC program director. 
The Child Care and Learning Center is also thrilled to announce that Christal Lind, who is one of their super preschool teachers, welcomed her son Hudson into the world on April 25, at 8:09 a.m. Hudson weighed 6 lbs and 15 sweet little ounces! His mother Christal, proud father Lance, and big sisters Hannah and Harper are ecstatic to have a little boy to love and snuggle! Ms. Amy surprised Ms. Christal with a baby shower for her and their students after a week-long unit on babies. The children did all the typical baby shower games, such as the famous "toilet paper measurement." They loved wrapping Christal's baby belly. Congratulations to the Lind family!
Belated birthday wishes go out to my grandson, Trey Singleton, who celebrated his special day Saturday, May 1, and Amber Cooke, who celebrated her special day on Tuesday, May 4. Wishes go out to my son, Jonathan, who will celebrate his day on Tuesday, May 11.
This Sunday, May 9, is Mother's Day, and although we celebrate it only once a year, we don't need a special day to show our gratitude to our mothers. Anyone looking for that special gift for your mother, be sure to check out R.H. Ballard shop on Main Street and The Inn shop. 
And don't forget that the Rappahannock Farmer's Co-op has annuals and perennials and Greg Williams Tree Service has beautiful hanging baskets for that special mom.
To all mothers: Happy Mother's Day!
---
---