Sad to see The Country Cafe go . . .
In last week's edition, on the comment page, there was a letter from K.L. Henderson of Wasington in regards to the Country Cafe closing. I have to say that I totally agree. It is heartbreaking that the restaurant is closing its doors. The Cafe has been there for three decades. Having received notice from his landlord that he must vacate by Sept. 30, David Huff has little choice.
David and his staff are like family to many of us. It is a place where students hang out and eat after school. Many from the courthouse, bank and community crowd into the Cafe for breakfast, lunch and dinner. I can remember many times on Thursday my father would make a trip from Culpeper to Washington to get his Rappahannock News and go to the bank, and I would always find him happily seated before a piping hot plate at the Country Cafe. What more can you say about those delicious turkey wraps, or for that matter an entire turkey plate with all the dressings, fixings and sides — "Thanksgiving in June," as this newspaper's editor John McCaslin praised. For me, I enjoyed ducking into the Cafe to hear the latest news and gossip surrounding our little town and county. Or simply just to sit and chat with David and Betty and the staff. Everyone there is so friendly. Family, as I said.
On October 16, the Country Cafe will mark 30 years since it opened. That is a long time for one restaurant to remain open.
Patrick O'Connell certainly has good intentions for the building, as reported in this newspaper. And he has the right to turn it into whatever he desires. What I will ask is to please consider letting David celebrate his 30th year anniversary in the building, or perhaps even remain in business until the post office is ready to move apparently to Leggett Lane.
The extra time on Main Street might even provide David the opportunity to find a new location to serve his countless customers.
Hazel show 
Hazel River Arts & Antiques in Washington is having a show opening this Saturday, Aug. 3, of Maggie Carlson's and Jennifer Babcock's art works. The reception will be the following Saturday, Aug. 10, from 1 p.m. to 4 p.m. 
Maggie was born in Weston Super-Mare, England, developing a passion for creating works of art at a very early age. As a young girl, and inspired by artistic parents, Maggie pursued many forms of art including drawing, painting, and sculptor. Moving to the United States as a young woman, her love of art continued and was influenced by the beauty of America's cities and the American West as evidenced by her oil paintings of New York City, and nearby Staunton and Lynchburg in the Old Dominion, and landscapes of Utah's Red Rock country and Texas' farm scenes. Her artistic styles are also influenced by her background in architecture and an eye for whimsical abstract. Her artistic journey includes participating in the U.S. National Gallery Copyist program. Maggie resides in Fauquier County with her husband and six cats, where she even finds time to restore antique dolls.
Jennifer has an exhibit of Ethiopian-themed oil paintings at the gallery. She lives in Alexandria, but has been coming to Rappahannock County since 2001, when her parents, Russ and Polly Scoville, moved here to Seaway House in Flint Hill, built by Butch Zindel and featured in the 2003 Trinity House Tour. Russ passed away in 2009, and her brother, Chris, and his family live with Polly. Three of their children attend Wakefield Country Day School, where Chris serves on the Executive Board. 
Jennifer and her husband, John, after having five daughters of their own, decided to adopt orphans from Ethiopia. Over several years, and after many trips back to the country, they became parents to three more Ethiopian daughters. These trips provided more rich photographic material for Jen's paintings. Their ninth and final child, a son, was adopted here of Eritrean heritage. 
Jennifer is the new resident artist at Hazel River. In addition to her paintings she is a photographer, maker of handbound books, and a furniture restorer.
The show will continue through Sept. 1.
Closing reception
Silver Maples Gallery in Washington will host a closing reception for the Chip Cecil Exhibit on Saturday Aug. 3, from 11 a.m. to 4 p.m. The artist will be on hand to discuss his work and future projects. Stop in and visit the Gallery and enjoy some time with the artist.
Library new sign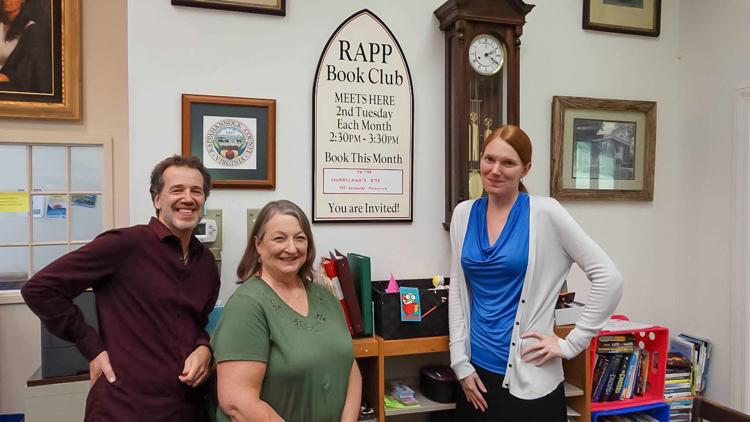 Library Director David Shaffer and librarians Denise Kruczynski and Amanda Weakley admire the new sign that informs patrons of Book Club Hours and the current book being read and discussed. The RAPP Book Club meets at the library the 2nd Tuesday of each month between 2:30 and 3:30 p.m. Those interested in more information may contact David at 540-675-3780.
Sympathy
Sympathy goes out to the family of Betty Jean Atkins Myers, who passed away on Monday, July 22, at the University of Virginia Medical Center. 
Although she was several years ahead of me in school, I didn't really get to know her that well, but every time I would see her in the hall, she always had a smile on her face.
A funeral service was held last Friday with Pastor Mike Evans officiating. Interment was followed in Hopewell United Methodist Church Cemetery. 
Birthday greetings
Birthday wishes go out to Lisa Dodson, deputy treasurer at the Rappahannock County Treasurer's Office. She will celebrate her special day on Sunday, Aug. 4.
Stay cool!