'Tis the season for shoppers
I hope that everyone had a wonderful Thanksgiving. With that behind us and Christmas right around the corner, it's so easy to get caught up in the hustle and bustle of the holiday and forget to give thanks for all the gifts with which each of us has been blessed.
I am sure that Thanksgiving for many families was different this year, I can say for myself it was totally different. 
That said, it's beginning to look a lot like Christmas in Little Washington.
Some people have already focused on the Christmas holiday — some earlier than others. My daughter's tree is already up, as well as mine. 
As I look out the window of the Rappahannock News office, I notice that R. H. Ballard's shop has their tree up and decorated as you go through the door. The windows are also beautifully decorated for the holidays, as well as greenery and lights around the door. 
Ballard's theme this year was "Anything Goes," a nod to the Broadway musical. They thought everyone needs a smile right now. A top hat adorns their main tree, and the Ballards decided to have as much fun as possible with the tree decorations. Their window and front of shop displays are full of glittery icicles, sparkling wreaths, and snow covered hills. 
With most of us now shifting our focus to Christmas it's a good time to shop locally. In Washington, nice gift selections await that special person at R. H. Ballard Art, Rug & Home, The Inn at Little Washington's gift shop, Geneva Welch Gallery, Middle Street Gallery, and other shops.
Remembering
Many people feel that one of the best ways to honor and respect their loved ones who have passed on to greener pastures is by decorating their graves with beautiful flowers.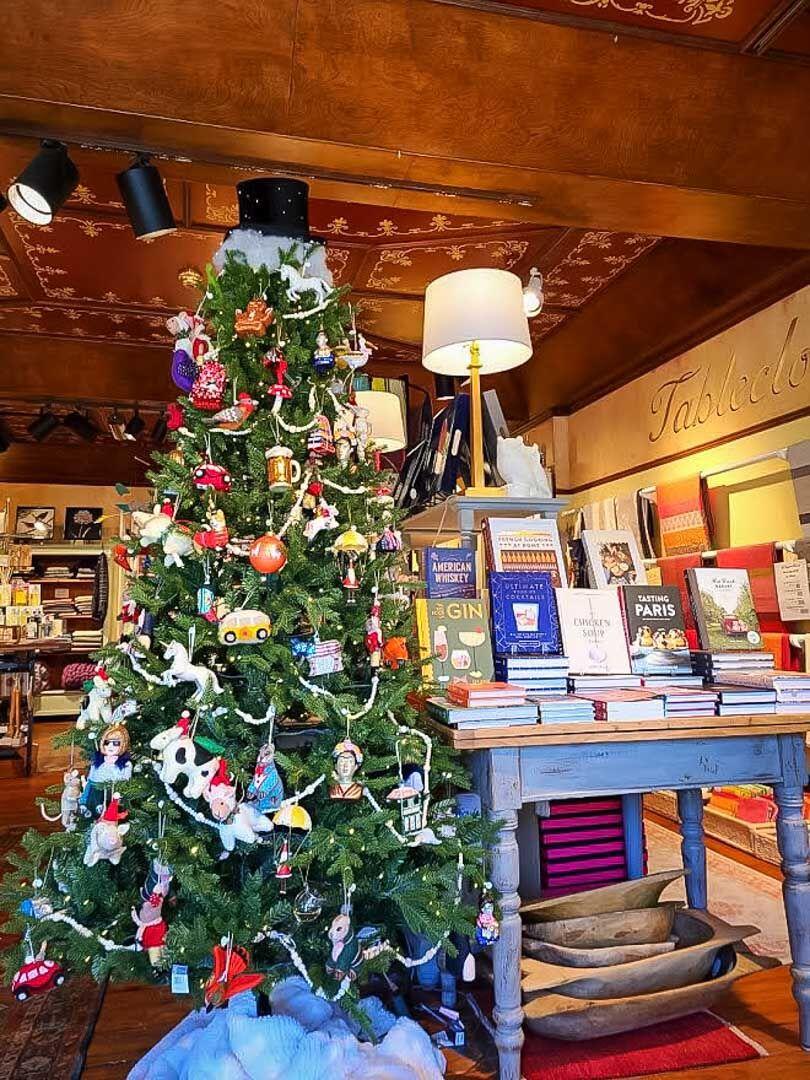 It was a nice family day for the Racers family, placing Christmas flowers on their family graves this past Sunday. 
Timmy Leonard from Arlington; Lois Jenkins from Rixeyville; Bonnie Hefner, her son Daniel from Orange; and Beverly Racer Exline and husband, Doug from Washington were all here for the annual observance.
The family met at the Washington Masonic Cemetery, then went to the cemetery in Gid Brown Hollow and put flowers on the graves, then on to Sperryville. Lunch followed at Dan's Steakhouse in Luray.
"A day well spent by everyone," said Beverly. 
Birthday wishes
We hope Klaus Peters had a nice birthday on Monday, Nov. 30. And belated wishes as well to a dear friend of mine, Carrol Beard, who celebrated her special day on Tuesday, Dec. 1. Claire Anstey also blew out candles on Dec. 1. 
Other birthday wishes go out to Doug Baumgardner, who is celebrating today, Dec. 3; Rick Kohler's birthday is Friday, Dec. 4 (and Rick's wife, Kaye, has her special day on Thursday, Dec. 10). Annette Larkin celebrates on Dec. 6, Kit Goldfarb on Dec. 8, KC Bosch and Greg Killmeyer each have birthdays on Dec. 9, while Rachel Rowland and Suzanne Winter celebrate on Dec. 10.
'Little Washington' you say?
Ever wonder about the origin of the name Little Washington?
The town's nickname "Little Washington" can be dated to at least 1804. In that year, Methodist Episcopal Bishop Francis Asbury, the famed traveling circuit rider, noted in is diary: "Took the path to Little Washington … and met with a kind reception and good entertainment." 
The name was probably applied to the town to avoid confusion because of its proximity to Washington D.C., which lies only 70 miles to the northeast and was being built as the new capital of the United States at that time. 
The name continued being used. An envelope postmarked 1840 was addressed to Middleton Miller, Little Washington, Va.; Miller lived in the home that was converted to the Middleton Inn in the 1990s. 
Many items of military correspondence during the Civil War refer to "Little Washington." For example, Major General Nathaniel Banks, whose troops camped near the town, used Little Washington as the address on many of his dispatches. Major General John Pope, when his army was near Sperryville, issued orders under the address "HQ., Army of Virginia, Little Washington, Va."
Editor's note: This information was culled from Maureen I. Harris' book, "Washington Virginia, a History 1735-2018."
Until next week keep smiling and stay safe!
---
---