Two jewels depart Rappahannock
Our community is deeply saddened by the death of Lois Doran Snead and Patricia Ann Foster Jenkins.
Rappahannock has lost two rare jewels that can never be replaced. 
Lois Doran Snead, 98, who passed away on July 5 in Front Royal, was a long time resident of Washington. She was the adored matriarch of her family and set a wonderful example of patience, kindness, unconditional love and generosity. Lois freely shared her time, talent and bounty with her family, her many friends, her church, her community and many favored charities. She was a faithful and dedicated member of Trinity Episcopal Church in Washington and a founding member of the Dried Flower Tour. Lois also attended Washington Baptist Church, founded by her husband's ancestors. She helped found and fund the Book Barn, where she spent countless hours sorting, stacking, cataloguing and shelving used books. One amazing lady.
Throughout the last years of her life, she was served well by her much-loved and constant canine companion, Itty Bitty.
A memorial service is planned for Saturday, Aug. 28, at 2 p.m. at Trinity Episcopal Church, Washington.
Patricia Ann Foster Jenkins, 81, of Washington, passed away on Friday, July 9, at her home surrounded by her loving family. She adored her family and was the matriarch that watched over everyone. Patricia worked for Rappahannock County Public Schools for 37.5 years in the cafeteria at the Rappahannock County Elementary School, serving as the cafeteria manager. 
A visitation will be today Thursday, July 15, from 6 p.m. until 8 p.m. at Found and Sons Funeral Chapel in Culpeper. A funeral service will be held Friday, July 16, at 11 a.m. at Found and Sons Funeral Chapel with Pastor Jon Heddleston officiating. 
Found and Sons Funeral Chapel of Culpeper is serving the family.
Edna Pearl Chapman once said: "Loved ones may leave this world, but they never leave our hearts."
Jamming the box 
When I was getting the coins out of the Rappahannock News box in front of the office on Thursday morning, I found it jammed by a nickel and two dimes. Please remember that the box takes quarters only. If you don't have the correct change, feel welcome to come in the office and buy a paper.
CCLC news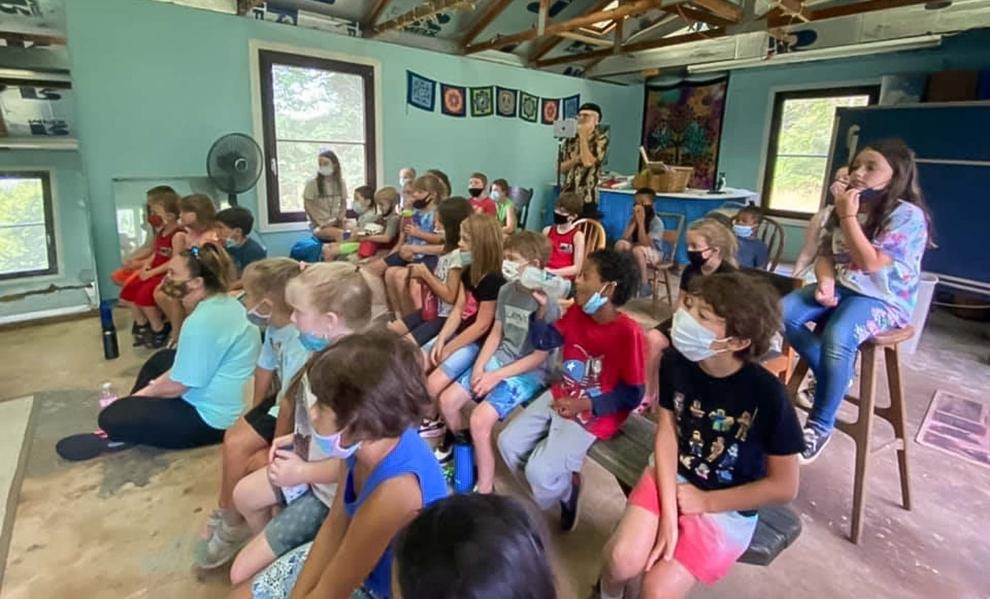 Summer campers at the Child Care & Learning Center (CCLC) created a song commemorating the 4th of July and in the process managed to capture the thrill of fireworks on a summer evening. Kid Pan Alley worked with a group of elementary school children on June 30 to create the song's theme and lyrics and then led a performance of the song set to music. It was a wonderful way to commemorate the holiday and the long-awaited return to summer celebrations. The performance of "Fireworks Soar Across the Sky" is available on CCLC's Facebook page. Kid Pan Alley's work was underwritten by the PATH Foundation.  
Also on June 30, CCLC campers were fortunate to see a performance of "Land of Aloha" by Jeanne Pipik of The Goodlife Theater. Campers enjoyed the performance and the generous invitation to pick blueberries on Joe and Jeanne Pipik's farm. Campers shared the blueberry bounty again this year with the Rappahannock County Food Pantry. Thank you to the Rappahannock Association for Arts and Community for their generous support of performing and visual arts at CCLC this summer. 
Thanks
I would like to thank Manly and Jackie, for such an inspiring reminder of our heritage with your Farmall antique tractors and American flags on July 4. I made a special trip out that way to see if they were on display for everyone to see. I hope you will continue to use them for decoration on holidays to come.
---
---