Washington in the Civil War
In 1861, Virginia seceded from the Union. No battles or even skirmishes were fought in Washington during the Civil War, but the fight did not bypass the town. A large Union encampment of more than 45,000 soldiers occupied fields east of Washington. Three buildings are believed to have served as headquarters and hospitals for the opposing armies during the war. Union troops set up a hospital in a house called "Tranquility" on Gay Street, which would later become the home of French Pendleton Carter, an officer in Company G of the 12th Virginia Cavalry. 
Diagonally across the street to the northeast, the Union army had its headquarters and treated ailing soldiers in the Washington Academy. The Meadows plantation, formerly the home of William Porter, one of the town's founders, served as a hospital for both Confederate and Union soldiers. Adding to Washington's Civil War history, Middleton Miller of The Maples (later the Middleton Inn) owned Glenn Mills, a woolen mill at Waterloo on the Rappahannock River where he manufactured the "Rebel Grey" worn by Confederate soldiers. Charlie Dear, whose family owned Dear's Hotel, was a member of the famous Mosby's Raiders.
A Confederate monument was erected in 1900 at the north end of the courthouse complex through the efforts of the local chapter of the Daughters of the Confederacy in honor of those from Rappahannock County who lost their lives in the Civil War. In 2006, the county contracted with Conservation Solutions Inc., to repair and refurbish it. Two Virginia Civil War Trail markers are located on the courthouse grounds. One describes the Confederate monument; the other tells the story of Catherine "Kitty" Payne, a freedwoman from Rappahannock County who was forced to leave the commonwealth when she was emancipated. Payne was kidnapped by her former master's nephew and brought back to Rappahannock, and after "complex court proceedings," won her case in court and affirmed her legal freedom.
Editor's note: This information was excerpted from Maureen I. Harris' book, "Washington, Virginia, a History, 1735-2018."
Congratulations Julia Katherine Estes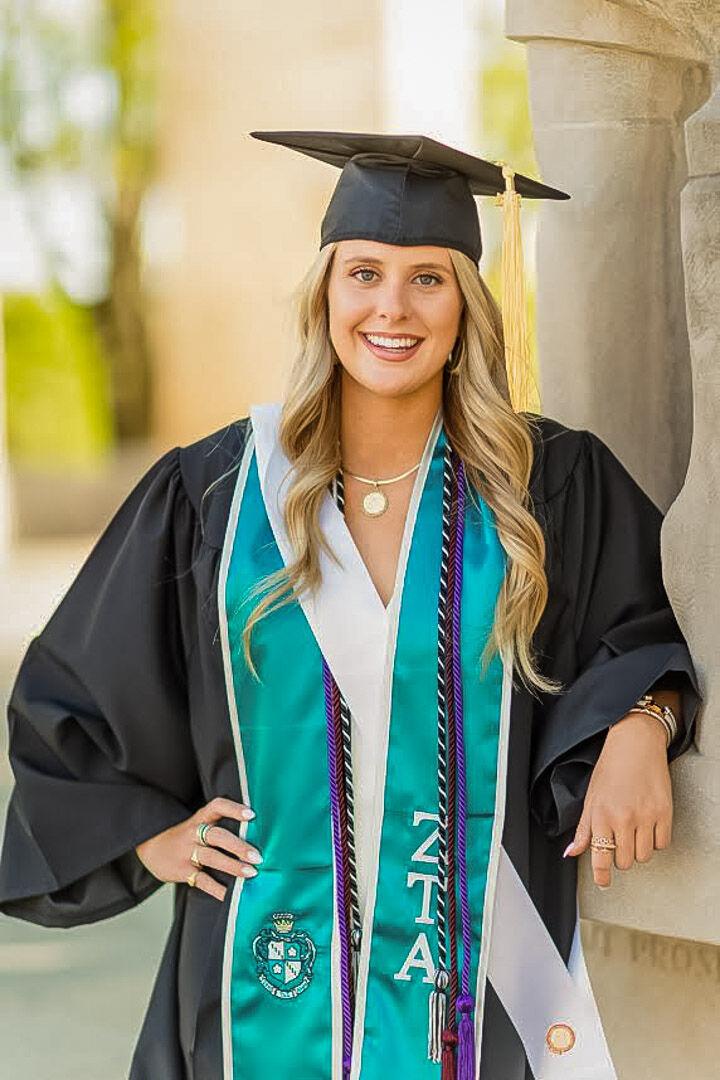 Julia Katherine Estes, daughter of Ken and Kelly Estes of Washington, Virginia graduated from Virginia Polytechnic Institute and State University on Friday, May 14, 2021.
Estes graduated magna cum laude with a Bachelor of Science degree in Nutrition, Foods and Exercise with a concentrations in Science of Food, Nutrition and Exercise and Dietetics, and a minor in Strategic Communication. Estes is a student of the Physician Assistant master's program at Shenandoah University. 
 This Friday, July 23, from 1 p.m.to 5 p.m. the Book Barn at 4 Library Road, Washington, will host an open house in honor of Lois Snead. Lois helped found the Book Barn — which offers a wide selection of used books at bargain prices — and volunteered hundreds of hours sorting and cataloguing new arrivals. Feel free to bring a book to donate, make a financial contribution in Lois's honor, or just come and browse their offerings! At 3 p.m., there will be a reading from Lois's biography, "The Girl of Independence," in the library's meeting room. A light reception will follow.
A memorial service for Mrs. Snead is scheduled to be held in August at Trinity Episcopal Church, details of which will follow.
Firehouse Treasures Thrift Shop operated by the wonderful Washington Ladies Auxiliary will be having a 50 percent off sale on all clothing (shoes, belts, hats, etc.) and clear glassware through the end of July.
They are accepting donations during open hours which must be delivered to the back door of the shop. No donations should be left at or brought through the front of the store. If they are closed, do not leave donations. If you have any books, take them to the Book Barn. 
Unvaccinated individuals are required to wear masks. Social distancing and kindness required.
Treasures Thrift Shop is open on Tuesdays and Wednesdays from noon to 4 p.m. and Saturdays from 10 a.m. to 2 p.m. 
Stay cool and have a wonderful week.
---
---