My how time flies
Half the year has gone by in the blink of an eye! Here it is July and we just celebrated Independence Day. 
I would like to thank Manly Bruce for having his old International Farmall tractors with the Old Glory flags on them for display for the celebration. I am deeply sorry for what happened on Saturday afternoon when a motorist crashed into one of the tractors. I hope this does not put a damper on future displays.
Dedication of benches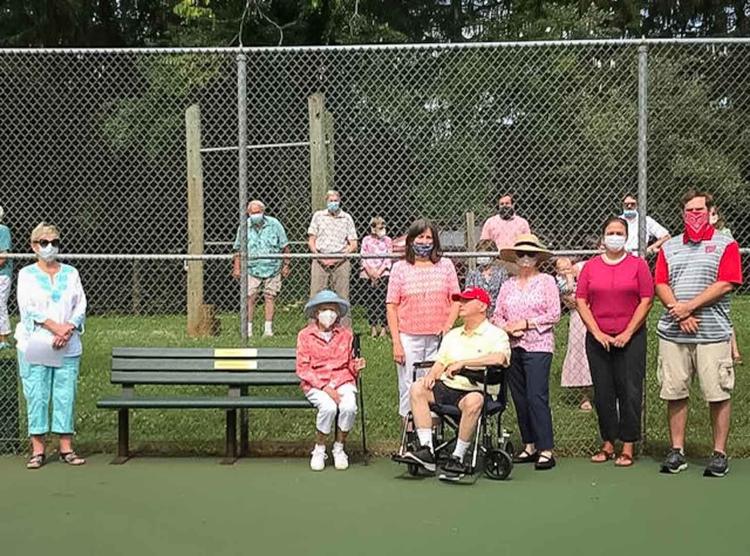 A dedication of two benches took place at the Rappahannock County Recreational Park last Saturday.
Jean Lillard and the park board wanted to honor Margaret Baumgardner's father-in-law, Fanning Baumgardner, and Dennis Fairbrother, now deceased, both avid tennis players and supporters of the park, with benches within the tennis courts labeled with brass plaques.
Baumgardner donated his services as an engineer and surveyor to help lay out the design for the park.
Jean Lillard was the moving force behind this effort begun last year, proposing the idea to the board and personally soliciting funds. The dedication was to have taken place last fall but due to weather it was postponed until this spring. Then came the coronavirus, so Saturday's event was kept small.
Mike Del Grosso, Rappahannock County Park Authority chairman, gave a warm welcoming talk and the Rev. Miller Hunter gave an invocation. Jean then had each family gather around their respective family members' bench and give a talk about the individual, their history with tennis, the park and the county, and then the dedication.
Fanning's wife, Ruth (also a very avid former tennis player, now age 95), was there as were son and daughter-in-law, Doug and Margaret, Fanning's daughter, Ann, grandchildren, Caroline Walker and Alex Baumgardner.
Dennis Fairbrother's wife, Cheryl, daughter, Meghan Rogers and son-in-law, Adam, and their two young children and Dennis's son, Michael were there for the Fairbrother family.
Four generations of our family have enjoyed this county park, a Rappahannock County treasure, said Margaret.
For over 40 years, Jean Lillard has been such a force behind this wonderful county park. She also started the Fodderstack Race as a fundraiser for the park and kept that going for over 40 years.What an amazing and hard working lady.
Birthday party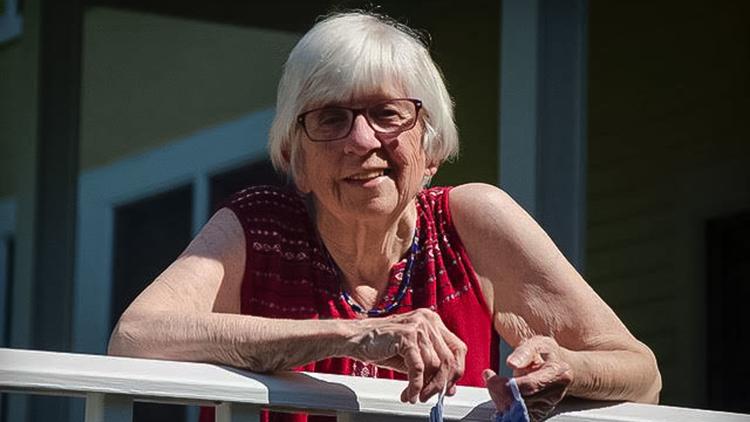 On Friday, July 3, Sue Davis Gabbay was honored at a 90th birthday party on the porch of her home — the Washington School House. Hostesses for the special occasion were her daughters and their families, Kerrie Mullany, husband Tom and Francie Gabbay, husband Steve Gust.
Sue publicly shares her sentiments and her poem: 
I am so privileged! I have reached the age of 90 in pretty good shape for the shape I am in; and I had a celebration with you, in spite of the challenging conditions of the times. That celebration was every way enhanced by foods, greeting cards, some gifts, and most of all by your good wishes, most of these delivered in person. Thank you, every one of you, for your part in the happiest birthday party I ever had.
A Landmark Birthday Party
A birthday fest was planned for me
Guests all did as they were asked
According to the rules, you see; 
Kept their distance and were masked
A new-style party this would be.
Tasty cupcakes were to share
Banners flew on rail of porch
Flowers placed with greatest care
Then the sun began to scorch!
In the shade they set my chair.
On Cloud Nine I sailed away 
Well launched by family and friends
To celebrate my special day.
What rich savor their love lends
When made manifest this way. 
Book Barn
The Book Barn will be open on Saturday July 11 during our new hours: 10 a.m. to 2 p.m. Please wear a mask and practice safe social distancing.
Stay cool and have a wonderful week!