Already missing my furry friend
There is an old saying, "Dogs' lives are too short. Their only fault, really."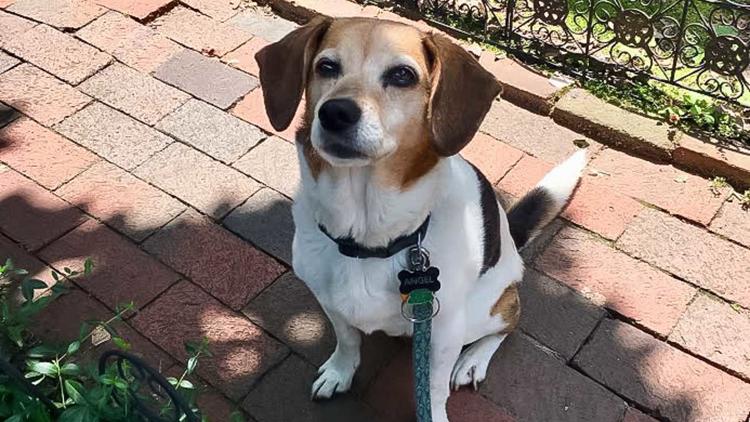 The world has taken from us a wonderful companion that we here at the Rappahannock News loved very much. 
For publisher-emeritus Walter Nicklin and his wife, Pat, their precious "Angel" passed away last Thursday, July 11. She was almost 17 years old. 
According to Walter, Angel became suddenly and inexplicably paralyzed last Wednesday, thus the vet "put her down" Thursday morning. In the pouring rain Walter buried Angel, a frequent visitor to our newsroom, at his cabin in Amissville Thursday evening. What a dedicated master. Walter loved Angel so much. 
Everywhere Walter went, Angel was by his side. Except on his long vacations, which is when I would keep her for several weeks. I would bring her to work with me each day and we would walk around Little Washington, where people would stop to rub her head and speak to her. The town loved Angel, and she left a paw print in their heart. I loved her like she was my own. Better yet, she was the Rappahannock News' mascot. I will always treasure the precious memories and hold them close to my heart.
Several people asked me when is Angel coming back to the office. Unfortunately she won't be coming back anymore. She is in Dog Heaven, after a good life.
Walter and Pat, I leave behind this poem for you by Teri Harrison, titled "Pawprints Left By You":
You no longer greet me, as I walk through the door
You're not there to make me smile, to make me laugh anymore
Life seems quiet without you, you were far more than a pet
You were a family member, a friend, a loving soul I'll never forget.
It will take time to heal — for the silence to go away
I still listen for you, and miss you every day
You were such a great companion, constant, loyal and true
My heart will always wear, the paw prints left by you.
Rest in peace Angel! We love you.
We now have Luna as our mascot at the Rappahannock News. Rescued from a miserable life, Luna belongs to John McCaslin, the News' editor. She too is often here to greet visitors who come through the door. 
Vacation season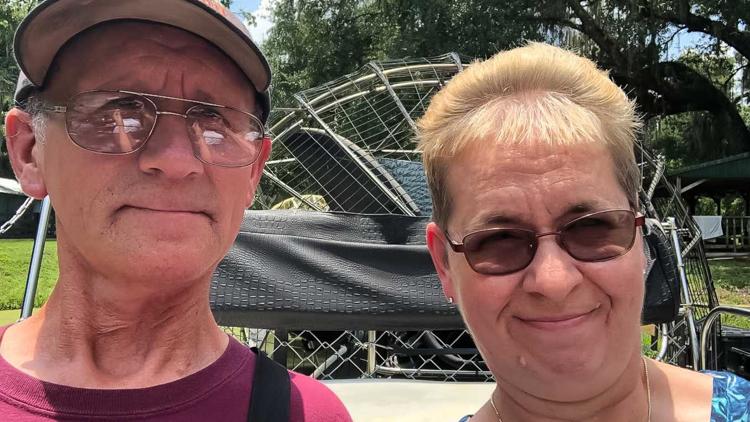 Doug and Beverly Exline of Washington left on July 1 to go on their vacation. They first stop was Bushnell, Fla., to visit their friends Sandra and Frankie Smart. Then they toured Wildwood, where Doug lived, back in 70's and 80's. Wildwood had their fireworks celebrations on July 3 instead of July 4 and they enjoyed the display. For their July 4th celebration they played putt-putt golf in Lady Lake, which both enjoyed so much. Next on their list was a visit to Tom and Jerry's Airboat in Lake Panasoffkee, where Beverly and Doug took an hour ride through the swamp. Beverly said they did not see any alligators.
They also visited Pine Island Beach, and on the way home stopped in Madison, Ga., to spend time with niece Melissa Vandiver and her family. Then they headed back to the beautiful mountains in Virginia on Sunday, July 7, just in time for the heat and humidity. Still, there's no place like home.
Wild beauty
When you are from Rappahannock, anyplace else doesn't quite measure up. From its farms and fields to its mountains and hollows, Rappahannock is a one-of-a-kind county, a place I'm proud to say I grew up.
Last Thursday morning, as I was delivering the Rappahannock News to the Laurel Mills Store, I noticed the wildflowers — they were so beautiful. In my eyes, no flowers can measure up to a bouquet of wildflowers sitting on a table in your home.
Life and time keep moving on for us, but this beautiful place is like an unmoving anchor to hold onto. You can hear those country roads in the hollows, echoing — take me home, to the place I belong, Rappahannock County.
Wishes
A special wish goes out to Lee Keyser, who will turn the big 70 on Sunday, July 21. Lee, your daughter, Carla Carter would like to wish you a happy birthday and she loves you very much. Lee was born and raised in Rappahannock County. 
Belated birthday wishes go out to Bobby Brown, who celebrated his special day on July 15. Betty Crawford, who will celebrate Sunday, July 21, and to my daughter, Heather Singleton and my step-mother, Janet Burke, who will blow out their candles on Saturday, July 27.
Anniversary wishes go out to Mike and Toni Massie, who celebrated their special day on Friday, July 12. Wishes also go out to a special couple, Jimmie and Beth DeBergh, who celebrated their anniversary on Sunday, July 14.
Lauren May, Director of Human Resources and Special Projects of the County Administration and Zoning, would like to wish her husband Mitch, a happy 48th anniversary. They will celebrate on July 24.
Stay cool and have a wonderful week!