Halloween Trunk or Treat
Child Care and Learning Center had a wonderful turn out on Friday, Oct 30 for their Halloween Trunk or Treat.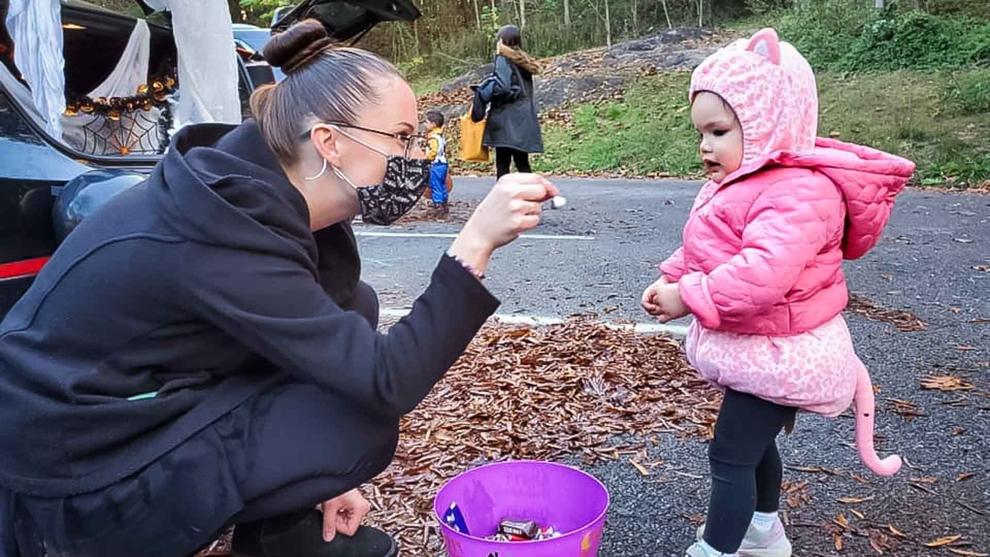 The "Fab Four," Elvira Yanez, Renee Espinola, Michelle Almond, and Maggie Riley-Bragg took on the responsibility to organize a public event. There was a "Boo Trail" set up by the School Age Club children, free hot dogs, sunbutter sandwiches, apples and hot apple cider which was donated by Lee's Orchard. With the help of many this event for over 125 children was a big hit! 
Special thanks to Shannon Ennis, CCLC Board Member for arranging several of the fabulously decorated trunks; John Rhodes, Michelle's husband and father of CCLC children, who planned out the parking of trunkers and directed vehicle traffic; the Rappahannock County Sheriff's office and Deputy Robbie Fincham for keeping a close eye on our entrance for traffic safety; the Wenk Family for their use of the light tower; the Trading Post "Gun Shop" owner Ken Carter; and St. Peter's Catholic Church for graciously allowing our parents and staff to park on their property. 
CCLC gives a big shout out of gratitude to all the treat donations from several families, the costume dressed trick or treaters, and the very creative trunk decorators who participated.
---
---
Scary looking bunch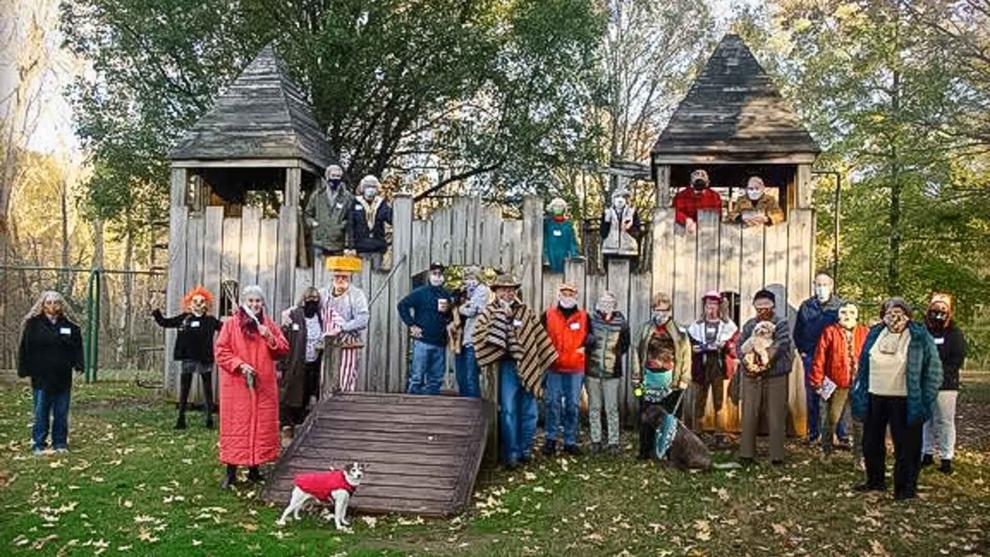 Adults like to have fun on Halloween, too. Even in the midst of a COVID-19 pandemic, when "masked" Rapp at Home members, volunteers, and their four-legged friends gathered Oct. 31 for a "Halloween Happening" at Rappahannock County Park. 
Despite a tremendously scaled back Halloween celebration in the county, many homes and businesses managed to fully dress for the occasion.
Happy 100th, Mitzie!
Thursday, October 29th, was the 100th birthday of Mitzie Young, a founding member of our UU congregation.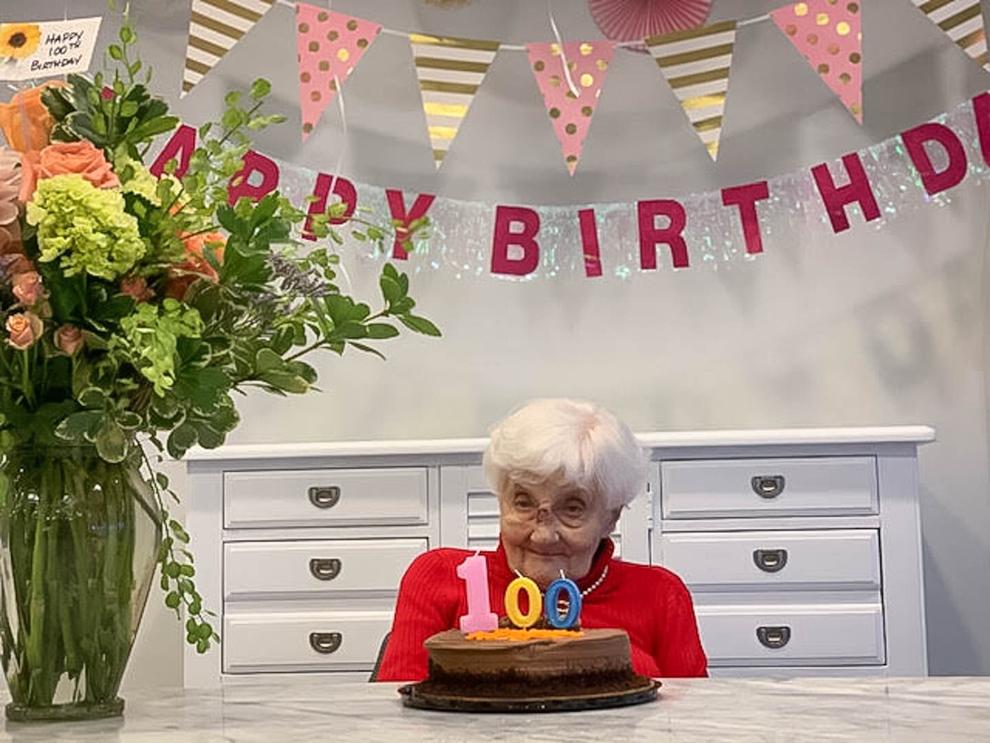 In fact, if it had not been for Mitzie, we might not have a congregation. That's because in the summer of 2008 she helped us start to organize by giving us a long list of local residents who might be interested in establishing a UU congregation. She could do that because as a realtor she knew a lot of people living in Rappahannock County and its surroundings.
For several years, Mitzie has been a resident of Jackson House Assisted Living in Boston, just a few miles south of Sperryville. She is currently in the Memory Care unit but is ambulatory with the aid of a walker. Unfortunately we can no longer visit her because of the pandemic. But we continue to keep Mitzie in our loving thoughts as we celebrate her 100th birthday.
Thank you Emery Lazar for this newsletter for letting us know about Mitzie Young.
Orange or pink
With the month of November now having arrived, many huntsmen will be heading to the woods for their favorite sport. So please, please be careful, as no one likes to report any tragic events. Be sure to wear your orange cap or vest — or pink, if you prefer — so you can be seen by other hunters.
Birthday wishes
Birthday wishes go out to Lindley Garland, who will be celebrating on Saturday, Nov. 7. Lindley is loved and adored so much by her grandparents, Chuck and Diane Moore of Harris Hollow. Happy birthday to Parker Critzer, who will be celebrating on Saturday, Nov. 14. And to a sweet lady, Ruth Baumgardner, who will be celebrating on Tuesday, Nov. 17. My sister Judy Alther celebrates on Wednesday, Nov. 18.
A little history
Since there is not much news going around Washington because of the COVID-19, starting with this week's edition I am going to write about some history in Washington. The information is taken from Maureen I. Harris' book, "Washington Virginia, a History 1735-2018."
In the early 1900s, a building on lot 31 was a stagecoach stop and John Clark's blacksmith shop and livery stable. These were destroyed by fire in 1916; F. Downing Wood purchased the property in the 1920s and constructed an apples packing facility. The Wood family owned the farm called "Sunnyside" adjacent to the town of Washington on which there were extensive apple orchards.
The Methodist Church located on the southeast corner of Gay and Jett Streets on Lot 43 was purchased by the Town from the trustees of the church in 1980. It became the Washington Town Hall. The Washington Fire Department Ladies Auxiliary Thrift Store also operated in the building. However, the building had no heat or restrooms and was used only sporadically. In 1990 the town sold the lot and building to Rappahannock County for use as a public facility. In the 1990s it became the Ki Theater and then the theater of the Rappahannock Association for the Arts and the Community (RAAC).
Until next week stay warm!
---