Virginia Livestock Hall of Fame
"The road to success is not easy to navigate, but with hard work, drive and passion, it's possible to achieve the American dream." — Tommy Hilfiger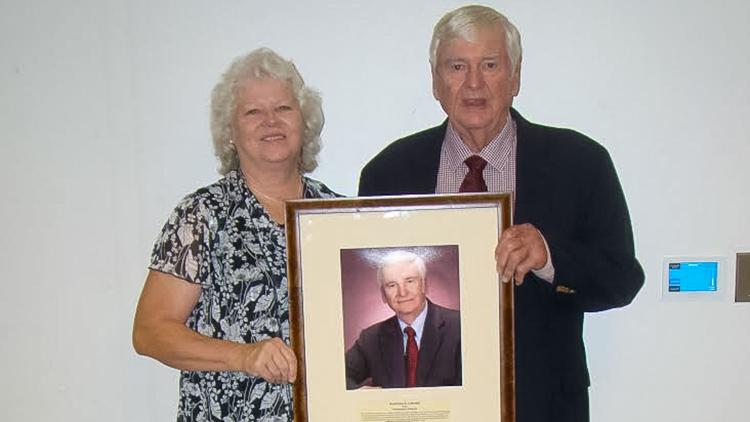 Hard work has paid off for Randall S. Updike. The renowned Washington cattle farmer was inducted this past weekend into the Virginia Livestock Hall of Fame, bestowing honor and recognition upon outstanding Virginians who have made significant contributions to Virginia's livestock industry and its people. The ceremony took place at the Virginia Tech Alphin-Stuart Livestock Arena. 
Randall graduated from Virginia Tech with a degree in Animal Science. He worked briefly with the Culpeper Farmers Co-op in 1966, moving on to the Virginia Department of Agriculture as a Livestock Marketing Agent, based in Harrisonburg. Early in his career, he was instrumental in exporting swine to both Central and South America and Taiwan. He helped start the graded feeder pig sale at Madison, all while building a purebred and commercial operation consisting of cattle, hogs, and sheep. 
Numerous junior and open show winners were sired on his farm, Skyway Hills. He was instrumental in broadening the original Culpeper junior show into a regional show to encompass Rappahannock and Madison counties. He has judged purebred, commercial, and Junior shows for all species in the eastern United States. 
Probably Randall's greatest love has been his work with Virginia's slaughter cattle industry, organizing sales at Madison and Harrisonburg and working with the sales at Marshall, Orange, Fredericksburg and Front Royal. He was instrumental in expanding markets for Virginia feeder cattle. After retirement, he has remained a focal point of reference for both feeder and slaughter cattle buyers. 
Randall has served on the USDA Task Force that revised the USDA Feeder Cattle grade standards, was instrumental in the Virginia Quality Assured feeder cattle program, the Premium Assured Heifer Program, and field days hosted by the Central Virginia Cattlemen's Association. He's served on the board of the Eastern National Livestock Exposition, and was Superintendent of the Livestock Judging Contest; he's also served on the Virginia State Fair Livestock and Beef Advisory Committees, Beef Cattle Improvement Association, BCIA Grading Committee, and was an advisor to the Virginia Cattle Feeder's Association.
As Stephen King said, "Talent is cheaper than table salt. What separates the talented individual from the successful one is a lot of hard work." One amazaning man. Congratulations Randall! 
Too hot for trees
Summerlike temperatures have caused a delay in the arrival of cherry, dogwood and redbud trees ordered through the Rappahannock County Garden Club's "Little Washington in Bloom" program. To be transported, young trees must be in a dormant state, which requires cold weather.
Rescheduled planting dates will be announced later. Additional tree orders are being extended until Oct. 15. For forms, contact initiative co-chair Fawn Evenson at 571-215-9672 or fawnevenson@yahoo.com.
Two generous local businesses have stepped up to incentivize people to donate to the Little Washington in Bloom initiative. The Inn at Little Washington will provide dinner for two to anyone giving $5,000 or more to the program. Three Blacksmiths restaurant will provide a dinner for two to the first two donors at the $2,000 level. Contact co-chair Lynda Webster to donate at 202-421-4866 or Lynda@webstergroupinc.com
Watergate exhibition
The Watergate Gallery in Washington D. C. is hosting a solo exhibition by our resident artist Kevin H. Adams. The artist's talk is Wednesday, Oct. 16, from 6 to 8 p.m The gallery is located in the Watergate Gallery, 2552 Virginia Ave., NW, Washington D.C.
Special days
Birthday wishes go out to Skip Giles, Bill Scoggin and Mike Massie of Washington; they all will celebrate their special day on Friday, (Oct. 4). Also, happy birthday to my brother, Ray Burke, on Wednesday, Oct. 9. 
Until next year
Over 30 people gathered at the Rappahannock County Park this past Saturday for the last dark sky event of the year, jointly sponsored by the Rappahannock County Recreational Facilities Authority (RCRFA) and the Rappahannock League for Environmental Protection (RLEP). 
The evening's program included observations through telescopes furnished by astronomers from the Northern Virginia Astronomy Club (NOVAC), includingJames Granahan and Milt Roney. Attendees saw Jupiter and its largest moons, Saturn and its rings, double stars, galaxies, globular clusters and nebulae. 
According to Torney Van Acker, RLEP is sponsoring a visit of Greg Redfern, NASA's Solar System Ambassador, at the Rappahannock County High School auditorium at 7 p.m., October 11. It is free.