Sperryville completes economic study, which recommends 'a vision for the future' 
A deli in Sperryville? Maybe. A full-service grocery store? Highly unlikely. How about a community gathering space? Perhaps.  
These are a few possibilities raised by the newly released community study, "Sperryville's Economy: Envisioning Its Future."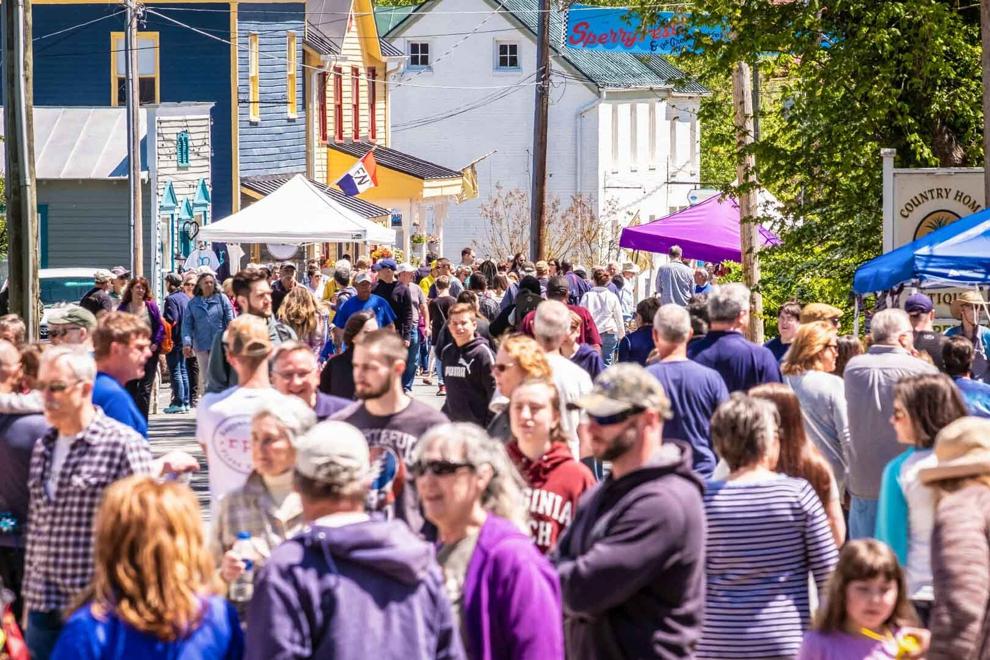 The study was sponsored by the Sperryville Community Alliance (SCA), a nonprofit group of local business leaders and community members. The volunteer organization sponsors community activities such as the SperryFest duck race on the Thornton River, concerts and walking trails. Last week, in partnership with the Rappahannock Association for Arts and Community, SCA it held its first 'Third Thursday' summer concert series in Sperryville's River District. The event was widely attended by Sperryville and county residents.
Over a year in the making, and delayed by the COVID-19 pandemic, the study outlines an "economic envisioning plan" aimed at fostering community interaction, boosting the local retail economy, increasing tourism and managing growth. The PATH Foundation provided most of the funding for the project. The 43-page study and appendices can be found on SCA's website, sperryfest.org.
With the county's 2020 Comprehensive Plan encouraging future residential and commercial development in or around major villages, including Sperryville, the study comes at a time when the Board of Supervisors is expected to vote on a rezoning application that could pave the way for a multiple-dwelling housing project in the village.  
The first-of-its-kind study is based on an analysis of local demographics, 221 responses from a community-wide survey questionnaire and six in-person focus groups comprised of older residents, young families and local business leaders. "The study is all about what the community wants, how can we sustain what we have here, and how we can grow what we want here," said Kerry Sutten, SCA president. "We did everything we could to get community input into the study."
"Demographic and economic data for small communities is often hard to come by, so relying on input from community members was a key part of the study," said Craig Wilson, principal planner with Richmond's Summit Design and Engineering Services Survey, who prepared the study. "Getting buy-in from the community is the number one factor new businesses consider when deciding to locate in a small-town setting. If there is a lot of fighting and fussing, they will go somewhere else."
Fifteen questions were posed to community members asking what they liked about Sperryville, what kinds of businesses are needed, and what could be done to make the village more appealing. 
Survey and focus group responses included:
A better and safer network of sidewalks and trails. 

Concern over the limited number of retail and the perceived high cost of goods and services.

A desire for a gathering space capable of hosting regular community activities.

Support for a limited amount of housing growth (particularly if viewsheds are protected) with affordable options for young adults, families and the elderly.

Maintaining Sperryville's small-town charm and sense of community.

Better cell and internet service.
While the study points out Sperryville's location makes it hard to attract many retail or service businesses found in larger communities, such as a full-service grocery store, it also notes that more than 61,000 people with an average household income of over $60,000 live within a 30-minute drive. Developing the right mix of smaller businesses, the village could "get the attention" of consumers from surrounding areas, sustain a "moderately robust" retail environment, and help bridge the fall-off in sales during the slower tourist months.
Tourism
Although tourism is considered a key component in Sperryville's economy, the study reports there is not a lot of tourism data available specific to the village. "We were hoping to conduct surveys and interviews with tourists, but COVID sidetracked that," said Susan Huff, SCA's board secretary. 
Looking at Sperryville's supply/demand ratio, the study suggests visitor demand at the village's small shops was good, but also suggested it could do "much, much better tapping the potential" of nearby Shenandoah National Park (SNP), which in 2019 welcomed more than 198,000 vehicles at Thornton Gap, just over seven serpentine miles to the west. It does not, however, prescribe any specific actions to expand the tourism market. 
Recognizing that population growth is a "necessary evil" to fill retail gaps, the study says: "The challenge is steering new growth in the right direction and places so as to not overly impact the feel of the Sperryville village or its immediate surroundings and having the support of Rappahannock County and the Commonwealth of Virginia to help put in place the infrastructure needed to encourage and support growth." 
Future growth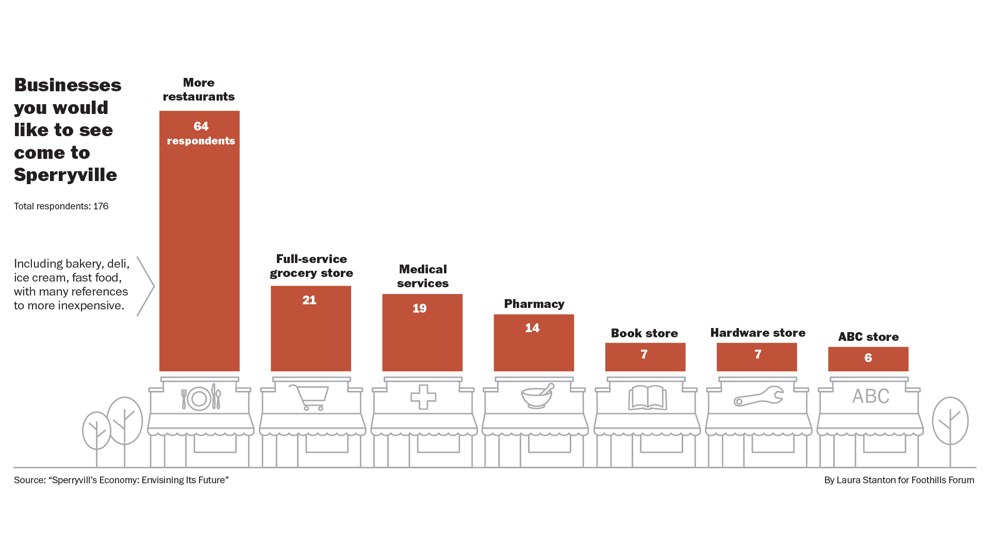 In one of the focus groups, business owners expressed concern that Rappahannock County has no economic development plan, and since the village is unincorporated, it is not eligible to apply for many economic or community development grants. 
"Any future growth is largely controlled by the Board of Supervisors and other county government entities, and most members of those entities do not reside in the community," said Sutten. "The community should have the ability to determine its future. If we are to be successful in implementing the study's recommendations, many of which identify potential funding by state and federal programs, we need a strong partnership with the county government." 
The study recommends "a vision for the future" that identifies goals and strategies in three areas: "Building Community," "Managing Growth" and "Preserving the Village."
Building Community – "Finding New Ways to Connect"
"Although we've made progress with events like SperryFest, outdoor concerts, croquet tournaments and the river trail, we need to find new ways to connect with each other," Sutten said. He and other SCA members say the study points to the need to build community.
The study also identifies a number of development actions, including: Improving roads and sidewalks to address pedestrian safety and parking, particularly along Main Street; creating a small music-oriented venue and a pavilion that could be used as a marketplace and gathering space for community residents; and continuing efforts to secure funds for trails to local points of interest and the Shenandoah National Park.
"Taking steps to bring our community together was a key takeaway from the surveys and focus groups," said Robert "Archer" Chapman, SCA's vice president. "There is no reason people whose families have lived here for generations and newer residents can't enjoy what Sperryville has to offer and be involved in planning its future. We will work to bridge any divides, real or perceived, that might exist. Our programming at SCA has been and will continue to reflect that goal."
Managing Growth – "Retail Follows Rooftops"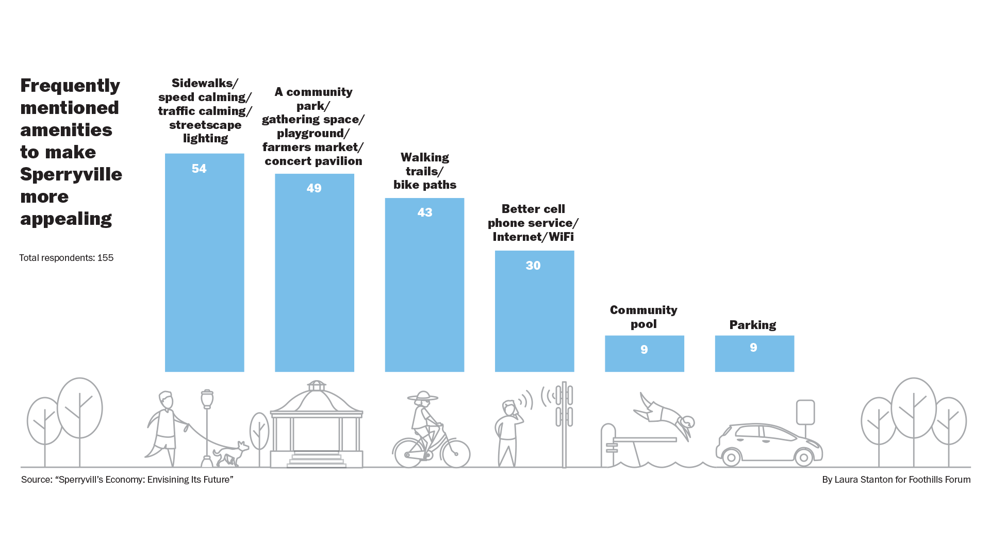 New and affordable housing is identified in the study as "necessary" for young adults who may want to stay in the community, families with limited incomes and older adults living in the area or looking to downsize. The study notes the adage, "Retail follows rooftops," and suggests new housing is also necessary in order to support the additional businesses desired by residents.
 "Such development," the study states, "should be paced and controlled as much as possible by local leadership" so public utilities and roads are not overtaxed, and viewsheds, central to Sperryville's identity, are preserved. The strategy calls for the community to work proactively with landowners, developers and the county government to "lay out Sperryville's vision of what it means to be one of the county's 'designated growth areas.'"
"One thing that could be implemented fairly quickly is a state grant application for pedestrian and sidewalk improvements," Wilson said. "Safety is a high priority for the Virginia Department of Transportation, and the community and county government should consider securing these funds, especially if Sperryville experiences new growth."  
Preserving the Village: "Status Quo Not Very Feasible"
Concluding that preserving the status quo in Sperryville was not likely, the study embraces the notion of a "dynamic marketplace that has to be nurtured and promoted to ensure its viability in the future." Since the time of the Conestoga wagon builders in the 1800s, "the heart of the village and the retail outlets found there have always evolved and will continue to evolve."
Several strategies could help continue that evolution. Among them: Expanding the Main Street historic district; implementing a building facade improvement program supported with grant money; adopting a Sperryville "brand" – a symbol or tag line that defines the village's unique characteristics; and securing state funds to encourage the launch of new businesses.
"The study provides a good framework and identifies next steps for growing our community through a collaborative planning process," Huff said. "It mentions the notion of Sperryville becoming an incorporated town in order to apply for community grants, but I don't think that is in the cards. That means we have to work closely with our county government and representatives to implement this plan."
The SCA is planning a community-wide meeting to discuss the study, which will be announced in this newspaper.
---
---