Concerns about developers, privacy may limit public access
Ever wonder how your Rappahannock County neighbor's property is zoned? Do you live in a floodplain? Worried your property boundary might not be accurately reflected on tax maps? Which fire and rescue company is first due at your address? What's your voting district?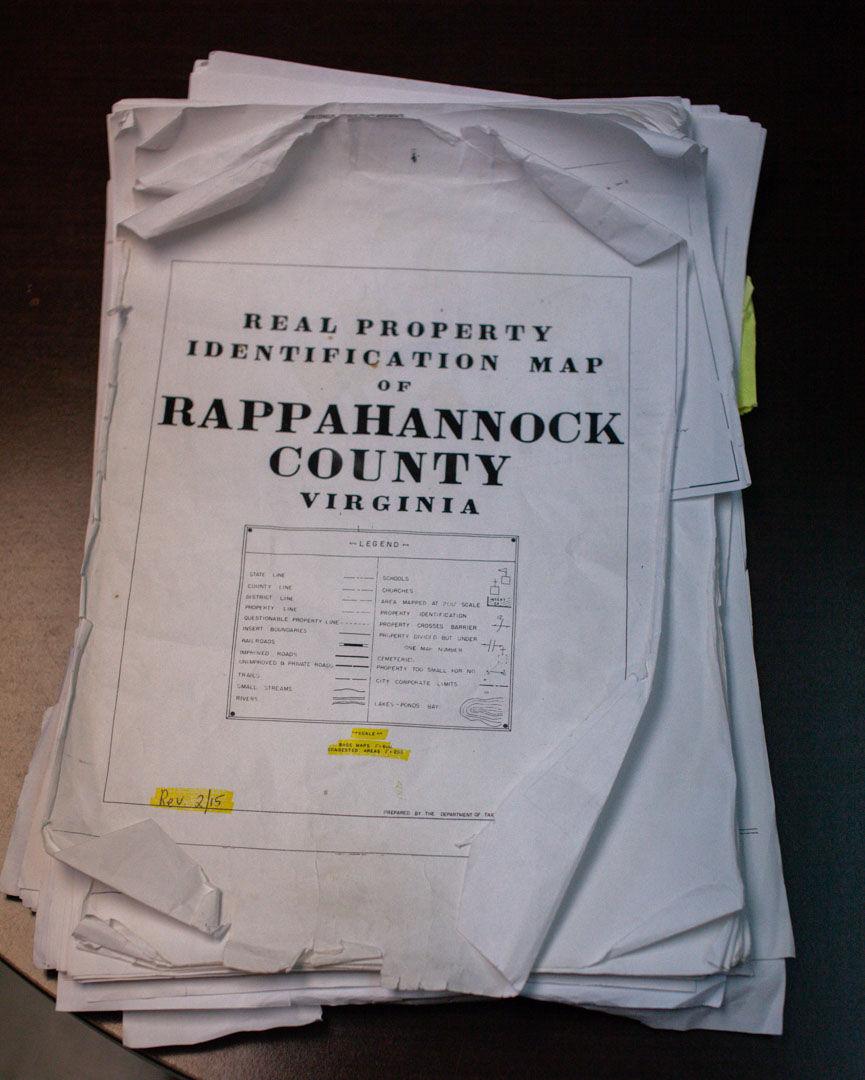 To answer these questions locally, you'll have to make calls or personal visits to county offices on Gay Street or comb through websites. You'll be referred to old sets of maps and documents dating back decades. 
Everywhere else in Virginia, there is an easier way to get that information. It's called a Geographic Information System, or GIS, widely available for public use and largely online. 
By all accounts, Rappahannock may be the only county not actively using GIS. 
Except that such mapping is already being implemented here -- before the end of the year -- under the auspices of a newly formed public safety committee using county-approved funding for fire and rescue coordination. 
To be decided is if, or when, the county will adapt GIS platforms to aid in planning, zoning and multiple other uses. 
Not so fast, say some elected officials. In their view, GIS mapping, if made public, would make it too easy for developers to do business here, and they raise privacy questions. 
"It's a layer of protection against development by not having GIS like all the other counties," said retiring Stonewall-Hawthorne Supervisor Chris Parrish. "Making GIS information public is an invasion of privacy," he said.
GIS is a high-tech digital mapping program that can provide county officials, and the public, with useful information about real estate ownership, land values, zoning, soil types, broadband access and other data that is often difficult to find. Information is "layered" onto maps allowing users 'one-stop' access to what can be a treasure trove of information.
"The sky is the limit as to how many layers you want to include on GIS maps," said Rappahannock resident Shannon Ennis, who serves as a GIS analyst in neighboring Fauquier County. "Fauquier includes layers of information about tax parcels, zoning, public schools, floodplains, development projects, historic districts, even our county wine trail.  With a few clicks on our website an individual can access maps showing all this information by location."
There is not a state rule that a county use a GIS system or make the information publicly available on a website. But, counties and cities throughout the Commonwealth, including those neighboring Rappahannock all have extensive GIS mapping programs. 
County attorney Art Goff knows of no legal requirement that calls on a county to have a digital GIS mapping system. "If the county does go in that direction, it is my understanding that it can limit the access of digital information in the system to county offices," he said. "Of course, that information must still be available as it is now, primarily in various paper documents like zoning and tax maps. That being said, I do think making information easily accessible through GIS would benefit the public."  
Joe Sewash, coordinator for Virginia's Geographic Information Network, said in an email it is up to localities to decide whether they have a dedicated GIS department, maintain or outsource a GIS function in public safety planning, property mapping, and assessments. "Localities have the discretion as to where these datasets are maintained," he stated. 
---
'Primitive and archaic system'
A visit to the zoning administrator's office might seem like a trip back in time. Hand-drawn zoning maps dating to the mid-1980s depict permitted uses with colored pencil lines. Changes are recorded with written notations. Many parcels were surveyed using a method known as "metes and bounds" where landmarks like trees or rocks – many perhaps gone today – were used to measure and describe the boundary of a property. 
"The real estate in this county is our most valuable asset because that is where our tax revenue comes from," said Al Henry, a member of the Planning Commission. "Many of our maps and parcel boundaries have been hand drawn so there are questions of accuracy. It's a primitive and archaic system. To make good community planning decisions we need tools that will give us the ability to take a comprehensive look at the county as a whole."
Zoning Administrator Michelle Somers believes GIS would improve the accuracy of zoning maps. "If those maps are also layered with other data like topography and floodplain areas it would be very helpful for other county departments and boards in evaluating zoning requests," she said.  
Ron Makela, chair of the Board of Zoning Appeals, is concerned county zoning maps might be challenged in court. "These colored pencil lines drawn years ago are not precise," he said. "If a legal case came up involving the zoning maps and where the lines are drawn, I'm concerned a judge might not accept the maps in a court proceeding. If the maps are declared invalid and have to be redrawn, where would that leave us?"
The county government has already edged toward inaugural use of GIS mapping.
According to county administrator Garrey Curry, fire and rescue maps and street addresses are being updated using GIS technology. Once that is completed, the focus will shift to reviewing, updating and digitizing the zoning and tax maps. "The FY 2022 budget included $35,000 for internal GIS startup costs," he said. 
Despite worries about developers and privacy, a variety of county officials point to benefits of GIS.
---
Tax maps
The Commissioner of Revenue's office maintains a set of paper tax maps dating to the mid-twentieth century. A quick look through the maps shows hand drawn red lines and markings that reveal changes between property plats registered in the county clerk's office and the existing tax maps. The tax maps can be emailed to those requesting them, but the most up-to-date maps can only be found in the commissioner's office. "GIS would make this process so much more efficient and accurate," said Commissioner of Revenue Mary Graham.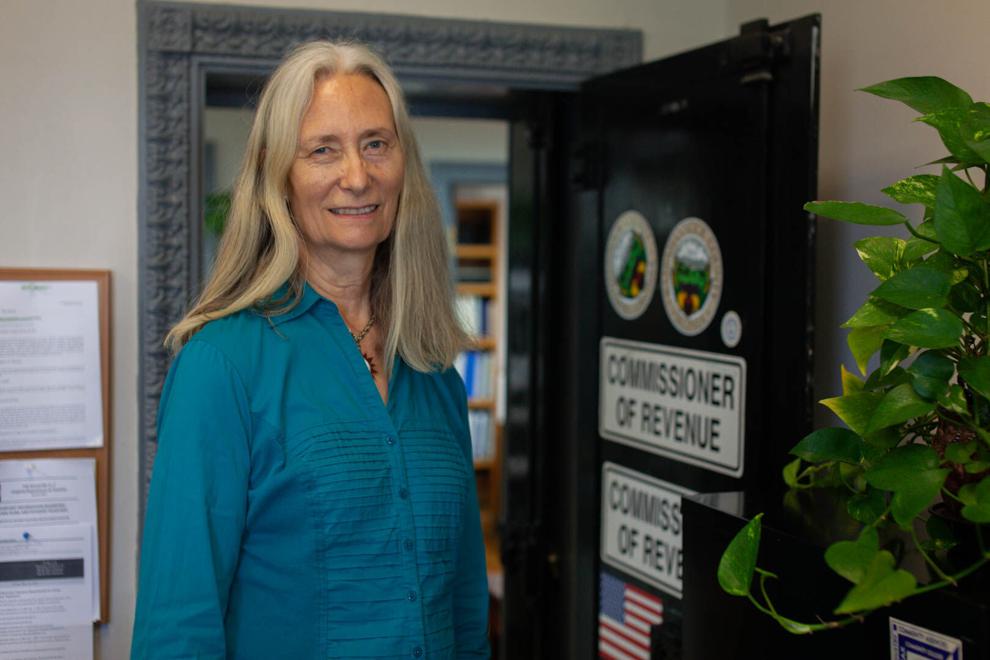 "I spend a lot of time correcting errors on the tax maps," said Graham. "Accuracy is important especially since my job also entails monitoring land use and determining how land is being used for different purposes."  
Graham has to resort to a hodge-podge of tools to help verify land use including an online app that helps hunters determine property boundaries. 
---
Voting districts
At the county's voter registration office, Registrar Kimberly McKiernan has to check in with the sheriff's office for new addresses to locate new voters. "I'm sure they have better things to do than help us verify addresses," McKiernan said. "With GIS, newly built homes and addresses would automatically be shared with this office and I wouldn't have to bother them."  
McKiernan believes GIS could have helped avoid a mix-up last September where seven voters were incorrectly located in the Stonewall-Hawthorne voting district. "Since we rely on roadmaps and a 2011 voting district map there is sometimes imprecision, especially when new roads and addresses are added," she said. "If we had GIS, we could have identified the district where those voters belonged well before it became an issue." 
---
Fire and rescue
Earlier this year problems were identified with the county's fire and rescue companies' response order that determines which company is first to arrive at the scene of an emergency. Some first responders were not being correctly dispatched to incidents in their service area. In March, a public safety committee began addressing the issue. It turned to GIS mapping to correct the problem and update the 911 emergency system. 
"We are working with a contractor who is helping us update the dispatch system for our fire and rescue companies as well as our address database," said Lt. Janie Jenkins, a committee member who runs the 911 dispatch center in the county Sheriff's Office. "As this data is updated it will be integrated into a GIS mapping system which will greatly improve our public safety response efforts. We hope to have the staff trained and the new system up and running before the end of the year."
---
"Only county without GIS"
Given the benefits, why has Rappahannock been so late to embrace GIS?
Parrish, retiring after 12 years as a member of the Board of Supervisors, has been skeptical of GIS. "I think Rappahannock is the only county in Virginia without GIS and that is one more reason we are unique," he said. "If any big developer has a notion to do development here, they're going to have to come to the clerk's office and physically do the search and they just aren't going to do that. It's a layer of protection against development by not having GIS like all the other counties." 
Van Carney, elected this month to replace Parrish, shares a similar view. "I think it is important for fire and rescue operations and helping with clerical housekeeping in the zoning and commissioner of revenue offices, but overall, I don't see a pressing need for it," he said. "We don't want to make it easier for folks to come in and just start building stuff. We may be the only county in the Commonwealth that doesn't have GIS, but we are also the only county close to a metropolitan area that is not developed. Given the other pressing needs of the county, I put GIS in a much lower category." 
Zoning administrator Somers reflected that view. "People interested in real estate development rarely call back after I tell them we do not have GIS maps," she said.
Keith Cooke, GIS manager at the national consulting firm ESRI, believes that strategy may slow development as some developers may not be willing to go through multiple steps of researching a property. "Ultimately that's not going to stop them if land is available and they want to develop it," said Cooke, who is based in Birmingham, Ala. "GIS would give a county better control over its land use policies because there is transparency not only to the developers but the public as well. That makes it easier to counter what a developer proposes for an area." 
Planning Commission chair and BOS member Keir Whitson recognizes GIS can be a powerful tool to help make planning decisions. "If you boil it down to what really matters here, it is land use and zoning," he said. "I cannot see a downside to having a solid GIS-based mapping system that allows us to draw inferences about where we are headed and what we've done on big land use and zoning questions."
Whitson also believes a robust and well executed GIS system would help with enforcement of land use taxation. "GIS would give us the ability to make sure those in land use are paying their fair share."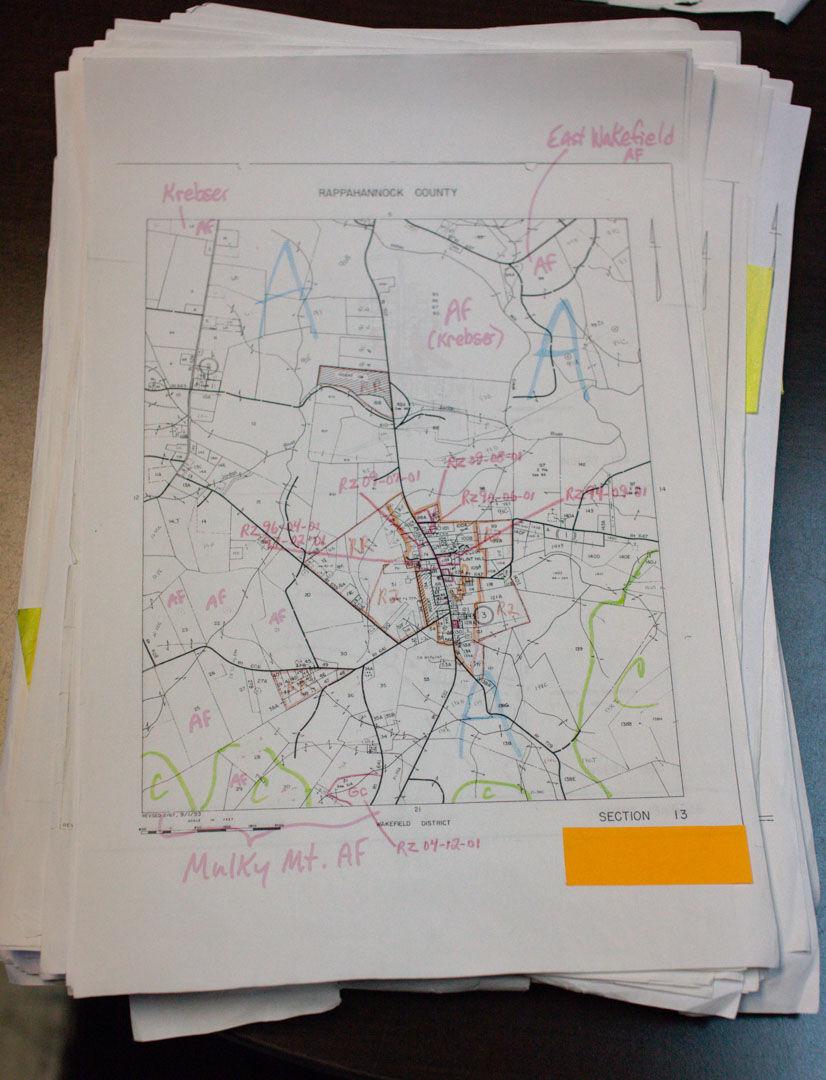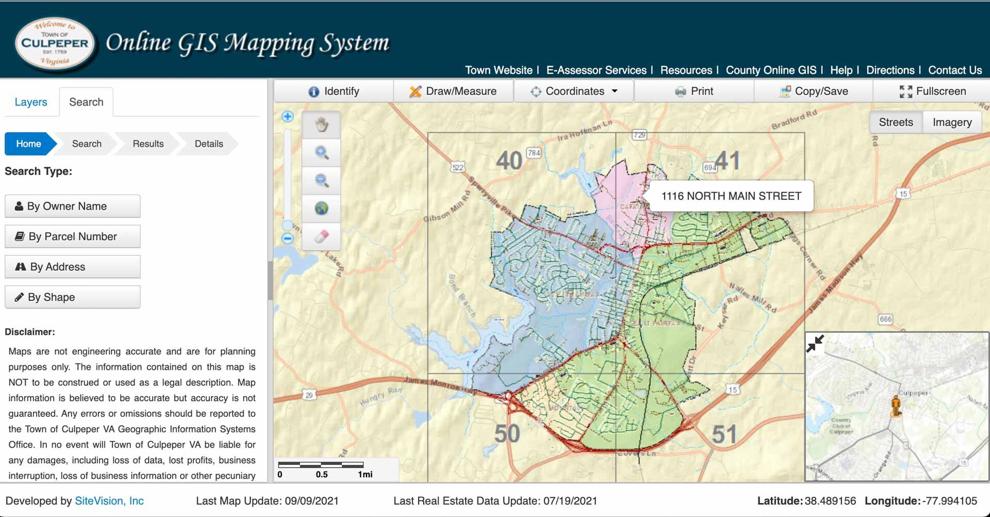 Who has access to the data — the county or the public — is a key fault line. Although information about a parcel's assessed value, taxes and zoning use is publicly available, supervisor Parrish is concerned that making it easily available on GIS maps would raise  concerns about privacy.
"I don't want to lose the uniqueness we have here in Rappahannock," he said. "We should hold on to our privacy just as we are trying to hold on to our Dark Skies designation and keeping out big box stores and stop lights. The more unique we are, the more desirable we are." 
When Fauquier County made its GIS system public in 2002 there was some pushback. "People complained about it," said Ennis. "But they don't anymore. In fact, it has become an important tool for residents to engage in community planning decisions."
Adjacent Culpeper County made its GIS system public in 2013. "The GIS program greatly benefits our county," said Pam Schiermeyer, the program's coordinator. "It's a huge benefit for our 911 program, our tax assessment and land use programs, and our zoning department," she said. "Our residents love it because it allows them, and us, to easily determine what they can and can't do with their property under zoning designations. I personally don't believe GIS attracts developers because they can quickly see after checking a property's zoning designation, the zoning ordinance and the comprehensive plan that a property is not worth pursuing."
---
'Walk before we run'
For the time being, Curry said any GIS information developed will be used among county offices and not available to the public on a website. "There may come a time when GIS would become available to the public, but only certain kinds of information would be available, like roads and floodplains," he said.
Added Parrish, "We are going to have our own private GIS system that covers public safety, zoning, and tax maps. That will not be expensive like those big programs in other counties and it won't be available to the general public. We need to maintain the privacy we enjoy in this county."
Foothills Forum is an independent, community-supported nonprofit tackling the need for in-depth research and reporting on Rappahannock County issues.
The group has an agreement with Rappahannock Media, owner of the Rappahannock News, to present this series and other award-winning reporting projects. More at foothills-forum.org.
Whitson agreed that GIS should  only be available to county offices. "The starting point for me is that GIS should be an internal planning tool first and foremost to help us make really good local government decisions," he said. "People can already find the information they need without GIS. I don't feel compelled to take GIS data and float it out there for public consumption. We need to approach that cautiously and judiciously."  
Board of Supervisors chair Debbie Donehey is looking for a win-win solution on GIS mapping. "Just flipping the switch with full-on GIS with many layers of information available to the general public doesn't sound like anything any of us would want to do," she said. "If we can come up with a win-win solution where we can help the county offices, save money, and maintain privacy, I think people would be more open to the conversation. There may be a way to walk before we run."
---
---