How a changing county will fund its schools and other priorities in the years ahead 
It's springtime, 2031. The dogwoods and redbuds are as spectacular as anyone can remember, and the machinery for preparing an annual county budget is churning out the numbers. The March presentation shows a balanced budget — as it must by law — and two months of refinement and horse-trading will yield a final blueprint before the summer humidity sweeps in. 
But what conditions and circumstances will surround that far-off 2031 budget? Today's trends predict many of tomorrow's realities, even though some of the most important influences arrive as surprises. The reason planners and policymakers track the trend lines is that many of them continue their slow progression into the future after absorbing the shockwaves of a financial crash or a pandemic. And long-term, many residents look at the trends and worry about how the county will fund its largest single commitment: The Rappahannock County school system. 
For Rappahannock County, the landscape of the next decade has both clear markers and question marks. If current trends play out, county homeowners in 2031 will be older, wealthier and wobblier on their feet; Rappahannock school children will be fewer; public safety will be costlier; and the cows may have lost some fans and friends as a result of general decline in beef-eating. The county will remain heavily dependent on property taxes, critical to funding the schools as well as public safety, emergency services, law enforcement and public administration. 
Assuming its current plans materialize, The Inn at Little Washington will have more rooms, a spa and an event space, with well over 200 employees and more well-heeled guests enjoying the evolving splendors. AirBnB operators will extend and broaden the hospitality sector. 
By 2031, an undefined but likely growing number of remote workers will move in, plumping up the property tax receipts and protecting current landowners from the tax hikes they dread. Of lesser importance, online buying — now subject to local sales taxes — will continue to grow, though people can only guess the extent of digital sales, which surged during the pandemic. 
Absent from the 2031 landscape are big-box retailers and cookie-cutter housing developments, both of which would add to tax receipts at the expense of an open landscape that residents and visitors treasure. The county's Comprehensive Plan characterizes Rappahannock as "scenic," and emphasizes agriculture and tourism, noting that these sectors are "not dependent on traditionally defined growth patterns as have developed in jurisdictions nearby."
For its part, the Commonwealth of Virginia is seen as unlikely to revamp its school funding formula, meaning that state infusions to the schools will continue to grow only slightly. But the formula is likely to continue penalizing a county like Rappahannock which shows a shrinking school population together with comparatively high real estate values and incomes. 
This means that Rappahannock schools — the county's biggest single investment — will be competing for their share of the property tax harvest, alongside other programs needing money. The schools, though smaller, will seek to become more nimble and responsive to diverse needs of the students. Gary Aichele, board chair of the nonprofit Headwaters, says if the schools are smaller, they must "create a story that says, 'We take every individual student's situation seriously.'" 
Funding from local patrons and various grant-making organizations, including Headwaters, will become more important if state, federal and county support increasingly faces limits. It is also likely that the property tax pool will grow modestly, without turning Rappahannock County into the next Haymarket, a once-quiet town 25 miles to the east now crammed with housing developments and cathedral-sized retailers. 
Guessing post-pandemic behaviors
The most gripping question being discussed in Rappahannock County — as well as in money-center banks and commercial real estate offices throughout the United States — is whether pandemic behaviors will continue into the next decade. Countrywide, work-from-home arrangements broadly succeeded, despite frustrations. The downside was acutely felt by young families with school-aged children also at home, reacting to teachers speaking from screens. As students return to classrooms, many of their parents are opting to work from home in relative peace. Some employers applaud the shift, since it radically lowers real estate and relocation costs. In many cases, the remote workers were measured to be more productive than their in-office colleagues.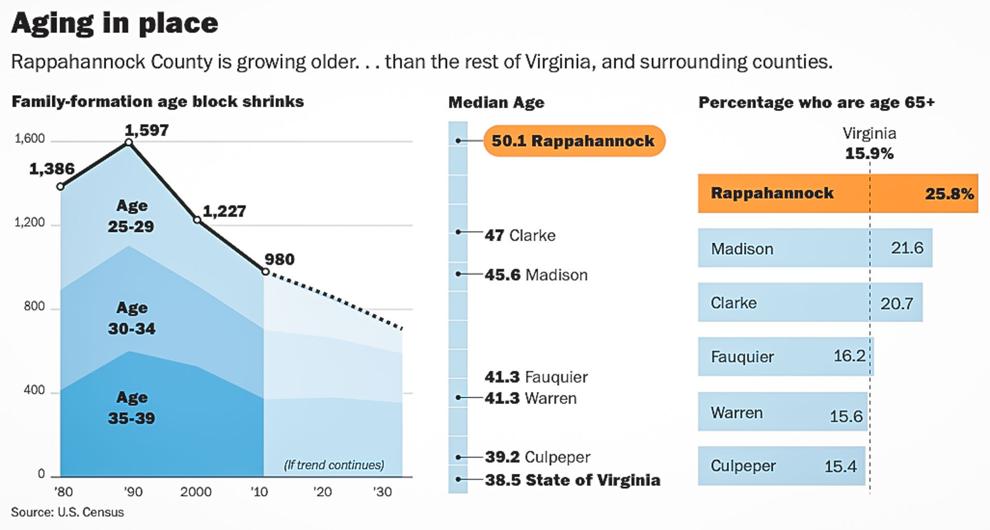 The Piedmont Environmental Council figures that in Rappahannock and eight neighboring counties, there will be 25,000 workers who will not be commuting to work as they were before the pandemic. If remote-work patterns persist and expand, the number could double. If so, Rappahannock and its schools could gain by attracting working families choosing to locate their homes in the rural county while deriving their income from Washington, D.C., New York or San Francisco.
Says County Administrator Garrey Curry: "The ability for city workers to effectively work from home in much of the county has drastically changed over the years and will likely continue to change as connection to the internet grows more available. This dynamic would seem to me to have the greatest impact on our future." 
The extent of remote work in Rappahannock County will depend on various factors, starting with effective broadband access, but will also include availability of housing, land and construction services.  
According to the Pew Research Center, 62 percent of the workers with a bachelor's degree or above say their work can be done from home. And many are finding that homes in Rappahannock County carry a range of advantages. Alexander Neill-Dore, co-owner of Hillcrest Contracting LLC (and a Foothills Forum board member), says that "since March 2020, we've been inundated with requests for renovations and new houses." The bulk of the demand, he adds, is "from weekenders who are becoming permanent residents." His firm, which he co-owns with his father, Jonathan, keeps a group of eight carpenters, painters and electricians busy on the contracts. 
The construction projects translate to more economic activity, and in the case of new houses, more robust property taxes. Al Henry, a member of the county Planning Commission, figures that 20 new houses a year "seems a comfortable call." If the home values average $500,000 (an admittedly high estimate today), the building activity would add $10 million to the aggregate value of property, generating $73,000 more in annual real estate taxes. 
Aging patterns
A central question is whether the building activity will alter a powerful demographic shift to an older population, with fewer school children. Shrinking schools affect many rural school districts, which are smarting because reduced student populations translate into less financial support from Richmond. The state formula for funding schools factors the number of students together with home values and incomes of residents. Because real estate values in Rappahannock are comparatively steep, and income levels comparatively high, the schools receive proportionately less state support than counties with shrinking student populations and depressed real estate values and incomes.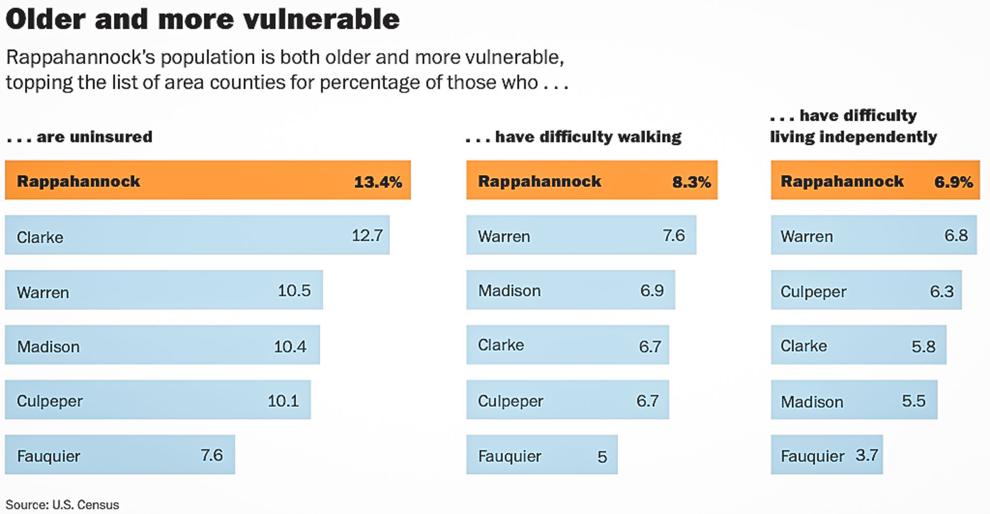 The Average Daily Membership, based on daily attendance rather than enrollment, is the number the state uses in its funding calculations. This critical figure has been shrinking steadily, coming in at 869 in the school year 2015-2016, and dropping to 765 for the current year, according to calculations at the time of the mid-March FY2022 budget presentation. 
The shrinking student body, and shakier school funding, could brand Rappahannock County as friendlier to retirees than to young families, which could undercut the potential growth from younger remote workers. 
Rappahannock County's pattern of fewer students and more elderly people is pronounced and well-established. Cross the county line from Culpeper into Rappahannock, and the median age leaps from 39 to 50. In Culpeper, 15 percent of the population is 65 or older; in Rappahannock Census data has that at 26 percent — more than one of every four residents. 
Here's why the school shrinkage won't quickly reverse itself: In 1990, there were 1,597 residents between the ages of 25 and 39, the main years for forming families. By 2010, residents in this age group had plummeted to 980, a 61 percent drop. Census figures for 2020 aren't yet available, but national trends point to a general postponement in marriage and family formation. Compared to the rest of the state, Rappahannock shows a measurable shortage of kids ages five and younger: 4.8 percent in the county, compared to 5.9 percent in the state. 
Older populations go hand in hand with vulnerabilities. Difficulty walking affects 8.3 percent of Rappahannock residents, higher than the counties of Clarke, Warren, Madison, Culpeper or Fauquier. Similarly, 6.9 percent of Rappahannock residents face difficulty living independently, higher than all of the five neighboring counties. The vulnerabilities translate into higher demands on county social workers and a greater likelihood of emergency calls. Those needs will increasingly compete for public resources with the educational and social missions of the schools.  
Costlier emergency services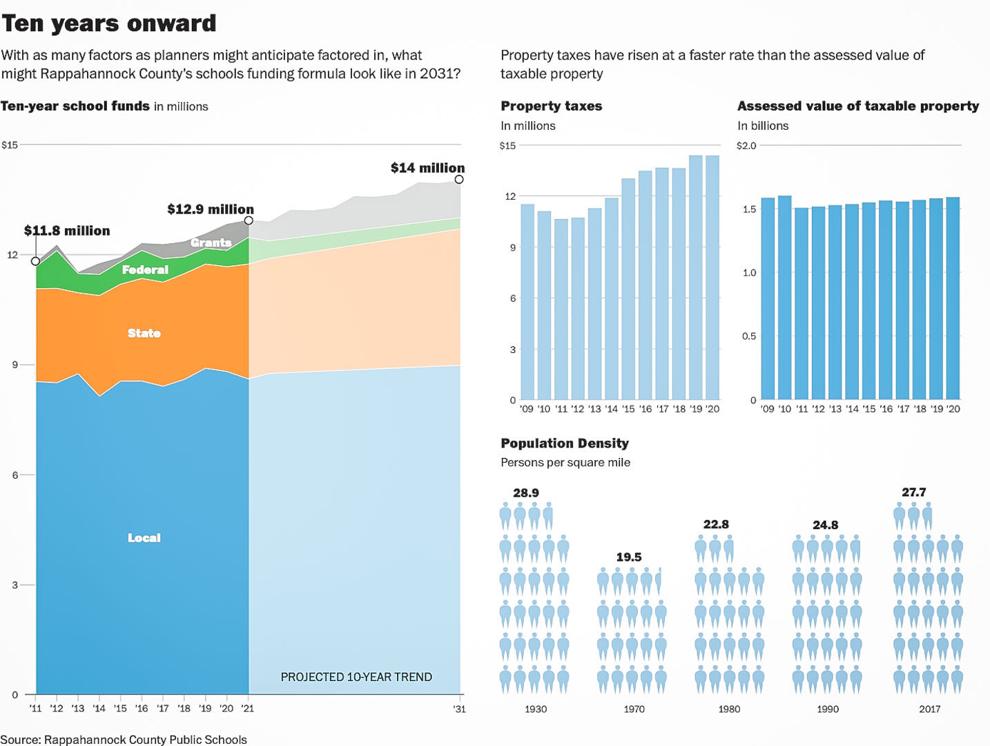 Meanwhile, emergency services provided by the county's seven Fire and Rescue companies are becoming more costly, as Rappahannock, like most neighboring counties, shifts toward paid staff. The slow attrition of volunteers in the companies is both a cultural trend throughout Virginia and another demographic phenomenon; volunteers age into retirement, with fewer young firefighters and emergency medical practitioners to take their places. The county will be hiring a paid emergency services coordinator in coming months, the first step in a transition to paid staff. 
Difficult decisions lie ahead, including whether fire and rescue companies might merge and cover broader areas. Once staffed up, the fire companies will likely require about $2.5 million a year of additional funds. While these budgets are covered by a separate fire levy, says one seasoned firefighter, "it's still Joe Taxpayer" who will be footing the bill.
Sacred land
In Rappahannock County, cows aren't sacred but the land they graze on is. The widespread use of conservation easements and land-use tax deferrals preserves the county's exceptional vistas and viewsheds, but cuts into the key revenue source of property taxes. That worries the schools' most dedicated supporters. Once the various tax breaks are taken into account, only 14 percent of the county's taxable land is subject to taxes calculated at fair-market value.  
Policymakers have shown no appetite for tax changes that would add to the financial burdens facing the county's farmers. But one additional land-use option will probably receive a fair hearing some time before that far-off 2031 budget is presented. This is the open-space tax deferral, which the state allows but which Rappahannock's tax playbook doesn't currently include. The county would be free to allow a higher tax break for land in agriculture or forestry, and a smaller advantage for open-space land set aside for hunting, walking trails or wildlife sanctuaries. 
Advocates of this approach, like Casey Eitner of Castleton, see adding the open-space option as a win-win.
"The open space designation applies to a wide range of natural preservation uses, and I believe a lot of people would opt for that," says Eitner. "They would voluntarily pay a little more tax to get out from under agricultural land use requirements. This could be a source of much needed new revenue to finance our schools and emerging needs like fire and rescue."
---
---