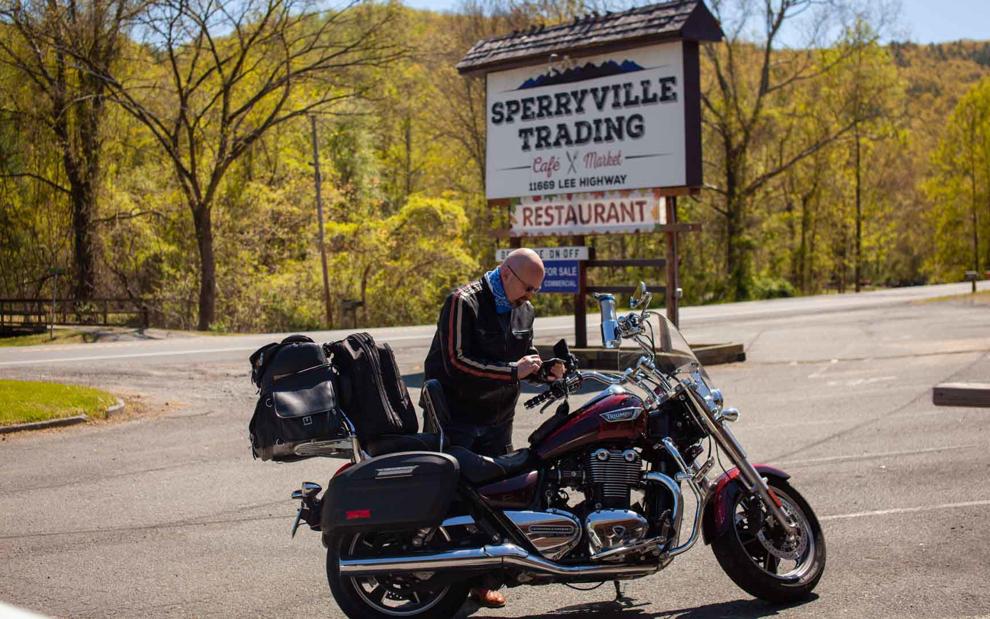 Jim Monroe, a criminal defense and family law attorney from Warsaw, Va., was taking a break in the Sperryville Trading Post parking lot during a ride through Shenandoah National Park and elsewhere on Wednesday, April 22. 
This weekend, a reported three motorcycle accidents in Rappahannock County, one of them requiring Sperryville Rescue Squad to transport an injured rider to the hospital. Monroe, a retired Marine gunnery sergeant who said he's logged some 300,000 road miles over more than 40 years of riding, told a passerby that he prefers to ride alone for the sake of safety.
"When riding in a group," he later explained by email, "even with only 3-4 other 'experienced' motorcyclists, group mentality takes over. One motorcycle speeds, or drags their pegs in a corner, the rest of the group has to play catch-up. Playing catch-up eventually leads to someone riding beyond their experience level, and disaster usually follows."
His many miles include several cross-country rides, he said. "I have wrecked three times, with three due to my inexperience with the road. Fortunately for me, I did not sustain any injuries, except a bit of road rash."
---
Click here to sign up for the C-19 Daily Update, a free newsletter delivered to your email inbox every morning.