Woman medevaced off mountain next morning by U.S. Park Police helicopter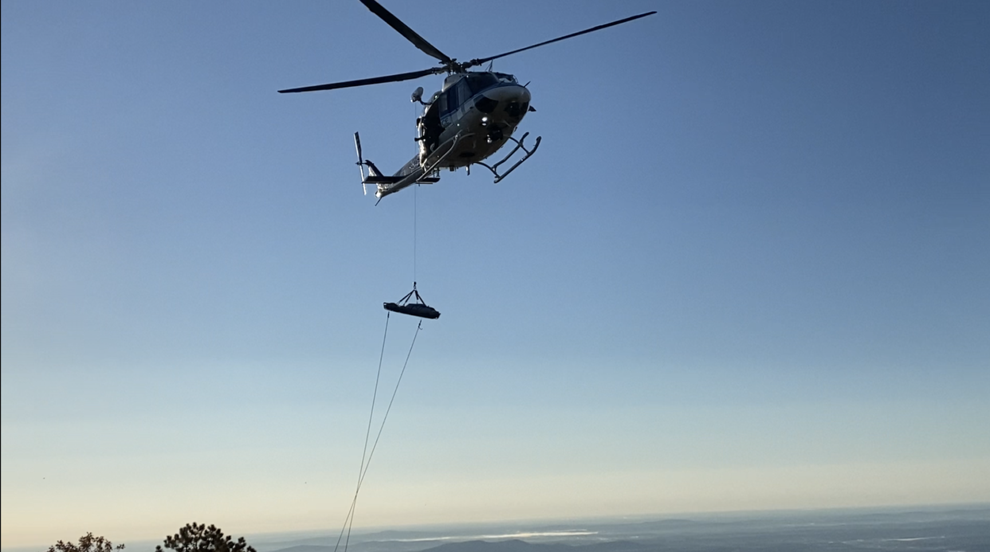 An unidentified hiker reportedly injured on Old Rag Mountain last Friday could not be medevaced for medical treatment until the sun came up Saturday morning, the Rappahannock News is told.
"We hiked Old Rag before sunrise on Saturday morning and saw an injured young lady medevaced via U.S. Park Police helicopter," a man who requests anonymity told the Rappahannock News.
"She was being attended to by search-and-rescue volunteers and/or park rangers when we passed them on the trail. We assume they called in the helicopter and manned the stabilizing lines as she was hoisted up," he said.
"This picture was taken about 8 a.m. Saturday [see above]. We assumed she had been an early-morning hiker like us, but someone in the parking lot later said she had been injured on Friday evening and spent the night on the mountain until the weather permitted helo flight."
There has been no word from Shenandoah National Park officials about the rescue or the identity and condition of the injured hiker as of press time Wednesday. Without providing details, a park official did comment that there were actually two incidents that rangers responded to in the area of Old Rag over the weekend.
---
---
Unlike many other national parks, Shenandoah seldom issues statements surrounding injuries or deaths of its visitors — "to protect the privacy of the people involved," it explained to this newspaper.
The News inquired several months ago about the park's strict policy after learning weeks after the fact that a recent high school graduate from Fauquier County had fallen to his death from the top of the upper falls of Whiteoak Canyon. His hiking companion also fell a considerable distance, but was rescued.
Shenandoah Park has been experiencing record breaking crowds in recent months, in part because of COVID-19 and people wanting to escape urban areas. This past weekend was no exception, with long lines to enter the park.
Eight years ago a similar rescue took place on Old Rag. A man was seriously injured and park rangers remained with him overnight, providing much needed medical treatment and warmth, until he could be flown out by chopper the next morning.
The man later said from the hospital that he had fallen while rock climbing and spent a cold night on the side of Old Rag with a shattered ankle. The temperatures that night dropped into the 30s.
The temperature in nearby Etlan last Saturday morning dipped to 34 degrees.