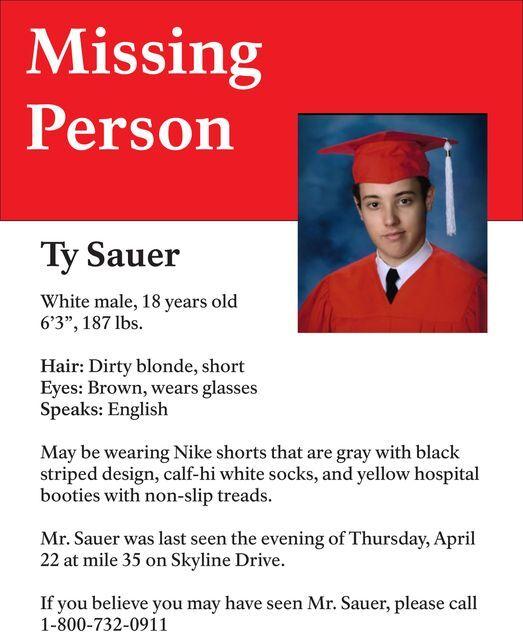 The search continues on Monday for Ty Sauer, the New Jersey teenager who has been missing in the Shenandoah National Park since Thursday night. Sauer, 18, was last seen at mile marker 35 on Skyline Drive, according to National Park Service officials. 
Claire Comer, interpretive specialist for Shenandoah National Park, told the Rappahannock News around noon on Monday that roughly 65 trained search and rescue personnel are actively looking for Sauer. "We have about five dog teams and we are, based on some clues and a lost person behavioral analysis, concentrating on the Hazel Mountain area of the park."  
Park officials have closed several trails in the area of highest probability around Hazel Mountain, including Hannah Run Trail, Catlett Spur Trail, Catlett Mountain Trail, Corbin Cabin Cutoff, Nicholson Hollow and Hazel Mountain Trail.
Comer said 15 professional search and rescue teams from across the region, including the Luray Police Department, Madison County Search and Rescue and Greene County officials. 
Over the weekend a helicopter search using Forward Looking Infrared technology was unsuccessful in locating the missing teen. "Unfortunately the canopy has just filled in too much for that to give us much good information," Comer said. "It picked up animals and some of the searchers, but nothing that we were able to use really." 
Comer added that park officials will deliver another update around 1 p.m. on Monday. 
Comer also confirmed that Sauer's family has been contacted and is on site at Shenandoah National Park.
Anyone who believes they may have information about Sauer's whereabouts is asked to call 1-800-732-0911.
This is a developing story. The Rappahannock News will continue to deliver updates as soon as more information becomes available.