Rapp farmer a guest on NPR's Weekend Edition Saturday
Did you hear the most recent Weekend Edition Saturday on National Public Radio?
"Budding Hemp Farmers Struggle To Find Success In The Green Rush," the broadcast was headlined, with a Sperryville farmer figuring prominently in the report.
NPR reporter Hannah Hagemann observed that industrial hemp farming has exploded in this country ever since the 2018 Farm Bill passed last December, effectively decriminalizing the harmless varieties of the plant at the federal level and opening the door for many U.S. farmers to grow and sell it for myriad purposes.
Including farmers in Virginia, where seminars have been held in places like Culpeper for those interested in growing hemp.
"Over the past year, licensed hemp acreage increased more than 445 percent, according to the advocacy and research group Vote Hemp," NPR reported. "More than 510,000 acres of hemp were licensed in 2019, versus about 112,000 acres in 2018.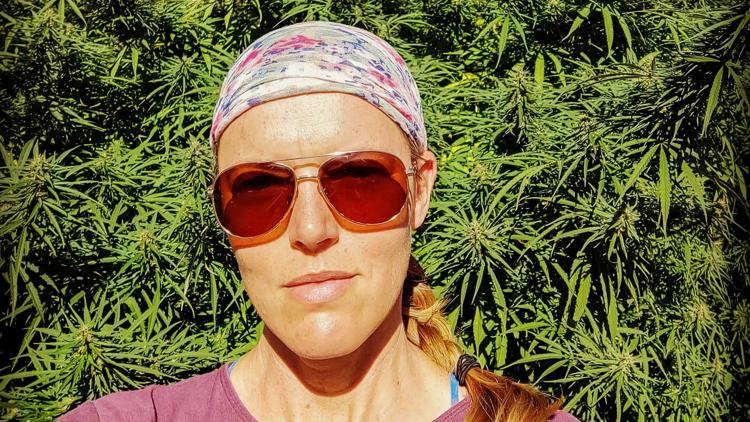 "At the same time, products made with cannabidiol — a chemical compound found in hemp — are being sold everywhere from gas stations to CVS. CBD is promoted as a cure-all for anxiety, depression and post-traumatic stress disorder, even though the science isn't there yet."
Realizing the opportunity to grow a new, potentially lucrative crop, farmers everywhere have gotten in on the "green rush" — including in Sperryville, where farmer Elizabeth Melson pointed out "there's more cows than people."
"Golden, crimson and scarlet ash and birch trees hiss in the wind, lining the Thornton River," NPR described. "Melson surveys a quarter-acre plot of hemp — the dense, Christmas-tree-looking plants shimmer in the morning light. 
"Melson started farming seven years ago. Now, she manages a small farm for Sperryville eatery 'Off the Grid.' But this is the first time Melson has grown hemp. 'We're all in the green rush, we wanna grow for CBD,' Melson says. 'It's the most amazing, you know, hyped-up, nutraceutical on the market right now, and [I] didn't realize how labor-intensive it was."
On her Facebook page, the Rixeyville resident describes herself as a "hempster" who among other endeavors is Northern Virginia Regional Director of the Virginia Industrial Hemp Coalition, founder of Farm-to-Table Solutions, and has even managed the Warrenton Farmers Market.
Melson knows her crops, in other words.
But as NPR explained, growing hemp for CBD — as opposed to other industrial uses — can be particularly grueling.
"Melson and her farmhand do everything by hand: cutting, picking and curing. They finished their harvest of 220 plants last week. To cure the hemp, the team hangs the plants from strips of neon-orange plastic safety fence on ceiling rafters and walls in a converted garage.
"Still, Melson doesn't have the space or the equipment to process the plant into CBD oil. There are companies that can process Melson's hemp, but they're maxed out. One company was supposed to come to the farm and pick up her harvest, cure it and broker it.
"And then they call back and they said, 'We're booked; we're completely booked,' Melson says."
Indeed, the still-emerging hemp product industry hasn't kept up with the budding farmers' widespread production of the plant, with so many in the agriculture sector getting in on the green craze for however long it lasts.
Reached Sunday, Melson told the Rappahannock News: "It was great to speak [to NPR] on behalf of Virginia hemp farmers, and specifically as a small scale grower focusing on flower production.
"I spent two or three hours with the reporter, but only a few comments were included. I know they were trying to demonstrate the plight of Virginia farmers all across the continuum and only had a limited number of words and minutes of audio to keep the readers' attention. But I certainly have plenty more to say on the subject."
Of local interest, Melson says her hemp production "fits in well with the overall concept at Off the Grid," which since opening in June on Route 211 has quickly become one of Rappahannock County's more popular restaurants.
"It is a great crop to grow for carbon sequestration, maturing in four or five months, compared to 20 years for trees," she also pointed out. "Our [plant] drying room was net zero. Our fans, dehumidifier, and heater were powered by solar panels."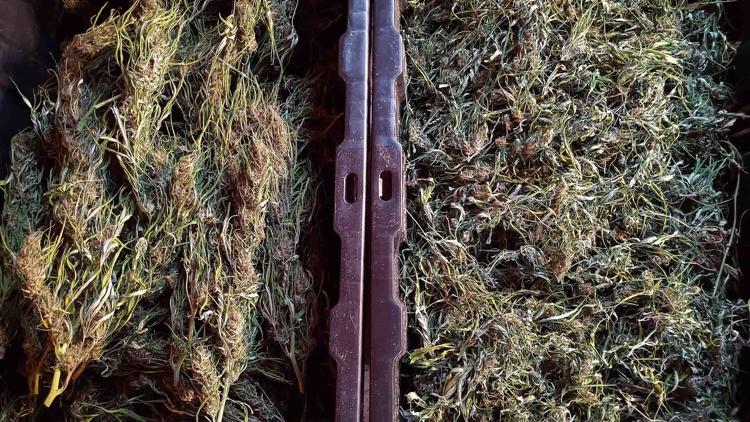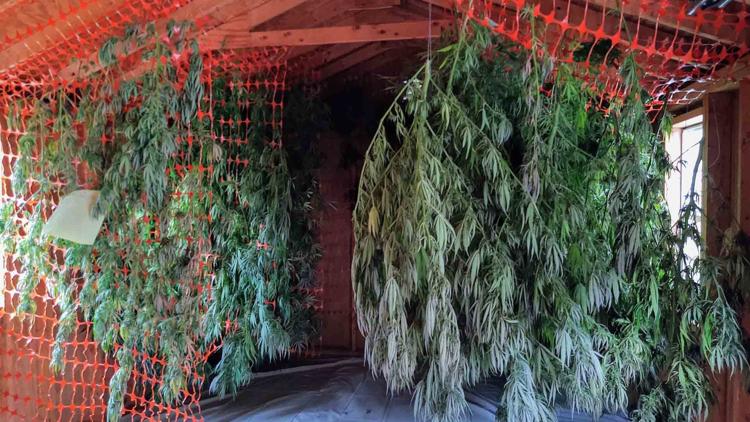 And as for the harvests?
"We were able to use the fresh leaves in green juices and smoothies," Melson said. "We will make tea blends, salves, lip balms, and possibly some edibles that we will sell at Off the Grid."