Young cattle farmers say cost barriers often prevent a new generation from entering the industry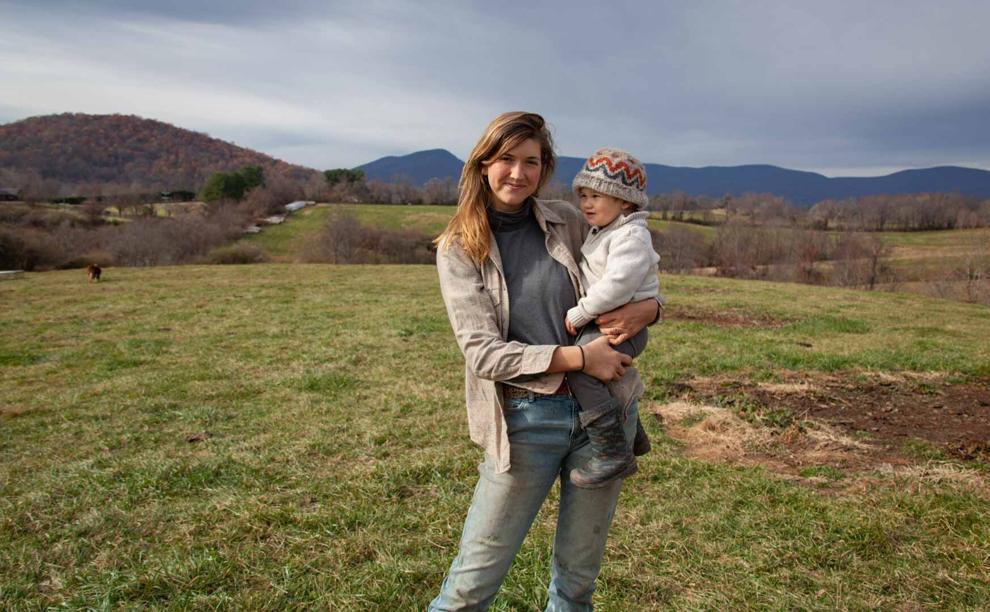 After realizing what she described as having the privilege of growing up on a farm and learning about environmental sustainability at a young age, Isabelle Heydt, 28, moved back to Rappahannock County two years ago to work on her family farm, raising cattle, livestock and a toddler.
"I'll have to find off-the-farm work to pay the bills and make ends meet, because I think the biggest realization is farming isn't a job, it's a livelihood," Heydt said.
Some farmers in Rappahannock say the biggest barriers for young farmers who want to break into the industry, or carry on their family's legacy, are the upfront costs that come with caring for animals and farmland along with small profit margins.
Also threatening the future of cattle farming not only in Rappahannock, but across the state, is a lack of agricultural education and exposure among children and consumers.
Heydt was pursuing an education and career in West Virginia in mental health counseling where she met her husband and moved back to Rappahannock to start a family. Rucker Farm, located in Flint Hill, uses regenerative agriculture methods to raise cattle and livestock and grow produce.
"Let's treat meat more like the art that it is and just grow that appreciation for the resources and the farmers' hands that created this product," Heydt said. "It's so much more than just profit gains from year to year."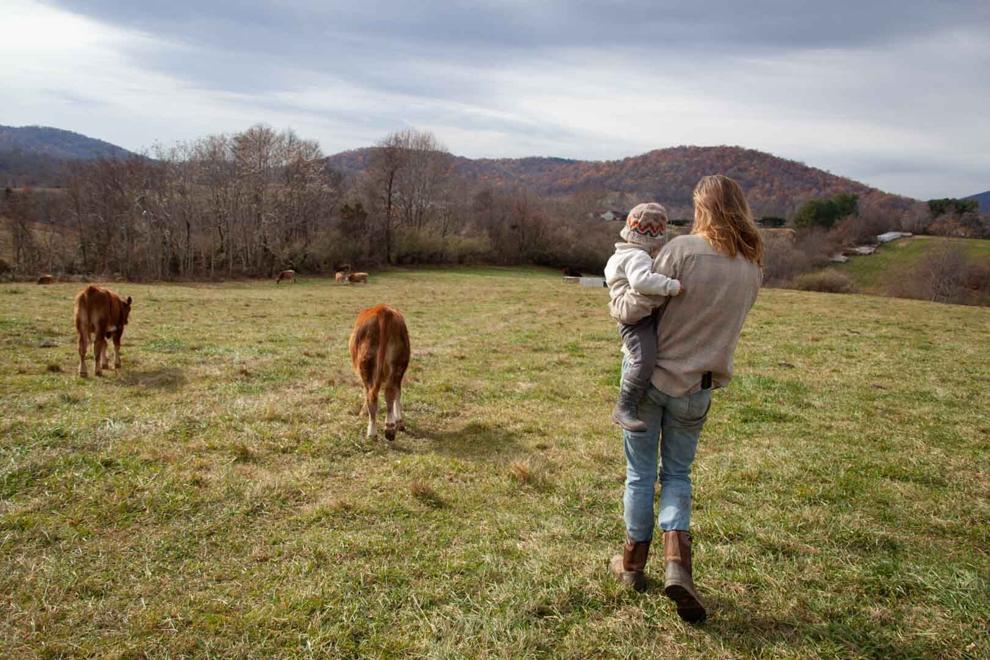 The profitability of cattle farming fluctuates from year to year, and oftentimes, farmers will hardly break even in yearly profit after factoring in the cost of equipment and maintenance. Cattle farmers say you have to love the work you do in order to run a cattle production. 
The average age of farm producers nationally is 57.5. Of the 730 farm producers in Rappahannock County, according to the 2017 Census of Agriculture, 366 of those farmers are between the ages of 35 and 64, and 313 are over the age of 65. 
Stacey Clark, 46, is a third generation farmer and raises cattle on about 300 acres in Washington. While Clark sometimes breaks even, he said he can survive because he inherited the land from his grandfather, and his family has accumulated machinery over the years. He said the cost of equipment has increased over time, making it difficult for beginning farmers.
"And if you can [inherit land and machinery], you can survive, but I would hate to go out here and try to buy a piece of land and start farming. I don't think you could do it," Clark said. "I don't think you would make enough to keep everything going and buy the land too."
Brandon Reeves, the executive director the Virginia Cattlemen's Association, said the "availability of affordable pasture is certainly a challenge for producers and can be a barrier to entry."
"We have many young cattle producers in the state and it is exciting to watch them start and grow their operations," Reeves said. "The biggest barrier to entry is the upfront cost. Being able to afford a truck, trailer and the land needed to run cattle can cause many young cattle producers to find other ways to supplement their income."
The study found the total investment for a herd size of 30 cows to be more than $420,000. The study takes into account expenses including acreage, fencing, feed, trucks, trailers and other costs associated with cattle farming.
Clark said when he thinks about the future of cattle farming in Rappahannock, he doesn't see many young people who are interested in breaking into the industry or making those large investments. Instead, he sees younger people raising cattle as a hobby and having another job to supplement their income. 
"I don't take any splurge vacations. I mean, we might go somewhere just for a weekend or something, but I don't buy the latest, greatest gadgets, new vehicles," Clark said. "You can make it, but you gotta be careful. It's got to be something you love. If you don't love to do it, you're in the wrong business. Because no farmer does it for the money."
Looming threats of climate change
Young people who want to pursue careers in farming will eventually have to grapple with the effects of climate change, and there are additional financial barriers for farmers who want to implement more environmentally sustainable methods.
When Heydt was growing up, her dad said that while they raise cattle, they're "grass farmers" first, stressing the importance of taking care of the land.
"Growing up, we would never call ourselves cattle farmers — my dad always stressed that ... we raised cattle, but we need to be farming the grass, and I love that," Heydt said. "I love that perspective, because it really ties into the kind of farming my husband and I are very passionate about."
According to numerous governmental reports, the agricultural industry is a large contributor to global greenhouse gas emissions. In 2018, the U.S. Environmental Protection Agency found the agriculture sector in the U.S. made up 10% of the country's total greenhouse gas emissions.
Climate change and severe weather events could eventually adversely affect agricultural productivity if carbon emissions continue to rise. Farmers have the potential to face drought, inconsistent rainfall and changes in seasonal temperature patterns, which will affect market prices as a result, according to a report from the U.S. Department of Agriculture.
Mike Sands, an eco-conscious cattle farmer in the county, said cattle farming will have to become more environmentally sustainable in the long run in order to remain profitable. He said there are opportunities to increase revenue in switching to more sustainable methods, such as carbon sequestration, but there is an initial investment.
"The people who don't change and don't kind of become innovative and continue to abuse their land through poor practices — They will be under increasing threat just from a public relations perspective, and potentially down the road, actual regulation," Sands said.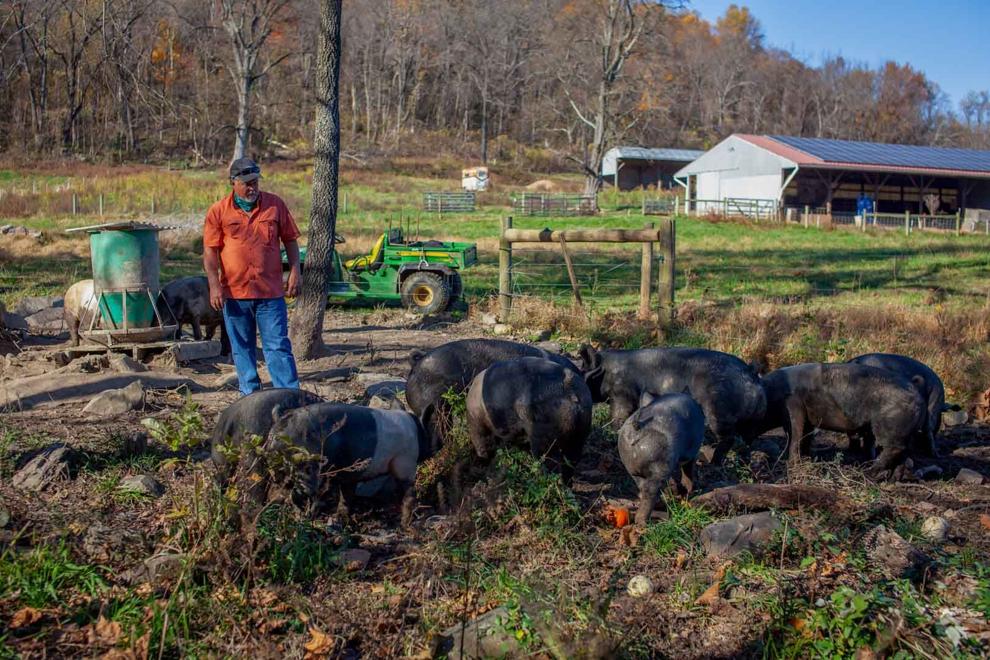 Sands owns a cattle and livestock farm in Flint Hill where their focus is on regenerative agriculture and preserving the health of the land. Sands' farm includes sustainable methods like conservation corridors where livestock is not regularly kept, cattle rotations, solar panels and wetland habitats in response to increased rainfall.
Sands said these kinds of innovations could stand as an additional barrier to young people who want to farm mindfully, but don't know how.
"On the other hand, I think for someone who's willing to do things differently and innovate, I think there's lots of opportunity," Sands said. "I think taking advantage of the markets that are closer to us through direct to consumer, through cooperative ventures ... the pastures with more profitable and productive rotation schedules that have both an environmental benefit, but also a production benefit — I think those opportunities will actually grow."
Heydt said right now, she knows many farmers choose conventional practices because it's what they're used to, and they can't afford to make the investment into regenerative methods. She said that's why it's important to educate kids and young adults on the importance of sustainable farming, so they can make those investments early.
Additionally, consumers need to be more educated on where their food is coming from, Heydt said.
"For farming to continue, the consumer needs to be so much more educated, and it's their responsibility," she said. "And so trying to instill that in children, and start [telling them] as young as possible that you take full responsibility for what goes into your body — and that needs to be celebrated and encouraged."
---
---