'The frost destroyed the 2020 Chardonnay crop, although the vines survived'
Rapp at Home hosted an informative and fun Zoom session for its members with speakers from two county wineries — Bill and Aleta Gadino from Gadino Cellars and John Guevremont from Quièvremont Vineyard and Winery.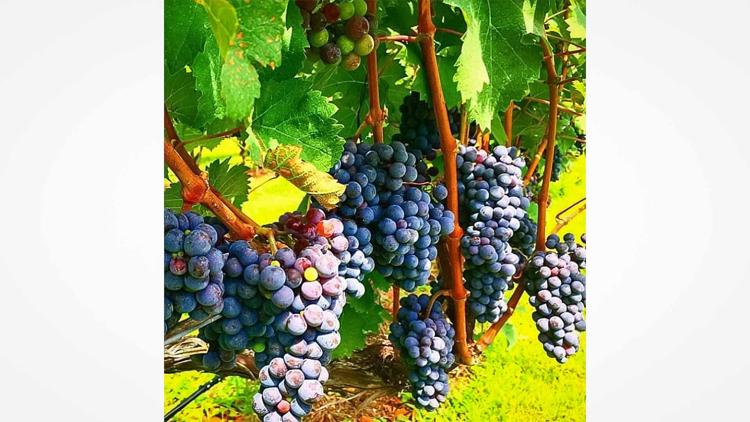 All three speakers warmly recounted their experiences tasting wines in California in the 1970's when posted on the west coast by the military. They fondly recalled the days of touring Napa Valley or backroad wineries elsewhere in the state, and being able to sample the full range of wines offered for free. 
Of course, the "price" of getting to the wine bar was having to go on a tour of the vineyard and then the wine making facility. Bill Gadino was so enamored with the experience that he started making small batch wines for personal consumption in the 1970s. John Guevremont was a wine-drinker with tasting experience in wine-growing regions of Europe as well as California, but did not embark upon winemaking until he had a successful crop here in Rappahannock.
The Gadinos planted their first vines in 1990 and now have 8 acres planted. John Guevremont remembers consulting with a viticulturist while standing on the top of a hill on his farm and saying that he would like to put in 10 acres of vines. 
The viticulturist advised John to put in Bordeaux varieties of grapes: Cabernet Sauvignon, Cabernet Franc, Malbec and Merlot. He started with 4 acres and added an acre a year subsequently. The later additions include Chardonnay and Viognier but found that the Viognier did not prosper and is replacing it with Malbec. He is planning to plant Sauvignon Blanc, which he states makes an "elegant" wine. 
Bill and Aleta started with vines that were reputed to be winter hardy: Cabernet Sauvignon, Cabernet Franc, Chardonnay, and Riesling. Bill reports, however, that the Riesling never got ripe enough for his satisfaction, and he subsequently removed it. In later years, he has added Nebbiolo, Vidal Blanc, Seyval Blanc, Pinot Grigio, Petit Manseng, and Petit Verdot.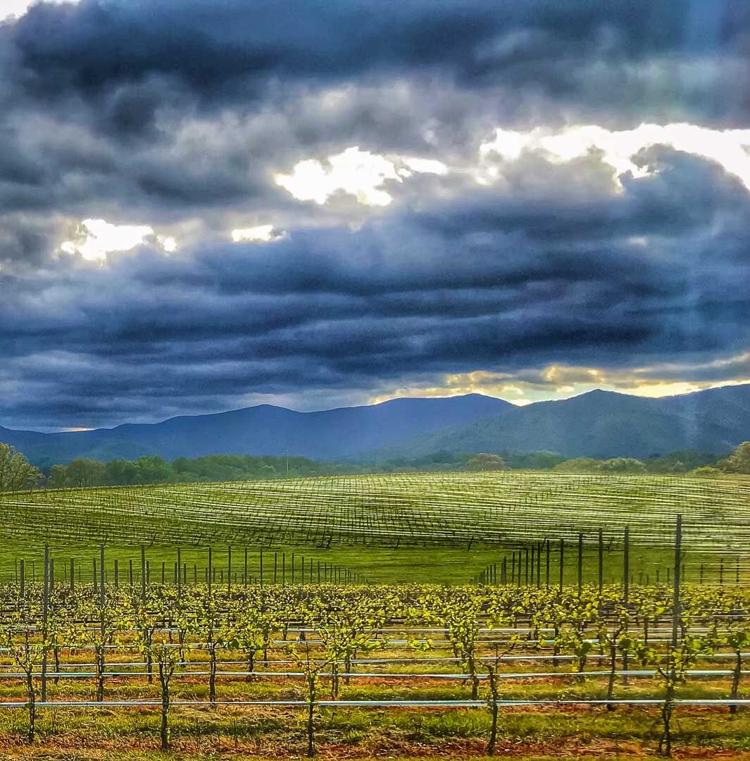 Like all farmers, John and Bill must deal with vicissitudes of weather. This year, we had a killer frost on May 8 when Bill reports the temperature dropped to 27 degrees for four hours. At both wineries, the frost destroyed the 2020 Chardonnay crop, although the vines survived. 
Insufficient rain is not as big a problem for grape vines as some other crops; indeed, up to a point, dry years can produce especially good fruit. Irrigation is available at both vineyards, but has never been used at the Quièvremont vineyard, and is rarely used at the Gadino vineyard. 
On the other hand, too much rain is a serious hazard for vineyards in this region, especially when that rain comes in September. In 2018, we had record-breaking rainfall, and Bill reports that he was unable to make some of the wines that he usually makes because the grapes were so full of water that they were bursting. He salvaged some of the crop, however, and made Rose's from some of the red wine grapes, including a Gold-Medal winning Nebbiolo Rose. 
Weather is not, of course, the only hazard. 
Both wineries started with a 10-foot deer fence before even planting the first vines. Other mammals that can wreak havoc are bears and racoons. Birds ignore the maturing grapes until veraison when the grapes turn color, green to red for red wine grapes, and green to gold for white wine grapes. Then they attack with purpose. 
John recollects being especially pleased with a block of grapes and deciding that they should be harvested the next morning. Unfortunately, by the time he got back the next morning, birds had consumed most of the crop. So when the grapes reach the stage of being attractive to birds, the vineyards cover them with netting. 
Insects are also, of course, a problem, which is addressed with sprays that are specific to the problematic species so that beneficial insects remain. Downy mildew and powdery mildew are another hazard that needs to be addressed with aligning vines on a north south axis to get the maximum benefit of drying from the sun, canopy management, and possibly sprays depending on rain and humidity. 
Both vineyards have difficulties in obtaining labor. There are some tasks in the vineyard that require a crew of four to ten people such as pruning or harvesting. If the pruning is not done to all the vines of the same species at the same time, the vines get out of sync and the grapes will not mature at the same time. 
Similarly, when harvest needs to happen, it needs to happen then. Both Bill and John reported an inability to find county residents who are willing to work in the fields in the hot sun for entire days. They rely upon crews who are experienced with vineyard work. 
In summing up, John said "it's fun . . . it really is." 
Bill concurred, "I love it . . . you have to love it."
---
Click here to sign up for the C-19 Daily Update, a free newsletter delivered to your email inbox every morning.