Rare Purple Fringeless Orchid is classified as 'critically imperiled'
Eldon Farms' general manager John Genho was traveling through the Utah mountains this past week when he received word about a rare discovery in Woodville.
"We've been doing some work at Eldon with Virginia Working Landscapes and have found an orchid on the farm that is extremely rare," Genho informed the Rappahannock News, typing "Top Secret Orchid" in his email subject line.
"The only thing is that we don't want the location to get out or someone might dig it up," he added. 
Not to worry. 
In exchange for the exclusive scoop, this newspaper agreed that under no circumstances would it disclose where exactly on Eldon's 7,100 pristine acres the scarce orchid grew. Which was good enough for Genho. After all, he didn't tell us its whereabouts, either.
He turned us over to Patty Lane, Eldon Farms' accountant who directs its Nature Project.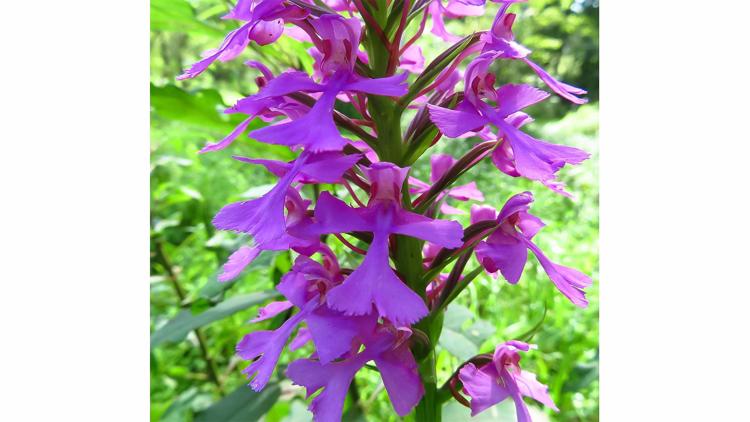 It was Lane and her Virginia Working Landscapes (VWL) partner, Kate Heneberry of Front Royal, who were wrapping up Eldon's second and final VWL "orchid survey" of the summer when they suddenly laid eyes on a most unique flowering plant.
"We discovered a 41-inch tall Purple Fringeless Orchid (Platanthera peramoena) near our survey plot," she revealed. "In subsequent visits I have found three other smaller Purple Fringeless Orchids nearby." 
Quite a find, to say the least.
Here's what Flora of Virginia has to say about the Purple Fringeless Orchid: "Virginia rank — S1, Critically Imperiled. At very high risk of extirpation from the state due to extreme rarity (often 5 or fewer populations), very steep declines, or other factors."
More astounding, this largest of Eldon's four orchids is quite tall for what is described as "a short plant" — normally ranging 12 to 39 inches in height.
The colorful orchid bears loose inflorescences (spikes) of violet to pink flowers. Flowering in July and August, it is thought to be adapted for pollination by daylight-active lepidoptera — moths and butterflies — and Rappahannock certainly has more than its share of butterflies floating around this summer.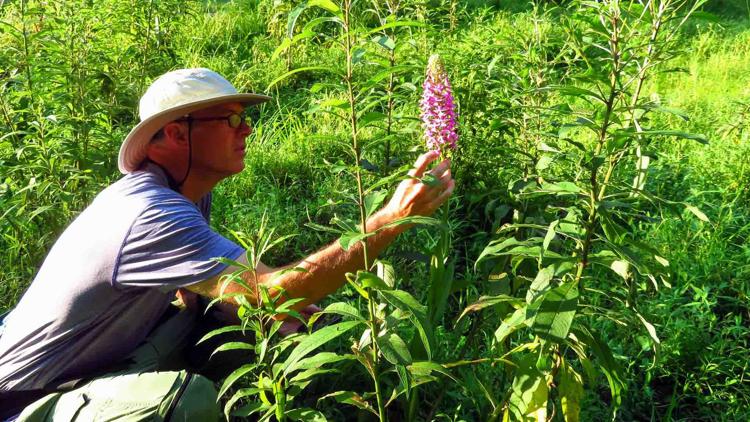 Found from Pennsylvania south to Mississippi and west to Arkansas, the Purple Fringeless Orchid, depending on the state, is classified as critically imperiled, imperiled, or vulnerable. According to the Pennsylvania Natural Heritage Foundation, it grows in open, swampy places — along roads, in forest openings and meadows, and near vernal pools, preferring acidic soil.
As for being rare, the foundation states: "The orchid's restricted habitat has made it vulnerable to changing land use and forest harvesting or management practices. Changes to its forest habitat have contributed to the species' critically imperiled status across the eastern seaboard and into the southeast of the United States." 
According to Lane, Sperryville plant biologist Steve Paull inspected the orchid to verify Eldon's identification "and has been back to help protect it from harm." Paull also is submitting a report to the Virginia Department of Conservation and Recreation's Natural Heritage Program, and Eldon's orchid will be listed in the Virginia Rare Plant Database.
"This is the first year for the VWL Orchid survey," Lane said, pointing out that Eldon has three survey site plots.
It was while she and Heneberry were "on the way out" from conducting one survey that they came across what they immediately suspected was a "very rare find in Virginia."
It was when Lane went back the next day to measure the orchid that she discovered the smaller plants nearby.
Eldon Farms began as a cattle operation in the 1960s, according to its recently updated website. "We are also home to . . . hiking and horseback trails, nature clubs, unbelievable views, and an impressive variety of birds and wildlife."
And extremely rare Purple Fringeless Orchids.