'We're still here, after 20 years!'
"We're still here, after 20 years!" proclaims the joyful and bouncy message in the video celebrating Waterpenny Farm's first two decades. That same note of happy optimism was sounded by farmer Rachel Bynum as she recently told a Rapp at Home audience about her family's journey to Sperryville, full-time farming, sustainable agriculture and the fulfillment of a dream.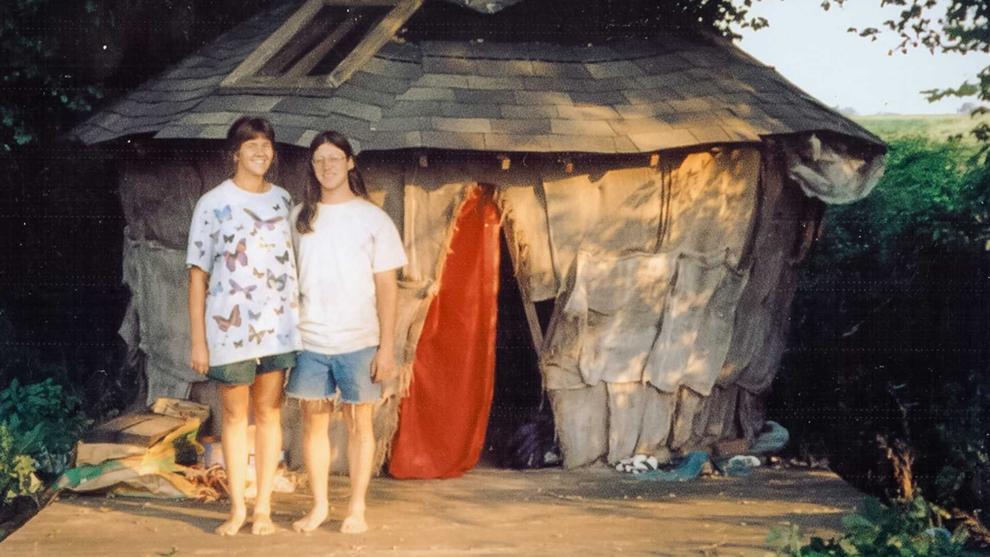 Rising at 4 a.m. on summer weekends to pack up the children and the organic produce for a farmer's market 100 miles away isn't the makings of fantasy for most folks, but for the sustainable agriculture pioneers at Waterpenny, it's the perfect wish fulfillment.
Seeds of a dream
It all started at Carleton College, a small liberal arts school in Minnesota where Rachel Bynum met Eric Plaksin. Her husband-to-be was there from North Carolina planning to study computer science. Rachel, who grew up gardening in Connecticut, was there because two Minnesotans she met at an outdoor adventure program "were really nice!" And that's why she picked a college in Minnesota, she confided, her crinkling eyes signaling to listeners gathered in the open-sided barn that she was smiling under the Covid mask.
At Carleton, she and Eric were also introduced to the concept of sustainable agriculture. They were instrumental in establishing the college's first organic vegetable garden, the produce going to the Carleton cafeteria, and they learned while they grew, transitioning to a healthier, more plant-based diet and becoming believers in returning organic matter and its carbon load to the soil for the sake of the planet.
Checking out the college's listing of summer internships, Eric found the single posting for a farm job. It came from Wheatland Vegetable Farms . . . with a 14-page report on this sustainable agriculture operation begun in the 1970s on 400 acres in Loudoun County. Eric took the job, originally "just for the summer." The following year, Rachel joined him.
"Amazing, eye opening" is how she described that first season. Planting, growing and harvesting, the rhythm of working in sync with a crew, paying attention to what's happening in nature, the interaction with customers at the markets — "the direct connection got me hooked," Rachel remembered. "It was very grounding, and the community was wonderful!" 
As an example, she recalled the annual celebration, in the middle of August, the busiest of months, when Wheatland was buried by an avalanche of vegetables. And still, there was time off for farmhands and friends, maybe 100 strong, to gather with bucket drums and other home-made instruments to sing, dance soft shoe routines and perform skits that memorialized customers, the difficult and the dear alike. 
That camaraderie and the education and experience in sustainable agriculture kept Eric at Wheatland for four years, Rachel for three. They lived in a yurt while they tilled, planted and harvested, then set up and sold produce at many of the 16 producer-only farm markets Wheatland attended weekly. And they saved, Rachel also working seasonally in environmental education and Eric taking odd jobs in the winters. All the while, they planned for a farm of their own and searched for land. They drew a circle around the Greater Washington area, contacted realtors and looked at properties.
"Frightening to think about the financial burden, depressing to see what we could afford," Rachel recalled. 
And while they were working, searching and saving hard, Rachel never stopped dreaming about a benefactor to help them with the way and the means. Maybe that creative visualization was a catalyst for the harmonic convergence that followed. Who knows? 
Rooted in trust
Because back in Sperryville, J. Cliff Miller III was searching, too. The seventh generation of Millers at Mount Vernon Farm was looking for a long-term steward to replace the annual renters who grew corn or soybeans for a season and were gone, leaving soil depleted in the farm's outlying fields. Checking references of another farmer who had worked at Wheatland, he learned of Eric and Rachel. They visited in the summer of 1999. In October, the couple moved to Sperryville in time to till and plant garlic, spinach and cover crops — the first step in rebuilding the soil. 
Waterpenny was rooted, and the root starter was trust — on both sides.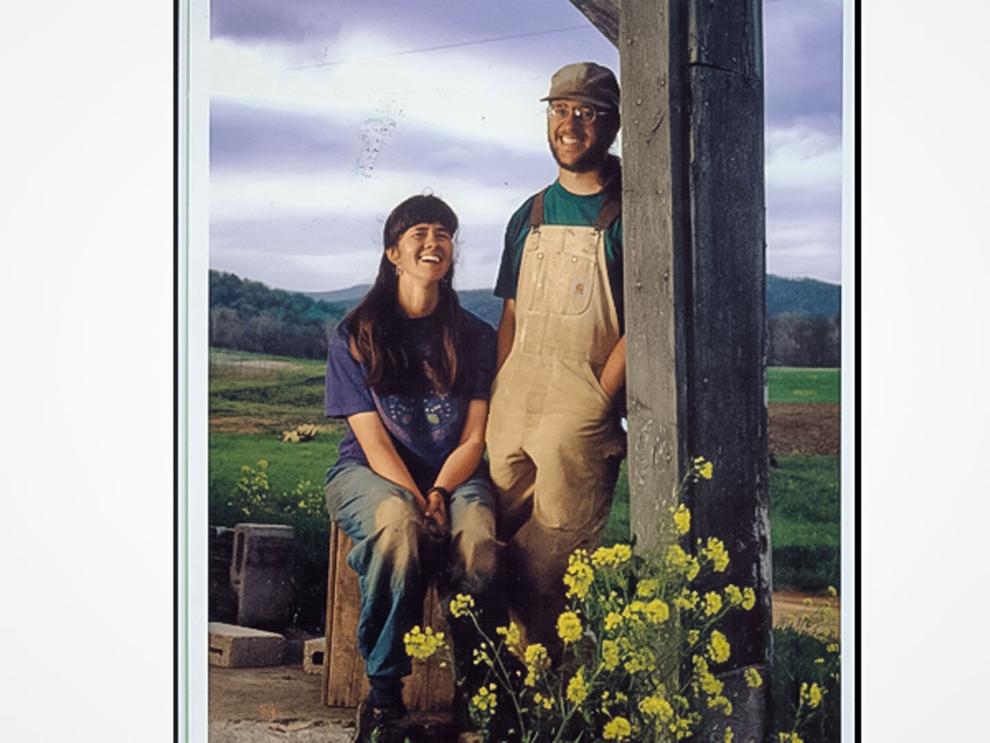 Eric and Rachel walked the land, pored over soil maps, attended sustainable farming conferences on the microbiology of soil and consulted with Eddie Jenkins, who had worked for Mount Vernon Farm for a lifetime. 
"Eddie gave us the best guidance of all," Rachel noted. "He told us that the best ground was around the bend, away from the highway." They divided Waterpenny's acres into 30 blocks for crop rotation, all straight lines and rectangles with broad permanent lanes between, and planned what they would grow in each . . . for the next 20 years. 
The first two years, they paid their rent mostly in sweat equity. The next three, they paid cash at the standard field rental rate. In November 2002, they married at the Old Schoolhouse in Sperryville. They leased Mount Vernon Farm equipment by the hour, kept selling at farm markets and decided yes, this was it. According to Rachel, the Takoma Park market, in particular, was critical to their success. "The money we make at Takoma Park is our family income — mortgage, college savings, vacations, retirement — it all comes from that. Everything else goes back into the farm."
It took three more years to iron out the devilish details of the innovative 40-year lease, which runs until 2044, and the related business arrangements between Waterpenny Farm and Miller Properties. It was signed the month that Eric's and Rachel's first son, Nicholas, was born. The lease set out the legalities of adding improvements, like the family's new house and housing for interns, and the buy-back of improvements at lease's end. It has unique aspects, such as controls on chemicals that can be used on surrounding Miller property, and the allowances and disallowances intended to guard the interests of tenant and landlord for four decades in a transition zone where rural farm country meets the spreading urban fringe. 
"Maybe the best thing I've ever done," Miller said of the long-term farming agreement. 
Making it work
Eric and Rachel are the top hands at Waterpenny, but from March to Thanksgiving, they bring on six interns, at starting stipends of $1,400 a month plus housing, internet and "plenty of vegetables." And already, former Waterpenny interns have graduated to run sustainable agriculture operations of their own. 
The boys, 15-year-old Nicholas and 12-year-old Isaac, help on the farm — "some but not a lot," noted their mom. For now, anyway, they don't want to be farmers. Instead, their energies are focused on their YouTube channel Plaksin Productions), juggling, trombone playing and other creative outlets. (Both make cameo appearances in Waterpenny's anniversary video, "Twenty Years, Still Here," available on Waterpenny Farm's YouTube channel, and edited by Nicholas).
Waterpenny has invested in farm equipment, outbuildings and a mile of eight-foot tall deer fencing around the perimeter of the farm. "We knew we needed it when we spotted mama deer showing their babies how to paw holes in watermelon," Rachel reported. Growing without chemicals, they rely on physical barriers, like row covers, and simply tolerate a little insect damage. Crop rotation and succession planting also deter pests, and healthy soil produces healthy crops, Rachel noted. 
The farm's CSA (community supported agriculture) has doubled since the outbreak of Covid 19, with 135 shares going out weekly to 200 farm shareholders (some smaller households with half-shares.) Twenty-six of those shares go to low income families, 20 to Food For Others in Fairfax and six to the Rappahannock Food Pantry, the funding covered primarily by Waterpenny customers. Every weekend, it's before-dawn departures for metro farm markets. What doesn't get boxed or trucked to market is sold on an honor system from the open-sided barn.
Seedlings comprise the bulk of early season business, with Waterpenny's annual spring plant sale drawing gardeners from Rappahannock, neighboring counties and beyond. This year, online plant pre-orders were a good replacement. Spring greens have become increasingly popular but the biggest surge in customers comes for the flowers, fruits and vegetables of summer and early fall. 
"We've seen growth every year," Rachel said. "We don't have another secret way of making money. This is it." The balance sheet puts Waterpenny among the small number of farms in Rappahannock that are paying the way for the farm family, where the income for the farmers comes "totally from the farm," she added.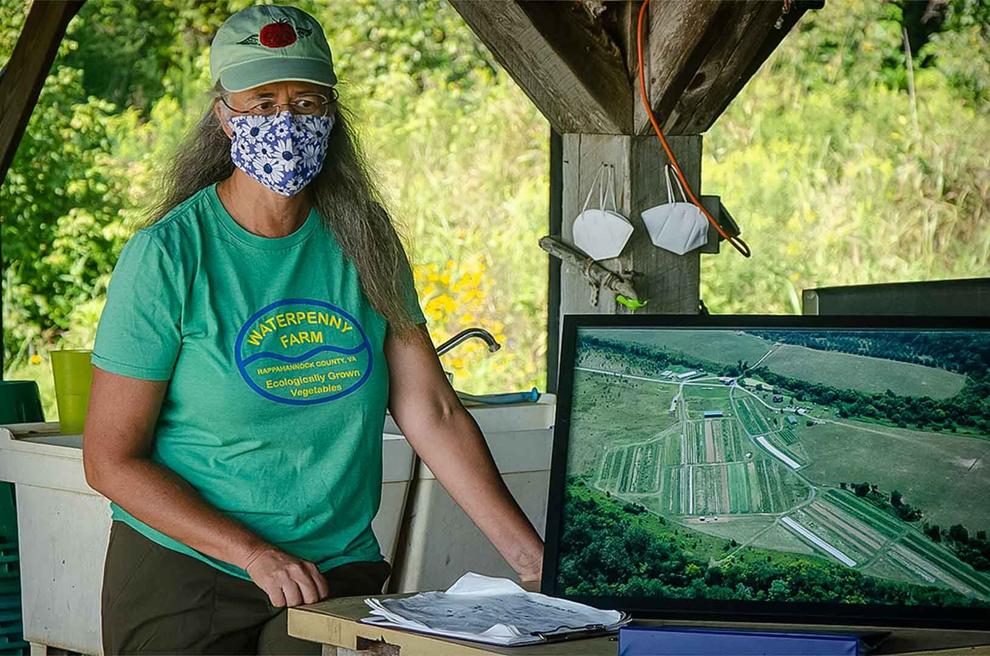 The couple sees sustainable agriculture as key to a better, healthier future for people and the planet, and the proximity to urban markets as the key to making sustainable agriculture a success as educated consumers focus more and more on what they eat, where it comes from, how it's raised and what that means to the environment. 
"Rappahannock County has the potential for a lot of people to make a living from farming," Rachel maintained. 
As for the toil, sweat and sun-up to sun-down days, "I don't see it that we're making giant sacrifices," she concluded, with more eye crinkles giving evidence of the big smile beneath the mask.
And that smile carries the promise that in 20 more years, they'll likely still be here. 
Waterpenny Farm is just off Route 211 on Waterpenny Lane in Sperryville. Seasonal produce, flowers and eggs are offered self-serve at the green open-air barn from early spring through Thanksgiving. You can also find Waterpenny's bounty at farm markets, Saturday at Arlington Courthouse, Sunday at Takoma Park, Maryland. For what's currently available and information on CSA shares, visit waterpennyfarm.com, which also boasts the engaging video, "Twenty Years, Still Here," and a virtual tour of the farm, both by Plaksin Productions.
---
Click here to sign up for the C-19 Daily Update, a free newsletter delivered to your email inbox every morning.