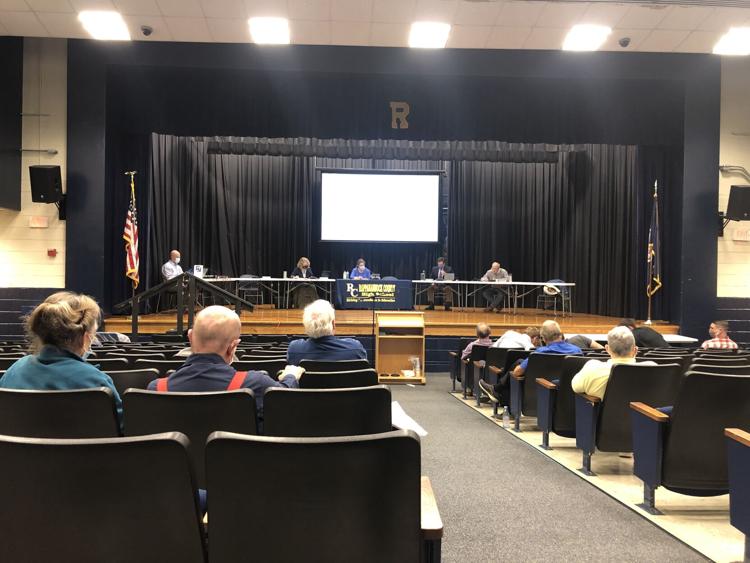 The Rappahannock County Board of Supervisors met for a special session at the high school on Friday night to allocate its second round of Coronavirus Aid, Relief and Economic Security (CARES) Act funding.
Since the beginning of the pandemic the county has received two disbursements of $643,000 from the federal government, totaling nearly $1.3 million. The money can be spent only on eligible expenses that relate directly to the community's COVID-19 response and must be distributed by Dec. 31, 2020.
Piedmont Broadband — whose eight employees and owner, Rich Shoemaker, were among the meeting's attendees — emerged with a likely award of at least $175,000 for the installation of two new towers near Battle Mountain and Aaron Mountain. 
---
Watch the meeting:
---
With supervisors in unanimous agreement that action must be taken to expedite the delivery of broadband access to county residents, the BOS plans to review its options for speeding the zoning permit process as an emergency measure.
"I don't see how we pass the opportunity up," said Board Chair Christine Smith. "Broadband has been a big issue in this county for a long time."
Hampton Supervisor Keir Whitson said that he is "a very happy [Piedmont Broadband] customer so it's easy for me to sit here … and imagine the possibilities … [but] from a public procurement standpoint, let's do this right." 
The BOS will consult with County Attorney Art Goff to discuss its options for moving the project forward.
As for other allocations of CARES Act funding, the BOS decided Friday night to disburse roughly (in order of greatest to least): 
$134,000 to local Fire and Rescue companies to cover revenue loss and COVID-19 response expenditures

$50,000 to the Rappahannock Recreational Facilities Authority for the construction of a no-touch handicap-accessible restroom 

$50,000 to the Rappahannock County Public Schools for reopening supplies including PPE, touchless hand sanitizer, and touchless hand dryers

$30,000 to Businesses of Rappahannock for nonprofit and educational assistance

$25,000 to local Fire and Rescue companies to cover revenue loss

$17,000 for a programmable message board to enable public safety communication with the driving public

$1,175 to the Rappahannock County Library for cleaning supplies
The county still has a balance of CARES Act funding that it plans to allocate at its next regular meeting on Oct. 5. 
Note: County Administrator Garrey Curry is still reviewing numbers, so some numbers above may change to reflect county accounting. Official estimates will be made available in the Sept. 24 print edition of the Rappahannock News.
---
Click here to sign up for the C-19 Daily Update, a free newsletter delivered to your email inbox every morning.