State awards Rappahannock County critical funding for universal service
Rappahannock County on Monday (Dec. 13) was awarded funding from the Virginia Telecommunications Initiative (VATI) to build a universal fiber-to-home broadband network in the county. 
For the project to become reality, the Rappahannock County Board of Supervisors must decide whether to enter into a formal contract with private internet provider All Points Broadband and commit $5.9 million in county funds toward internet expansion. If the Board of Supervisors votes to leave the regional partnership with Northern Shenandoah Valley Regional Commission (NSVRC), seven other counties and All Points, then the county will not receive any VATI funds to expand broadband.
The NSVRC and All Points received $95.3 million from VATI —  just below the requested $97.2 million — to build a fiber-to-home network across eight counties in the region. It is not immediately clear precisely how much of that funding Rappahannock County received. NSVRC and All Points received the largest award out of all the VATI applications.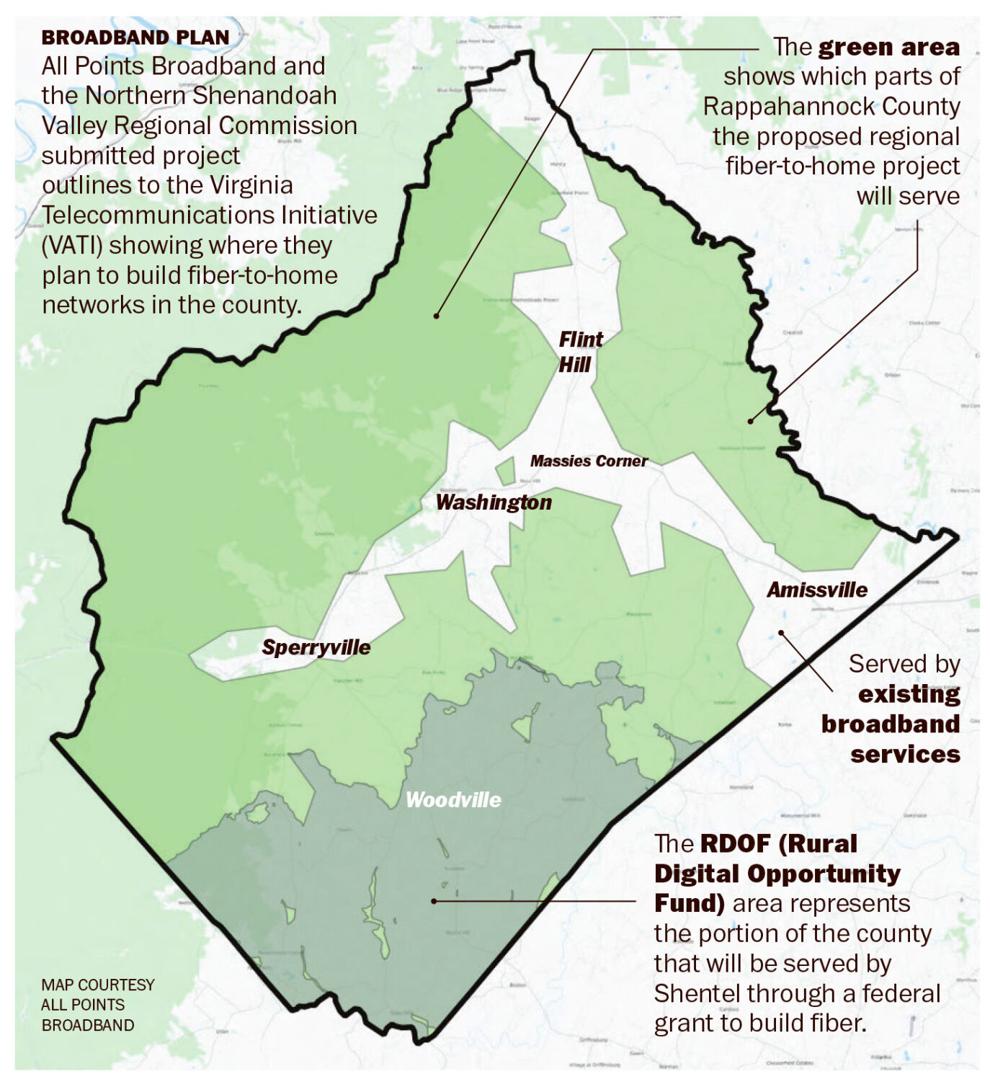 The project will provide a fiber network to 37,357 unserved locations and work to achieve universal coverage in Augusta, Clarke, Fauquier, Frederick, Page, Rappahannock, Rockingham and Warren Counties, according to a press release from the Virginia Department of Housing and Community Development.
"The time for [broadband] has never been more critical," Wakefield Supervisor and Chair Debbie Donehey wrote in a message. "Lack of it left many of our students disadvantaged during the Covid, Zoom era and disadvantages continue as education requires good internet access. Our residents currently worry about access to emergency services when aging phone lines go bad for weeks at a time. This funding makes it possible to cure these and other challenges for the foreseeable future."
County resident Chuck Akre committed $3.5 million to help the county finance it's portion of the deal should officials sign on, and last week, the Board of Supervisors set aside more than $715,000, half of the county's federal stimulus funds, toward the project.  
The new grants, announced by Virginia Gov. Ralph Northam, "will advance Virginia 90% to the goal of achieving universal access to broadband and high-speed internet, placing Virginia on track to being one of the first states successfully charting a path to universal access to broadband," according to a press release.
"Broadband access impacts every facet of our daily lives, from education to business to health care," Northam said in a statement. "It's a necessity for navigating today's digital world, and this new funding will close Virginia's digital divide with universal broadband by 2024."
According to the press release, the VATI funding will support 35 projects statewide, connecting more than 278,000 households and businesses.
What's next?
Donehey said the Board of Supervisors will likely vote on the contract after the holidays, and she anticipates the body to receive additional information from All Points in January, such as when construction would begin and where.
NSVRC Executive Director Brandon Davis said he is currently not aware of any deadline or time frame from the state as to when counties need to enter into binding contracts with their private partners.
"I think that it's clear that we're now in a position where we will move as part of this regional group of applicants toward the contract phase of the All Points Broadband project," Hampton Supervisor Keir Whitson said. "And if that's time sensitive and we need to jump on it, obviously, we will. We don't want to delay in any way."
An updated deployment timeframe for the project will be announced in early 2022, according to a press release from the NSVRC and All Points. Residents can visit fiber.allpointsbroadband.com to register their location and to sign up to receive more information about broadband deployment.
If the Board of Supervisors agrees to enter into a contract with All Points, residents can expect to pay a standard installation fee of $199 for any length of service drop for the first 12 months after service is available in the county. 
Jackson Supervisor Ron Frazier, who has been critical of All Points' plan and voted against partnering with them for a VATI award, said he will likely vote to enter into a contract with the company if he received answers to outstanding questions, such as when exactly the 12 month period begins.
"It's an exciting time for sure. But we just got to get these problems worked out before we actually commit," Frazier said. 
All Points CEO Jimmy Carr has told the Rappahannock News that the 12 month period begins as soon as internet service is available in that specific location. 
Other members of the Board of Supervisors, including Whitson and Stonewall-Hawthorne Supervisor-elect Van Carney, have voiced support for entering into a contract with All Points. 
Piedmont Supervisor Christine Smith, who abstained from the vote to partner with All Points for a VATI award, did not return requests for comment. 
Rappahannock County on the line for $5.9 million

After Akre's $3.5 million donation and $715,768 allocated of ARPA funds, the county ows about $1.7 million

The Northern Shenandoah Valley Regional Commission and All Points received $95.3 million from VATI to build a fiber-to-home network across 8 counties in the region

Residents can expect to pay $199 for a fiber drop during All Points' first 12 months of service
The project would provide a fiber network to 37,357 unserved locations in the region
---
---