COVID-19 exposes big gaps in Rappahannock connectivity
By Sara Schonhardt — For Foothills Forum
---
Having internet access at her home in Woodville was never a big deal for 17-year-old Rappahannock County senior Kayla Compton. But that was before her classes moved entirely online and she and her two siblings had to take turns doing assignments since their satellite connection was too weak to support them all at the same time.
"Anything that I had to do online, I got it done while I was at school," said Compton, who left reading or paper assignments for home. Now, "I can't do anything without having the internet. I can't get a hold of anybody, I can't do any of my coursework."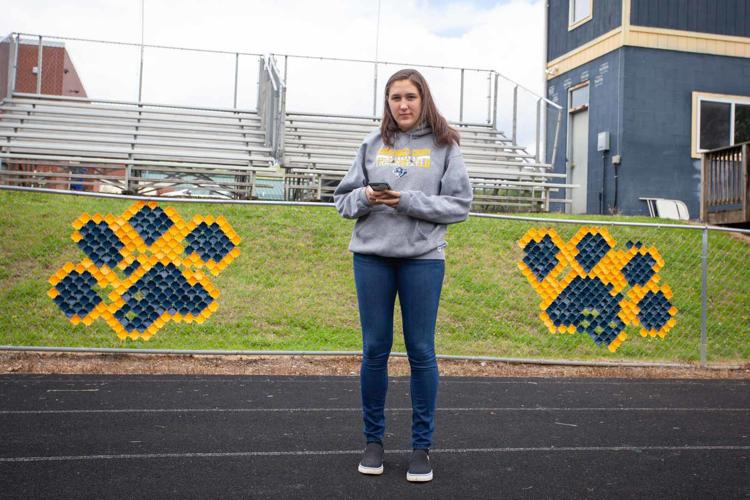 The coronavirus pandemic has exposed long standing weaknesses in Rappahannock's internet access, with more people trying to work from home and students attempting distance learning.
It's impacted everything from the way people worship — many church services have moved to video conferencing platforms like Zoom — to the way they receive healthcare.
That's true of rural communities across the country, with the pandemic laying bare the deep digital divide that exists between urban and rural areas. It has also drawn renewed attention to the problem and could boost efforts to improve connectivity.
On Monday, Rappahannock's Board of Supervisors unanimously agreed to partner with Rappahannock Electric Cooperative (REC) to help bring fiber optic broadband to residents and county businesses.
The county's broadband committee has spent the past two years unsuccessfully trying to find a partner to take the lead on expanding fiber connectivity, said Wakefield District Supervisor Debbie Donehey, a business owner and chair of the committee established in 2016 by the BOS to explore solutions to Rappahannock's connectivity challenges.
REC's Fiber Utility Network launched last December was aimed at connecting its offices, substations and towers to an 800-mile fiber network currently being installed (REC provides electric service to portions of 22 Virginia counties, including Rappahannock). It didn't plan to extend fiber to households since doing so isn't cheap and the small population it would serve in Rappahannock doesn't justify costs.
But in a March 11 letter to County Administrator Garrey Curry, REC said it is now looking to identify funding sources as well as third-party service providers that could help it bring broadband to county homes and businesses.
"If we could make this work, I think it is the partner we've been searching for and this is the time that we need to jump on this," said Donehey.
---
Strains on the system
Almost immediately after schools and businesses moved to telework, the phone at Piedmont Broadband's office in Amissville started ringing off the hook.
"We were getting 20 requests for installs per day, where on a typical day I'm getting somewhere between three, four or five," said office manager Jess Settle. The requests have died down a bit, but there is currently a waiting list of about a week for new installations.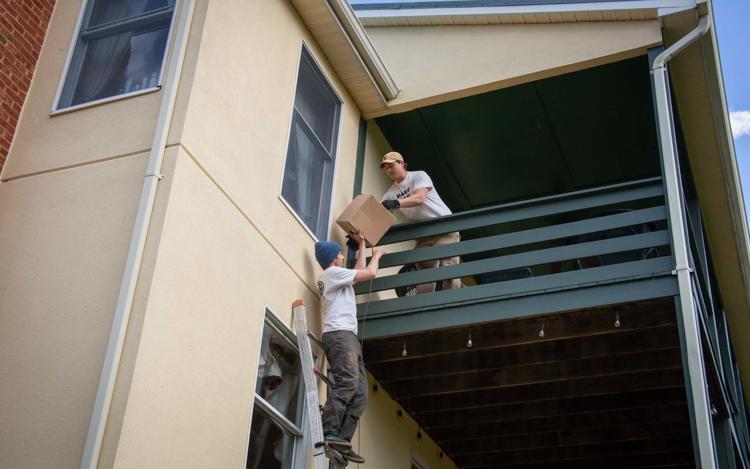 Such heavy demand has put a strain on providers and existing infrastructure in a way many weren't prepared to handle.
Piedmont, for example, puts its equipment up in trees rather than on towers, making it easier and cheaper to provide service. It's network, however, was initially built for 200-300 customers, not the more than 500 customers it has currently.
Settle said it's important that they take a step back and get their infrastructure to where it needs to be. But with demands for service still coming in strong they just haven't had the time. 
There are also structural limits. Satellite systems can be painfully slow and often don't work during heavy rain or storms. Trees and hills can prevent homes from being able to access a connection from a tower if it's not within sight.
"The challenge is we're trying to operate in a way that doesn't degrade the viewshed," said Matt Shoemaker, technical director at Piedmont Broadband. "It's a Catch-22. Everybody wants modern technology but they don't want to ruin the viewshed, so you have to try to accommodate both."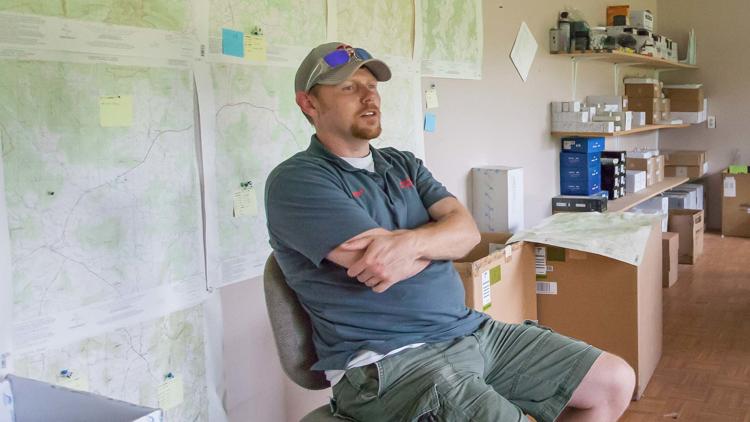 Piedmont is looking at putting up small, camouflaged towers that would blend into the hills, and they're in the final stages of putting their equipment on the tower near Sperryville.
Settle also indicated Tuesday that the company could be a possible partner for REC.
"We're definitely interested in speaking with them and seeing if we can be of any assistance," she said.
Some of the constraints providers like Piedmont are facing have been exacerbated by additional demands from weekend residents living full time in the county during the health crisis. That means the network is trying to meet demand typical of evenings and weekends around the clock. 
There are also concerns that residents who've lost jobs or been furloughed by the pandemic might struggle to pay their monthly bills the longer the situation drags on. Settle said Piedmont received a Small Business Administration loan that will provide a cushion to handle requests to delay payments rather than having to cut off people's internet.
---
Equal access?
Just after the state imposed distance learning in mid-March, Rappahannock County Public Schools sent around a survey to assess student needs. It found that half of its roughly 750 students were in need of a laptop or tablet and a third of those requesting devices reported having limited or no internet access.
The school has since issued around 420 tablets, laptops and cellular-operated hotspots, said school Superintendent Shannon Grimsley.
"On the forefront of this, I think what was glaring in every community, not just ours, is how significant the equity gap can get, especially in rural communities," she noted. That gap showed not just with the need for connectivity, but also lack of actual hardware among families.
RCPS, which has a fiber connection, has since installed four external access points around its schools, with another 23 locations around the county offering free dive-up wifi connections. While those hotspots are helping some kids stay connected during a crisis, Robin Bolt, the school system's executive director of administrative services, recognizes that they're not a long-term solution.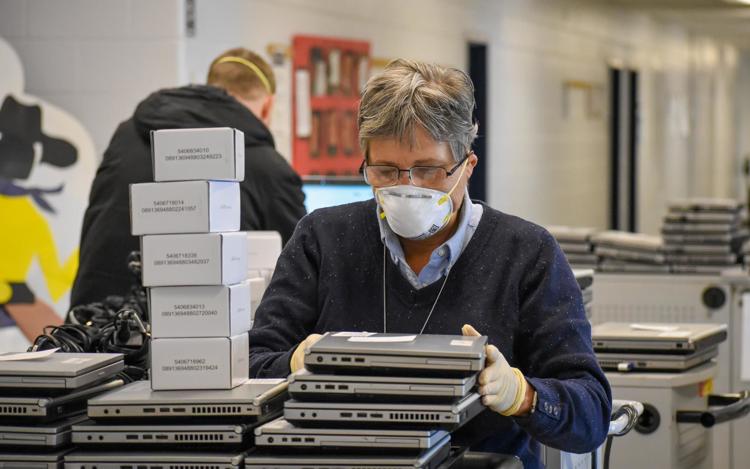 "In a perfect world I'd like to see internet access to every student that is equitable so you don't have the haves and the have nots," Bolt said. "And I would like for everyone to understand the importance of high-speed internet."
She's heard frustration from parents who worry their kids could fall behind or be penalized for not being able to log into classes or complete assignments.
"The parents are under a lot of stress and this doesn't help," she said.
Earlier this year the Federal Communications Commission launched the Rural Digital Opportunity Fund (RDOF), a $20 billion program to help expand broadband to underserved parts of the United States. But much more is likely needed and federal stimulus programs, launched recently to counter the economic meltdown, have put little toward expanding access. The FCC estimates that more than 21 million rural residents have little or no internet access, but other studies show the number is much greater.
Foothills Forum is an independent, community-supported nonprofit tackling the need for in-depth research and reporting on Rappahannock County issues.
The group has an agreement with Rappahannock Media, owner of the Rappahannock News, to present this series and other award-winning reporting projects. More at foothills-forum.org.
Curry said a major factor in wiring Rappahannock would be access to large federal funding opportunities like the RDOF, and he's hopeful that REC will be able to deliver a business plan to help it tap that money. 
In the meantime, Bolt continues beating the drum about the need for rural broadband to help prepare kids for the future.
"Technology is here to stay," she said. "I don't want to step on anyone's toes, but it's hard when there's no cellular and there's no internet to get this access to the students."
---
Necessity, not luxury
Compton is still able to complete many assignments from home, which only has satellite internet. But when she has to watch videos for class or download materials she goes to Headmaster's Pub in Sperryville, the closest hotspot.
The logistics of working from her car can be challenging. She needs to balance her laptop between her body and the steering wheel so she can type. If she has multiple assignments due on the same day, she may end up sitting at the schoolhouse at 11 p.m. trying to turn them in, she explained.
Kat Cole, who lives in Swindler Hollow outside Sperryville, has found a lot of things that aren't feasible under normal circumstances suddenly become so when necessary. But the transition hasn't been smooth.
Her only broadband option is satellite internet at a cost of $130 a month. And while it works for email and Facebook, she said it can't handle streaming or wireless calls — and certainly not the secure VPN connection she needs to do her work for the Department of Defense from home.
Sign up for our free email newsletter
During the first 14 days of the shutdown she self-quarantined, working out of her car. For the past few weeks, she's made the back room at Wild Roots Apothecary in Sperryville her office, wearing a mask, wiping down surfaces and making for a telecommute much different from the at-home experience.
"I'd like to see a real push for broadband access as infrastructure, not luxury," Cole said.
For now, she's enjoying the hours each day she's saving on the commute and finds herself spending money locally rather than at stores she would normally pass on the way home.
"Less time on the road means less chances of an accident and I'm still able to be productive — but that only works because of broadband access," Cole said.
Claire Catlett who was commuting most days to her job at Piedmont Environmental Council in Warrenton would also embrace telework as a more permanent possibility. She said she understands the challenges of bringing broadband to a rural place and gives the county credit for trying. But she also said finding a solution quickly is critical so that one crisis doesn't lead to another.
"Our economic success as rural communities depends on being able to have access to broadband," Catlett said.
So what might a solution look like? 
"It's going to be a lot of people — like we are now — realizing the greater needs of the community over some individual preferences and learning how to carve out really amenable solutions," she said.
Shoemaker shares the sentiment.
"I think this will definitely change people's perspectives about what they're willing to accept," he noted. "But I think there's also a way to do it that doesn't involve having to put up these huge megatowers with blinking lights on them everywhere."