'It's kind of like finding stuff in the attic, we're discovering potential'
A long-neglected Blue Rock Inn is breathing new life.
"I kind of feel like the inn and I are married together now. She's kind of like, 'Oh, you're here to take care of me!'" describes Jessica Haese, a L'Academie De Cuisine inspired pastry chef and founder of the boutique catering company Delightings.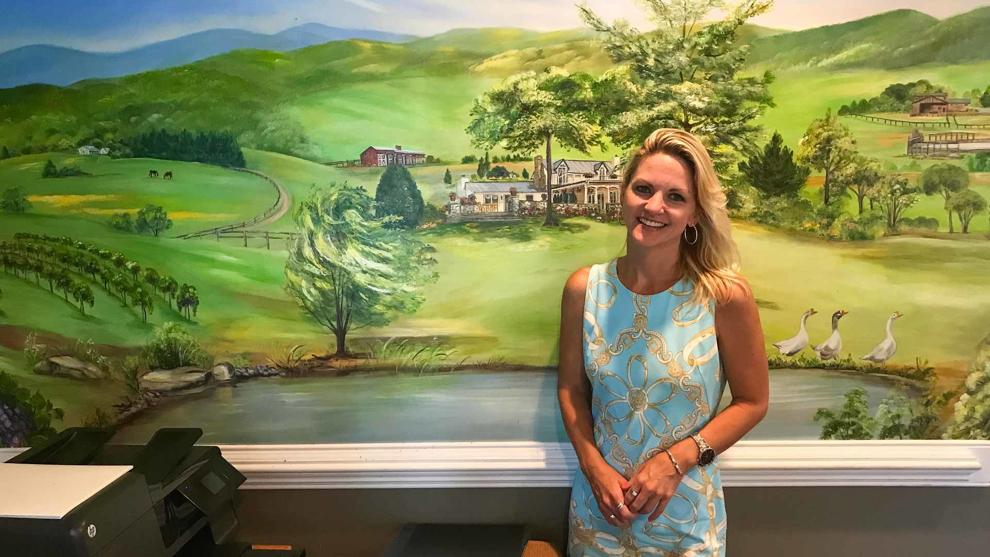 While Haese can't wait to slide trophy cupcakes from the inn's ovens, there first is restoration in store for the landmark inn, which under prior ownerships offered guests everything from high-end and B&B-style lodging to fine dining and casual pub fare from a patio overlooking 80 acres of grazing horses, a vineyard and pond.
"It's kind of like finding stuff in the attic, we're discovering potential," Haese explains. "We have lots of people on our team who are sharing their ideas of what [the inn] ultimately could be. If I had a crystal ball in front of me I would say this could be the premier wedding venue in Rappahannock County, really pulling in some of the [local] businesses here. 
"We are in a fantastic location, right in the middle of Little Washington and Sperryville," she points out. "For people coming here for a wedding, to have the opportunity to go into Sperryville . . . into Little Washington, to go to the vineyards in between, there's so much to offer. To have it be an experiential weekend is what we want to be a part of. So we're figuring it out as we go, what's the formula here. It's evolving." 
The Blue Rock's owner is Nick Dowling, president and CEO of Arlington-based IDS International, which provides national security solutions to military and civilian clients. It's his first foray into the hospitality industry, although he's leaving the inn's management — and refurbishment — to Haese, who has recently moved to Rappahannock from the DC area.
"I told Nick that the only way this is going to work is if I move down here, close out my life in Arlington, come down here full time," she says. "My daughter's going to school here, and I will really immerse myself in the community, be a part of the Businesses of Rappahannock, get to know the industry people, live and breathe it."
There's still no target date for an opening, as much of the inn, which has five guest-rooms, and grounds will require "updating," Haese says. 
"There will eventually be the lodging, which . . . wouldn't be enough for an entire wedding party to stay here, but we will partner with others [offering accommodations]," she foresees. In addition, "a tasting room — gastropub style — is what we're thinking to keep the regular business going on this side."
"It's been the most fun to peel away the ivy and freshen it up," the inn manager says of her first weeks into the restoration project. "It's a bit overwhelming, there's so much to do . . . but all said and done when we're sitting here this time next year hopefully we will be rockin and rollin, have a few weddings on the books, if not in full service."
As in fresh pastry offerings?
"I've got to get this kitchen functioning! I get a lot of inquiries, 'Hey are you still doing cakes?' I'd love to."