Three Blacksmiths, the acclaimed upscale Sperryville restaurant, was sold on Monday to a Washington, D.C. couple with extensive experience in the food and hospitality industries.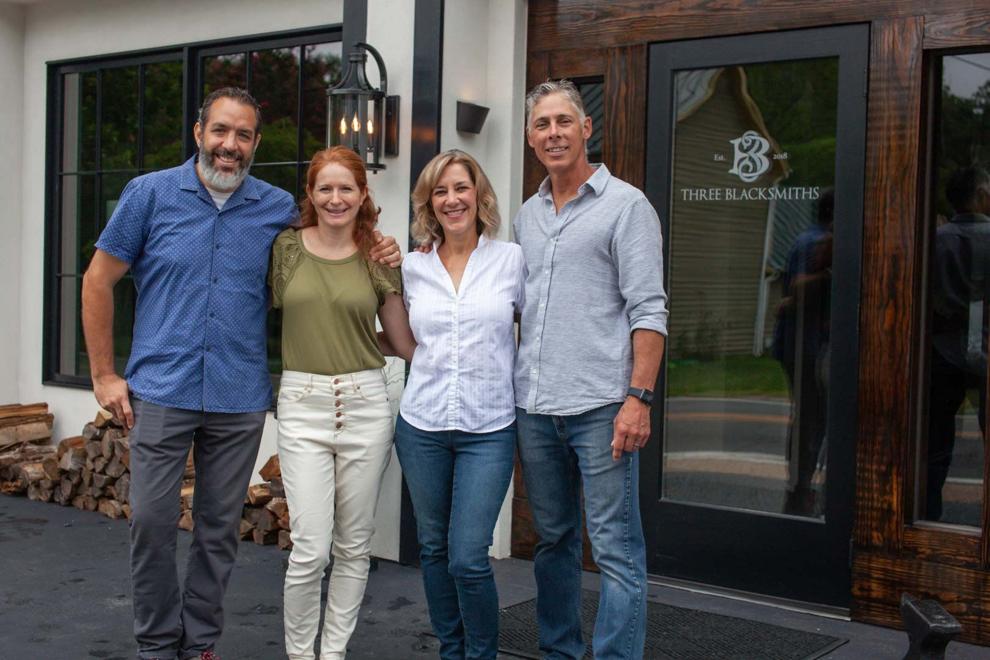 Three Blacksmiths, the acclaimed upscale Sperryville restaurant, was sold on Monday to a Washington, D.C. couple with extensive experience in the food and hospitality industries.
Now-former owners John and Diane MacPherson sold the eatery at 10 a.m. that day to restaurateurs Jake and Sara Addeo, a couple who have worked at and overseen establishments in New York City, Italy, Hong Kong and D.C. Both parties declined to disclose the sale price. 
"Jake and Sara understand and appreciate how special Three Blacksmiths is and will continue to offer the level of service, ambiance and local, seasonal foods that we've worked so hard to create," a message on the restaurant's website said. "You'll find that not much has changed when you visit us, just two new friends to welcome you at the door." 
The MacPhersons, who also previously owned the Foster Harris House bed and breakfast in little Washington, sold the wildly successful restaurant with the intent of retiring and spending more time with their son, who's a sophomore in high school. 
"We just decided we want to spend more time with him in his final three years of school. You know, he's an only child, so in the evenings he's alone and we want to be home," Mrs. MacPherson said Monday in an interview alongside her husband and the Addeos inside the restaurant.
The couple plans to remain in the county and become more involved in the Rappahannock community, while also finding time to travel and, hopefully, have some down time.
"We're really excited about going and having dinner on a Friday night, which we haven't done for 18 years," Mr. MacPherson said. "Yeah, that's going to be weird."
The MacPhersons, who have worked in the hospitality industry for nearly 20 years, expressed the utmost confidence in the Addeos' ability to carry on the business given their prestigious backgrounds in food. 
"With a business like this, it's so important to have the right people, you know, it's important that what happens next with Three Blacksmiths makes sense and it continues the kind of feel and soul and the vibe — and these are the folks that are going to do it," Mr. MacPherson said of the Addeos.
It has since become so popular that those who hope to visit must make reservations sometimes months in advance. 
The Addeos, who have three daughters and are currently living in an Airbnb near Sperryville since they haven't been able to find permanent housing in the county, first met in 2001 at the since-shuttered New York City seafood restaurant Esca.
After working their way up the culinary ranks, Mr. Addeo went on to open the since-closed italian restaurant Abboccato in Manhattan as executive chef, while Mrs. Addeo opened the John Dory as chef de cuisine under Michelin-starred British chef April Bloomfield.
Mr. Addeo worked in 2009 with the Bistro Laurent Tourondel Group in Hong Kong. After three years, the couple opened their own restaurant, Doppio Zero, in Sheung Wan, focusing on the pastas Mr. Addeo had cooked during a previous two-year stint in Italy.
After six years in Hong Kong, the Addeos moved to Washington, D.C. where Mr. Addeo headed up the kitchens of the since-shittered Osteria Bibiana Enoteca, The Occidental and Marra Forni, where he served as executive chef. 
Most recently, Mr. Addeo worked for Marra Forni, a Maryland-based company that manufactures pizza ovens and offers catering services in the D.C. area. But because of the pandemic, the catering business was hit hard, leaving him essentially unemployed. Mrs. Addeo spent the past five years as a teacher at Hearst Elementary School in the District of Columbia Public Schools system.
Mr. Addeo first connected with Mr. MacPherson several years ago in chefdom circles on social media where they exchanged messages about the industry. Then, a few years ago, the Addeos were visiting family in the area when Mr. Addeo drove past the construction site that would become Three Blacksmiths. He stopped and greeted now-former chef Ethan Taylor who was hammering nails while Mr. MacPherson was off fetching lumber.
"The chef's banging nails on the place already, while the other chef was going to get lumber. I was like, 'Oh, something special is happening here,'" Mr. Addeo said, recounting the episode.
The families got together a few more times in subsequent years, with Mr. Addeo at one point cooking in the Three Blacksmiths kitchen alongside Mr. MacPherson.
About a year ago, the MacPhersons were hiring for a new head chef, but also began mulling retirement. They considered Mr. Addeo for the role, but talks escalated to the point where they ultimately decided to offer the entire business to him and his wife. There was nobody else who they considered selling the restaurant to, Mr. MacPherson said.
"When Jake came along, while he was perfect for the executive chef position, we thought we would entertain the idea of offering the business to him, And that would allow us to move into retirement but, most importantly, put people in that fit what the vision for Three Blacksmiths was and what it means to the community and having it be a family business," Mrs. MacPherson said.
Mrs. Addeo couldn't believe the offer when it was first pitched, thinking it was too good to be true. But after meeting with the MacPhersons, she was sold.
"I thought there was a catch. Like, there has to be a catch. Why would they offer up this gem of a restaurant? … And I even said to John, I was like, 'what is the catch?' and he's like, 'nothing.' It's unbelievable," she said.
While the business is now formally in the hands of the Addeos, the MacPhersons plan to make themselves available as much as possible to ensure a smooth transition of management.
"We're going to be involved as long as Jake and Sara still need us to be involved behind the scenes," Mrs. MacPherson said.
---
---