Cases of COVID-19 and quarantines were up in Rappahannock County Public Schools this week following what school officials said was a busy weekend early in October where large groups of high school friends, many on sports teams, congregated while some had the virus, resulting in many close contacts.
As of Monday, 12 students and two staffers at Rappahannock County High School had the virus, while 56 students and staff were quarantined. At Rappahannock County Elementary School, two students tested positive with 12 students and staff in quarantine.
According to data provided by the schools, the numbers of quarantines exceeded the spike that occurred in September, but still pale in comparison to the surge in August when more than 140 staff and students were quarantined amid the delta variant's rampage across the country. Case numbers are also the highest they've been since August.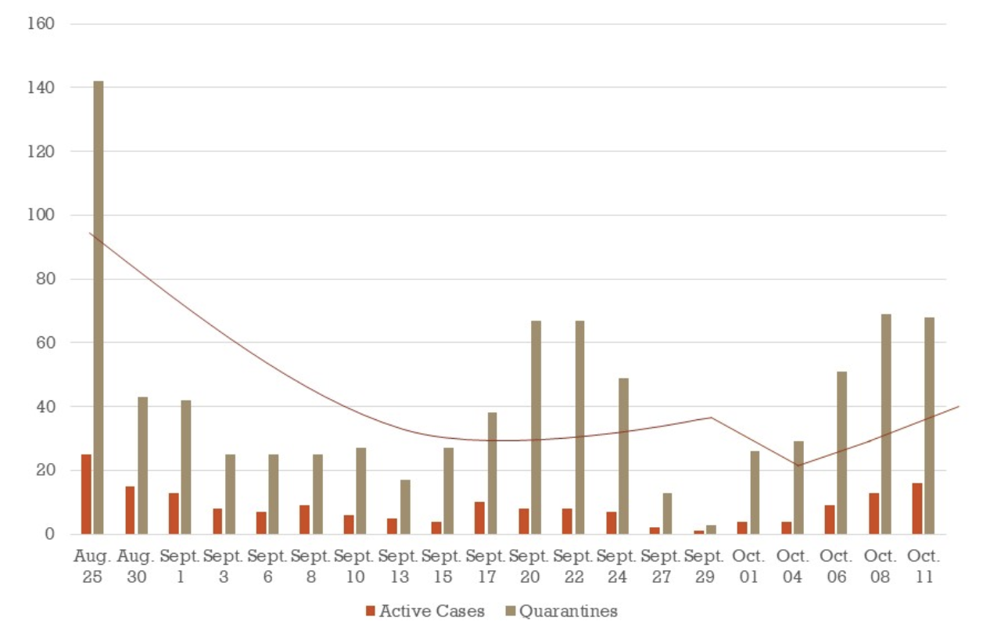 "We need everyone's help in making sure that we're safe and careful — even outside the schools," Superintendent Dr. Shannon Grimsley said. 
School Board Member Rachel Bynum, who's up for reelection this season and is facing a write-in candidate, said in a campaign mailer that parents expressed concern to her with what they felt was an unsafe indoor pep rally that recently took place at the high school and directly preceded the uptick in cases and spike in quarantines. Grimsley, who expects numbers to fall in the coming days, said her contact tracing team can definitively trace only a single case to the event.
"The issue is the choice of holding an indoor rally during a time of high Covid transmission," Bynum said. "The fact that Covid is spreading at other events doesn't make holding it a good decision, or make it compliant with our mitigation guidelines." Moving forward, most large school events will be held outdoors, Grimsley said Tuesday at a School Board meeting.
Grimsley also reported trouble with students improperly wearing masks at times in school, which can complicate contact tracing. Up to this point, officials have maintained that masking compliance hasn't been an issue.
In an effort to incentivize change among students, officials plan to inform them of how their actions could impact others and warn that school events — including Homecoming, which is scheduled for Oct. 29 — could be cancelled if cases don't fall, Grimsley said. Administrators are also considering a policy where students not in compliance with masking requirements could be forced into distance learning.
"We want our kids to experience these things, but at the same time … we wouldn't want to put our kids in jeopardy and, of course, health and safety comes first," Grimsley said. "But we think they can get control of it, and they can help us do it. The're young adults and we have student leaders who want to help. I think this is attainable — It's a great teachable moment, too."
---
---