Drive-through inoculations at fire and rescue stations a possible option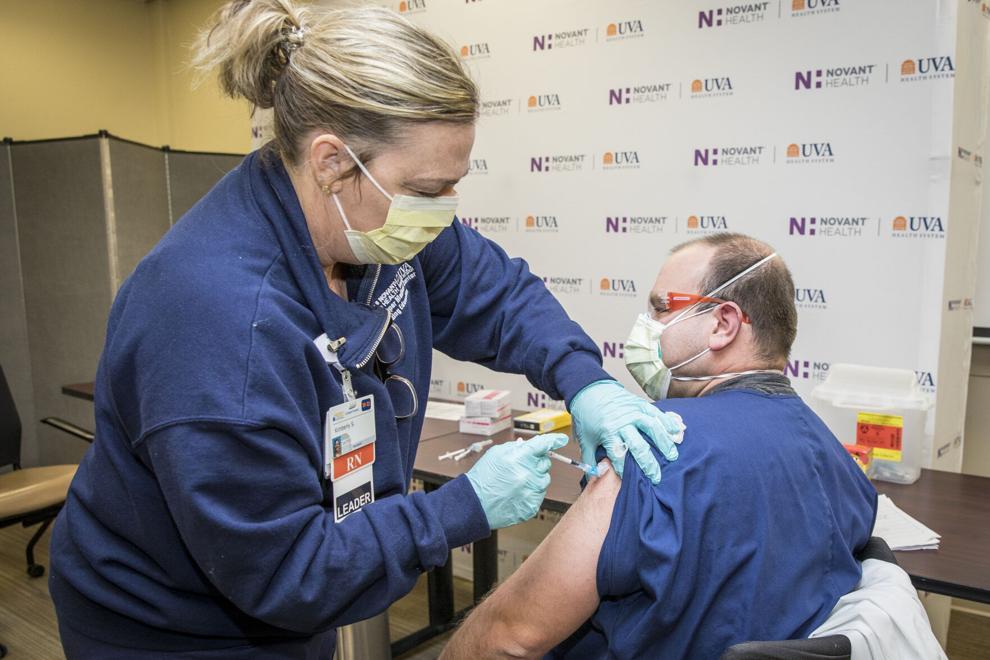 There was much to celebrate earlier this week when hospital workers around the country began receiving inoculations that should protect them from the pandemic that's killed more than 300,000 Americans.
But the next phase of the process — making the vaccine more widely available in a systematic and even-handed manner — is, in its own way, equally complex and challenging.
The CDC's Advisory Committee on Immunization Practices set things in motion last weekend by recommending that healthcare workers and residents of long-term care facilities be given top priority for getting vaccine shots. 
Boxes of Pfizer's vaccine began arriving in hospitals in the region this week, and next week teams from CVS and Walgreens are expected to start vaccinating residents of nursing homes.
But how "healthcare workers" is defined has been left up to each state, and in Virginia it covers a wide range. While hospital workers are at the top of the list, the "healthcare" group also includes people who could directly interact with known or suspected COVID-19 patients, such as Emergency Medical Services (EMS) and dialysis center personnel, and also those who see patients who aren't known to be infected. That includes primary care physicians and dentists, and the people in their offices, who come in contact with patients. 
Following them on the priority list are "essential workers" and "high-risk adults," neither of which has yet been delineated. 
In this region, the job of getting the vaccine to those groups, and ultimately to the general public, will largely fall to the Rappahannock-Rapidan Health District (RRHD), which serves Rappahannock, Fauquier, Culpeper, Madison and Orange counties. 
"We're having discussions now on how this will be coordinated," said Dr. Wade Kartchner, RRHD's health director. "It's a challenge for every health district in the state."
At least initially, those efforts will be constrained by how much vaccine is made available. Virginia hopes to have 480,000 doses delivered by the end of the year — although that remains a moving target — and each person will need to receive two doses 21 days apart. 
That would include the vaccine developed by Moderna, which is expected to receive emergency approval from the Food and Drug Administration shortly. An advantage Moderna's vaccine has over the one produced by Pfizer is that it doesn't have to be stored in ultra-cold freezers and it doesn't need to be diluted first. 
"As we get vaccines we will distribute it to the priority groups as quickly and efficiently as we possibly can," said Kathy Hatter, RRHD's local health emergency coordinator. She said it's still not known how many doses the RRHD will receive by the end of the year.
Despite the multiple layers of distribution, Hatter is confident the RRHD will be able to facilitate vaccinations for healthcare professionals outside of hospitals. "We have distribution lists for these healthcare providers," she said. "These are people we work with in our counties all the time."
Hatter has also begun having weekly virtual meetings with local officials in the region, including County Administrator Garrey W. Curry, to keep them up to speed with the still evolving guidelines from the CDC and the Virginia Department of Health. 
It's not likely that a COVID vaccine will be available to the general public until at least next spring. How it's distributed in a community like Rappahannock has not been determined, although one option could be drive-through inoculations at fire and rescue stations.
Until then, a lot of focus will be on educating people about the efficacy and safety of the approved vaccines. In clinical trials, some people did experience side effects, such as fatigue, headaches, muscle and joint pain and swelling at the site of the injection. Also, two British health workers who received the Pfizer vaccine last week had an allergic reaction. But this past weekend, the CDC said people who have suffered allergic reactions to other vaccines could still get a COVID inoculation, although they should be monitored for 30 minutes afterward.
The education campaign will also work to debunk the false myths about COVID vaccinations. One bogus claim, for instance, is that the vaccine can actually cause the coronavirus; another that the shots can alter a person's DNA. 
Health officials will likewise emphasize the need to keep up the precautions of mask-wearing and social distancing in the coming months. They worry that the approval of vaccines will make people think the pandemic is fading fast. 
"I certainly would encourage people to continue taking precautions through getting the vaccine," Kartchner said. "It makes no sense to let your guard down beforehand, and I suspect we're going to do so for even a few months afterwards before we see the effects of the vaccine in the community."
Dr. Jeffrey Feit, vice president of population health for Valley Health, agreed.
"What makes me anxious is that everybody's tired," he said. "If we see another big spike after Christmas and New Year's, we're going to test our limits prior to getting to the finish line.
"I can't emphasize enough the importance of doing the simple things. Wearing a mask. Keeping your distance. We need to keep doing the right thing for the next couple of months to get us to the vaccine.
"Take care of yourself. Take care of your family. Take care of your community."
---
---