Offers to donate food have been pouring in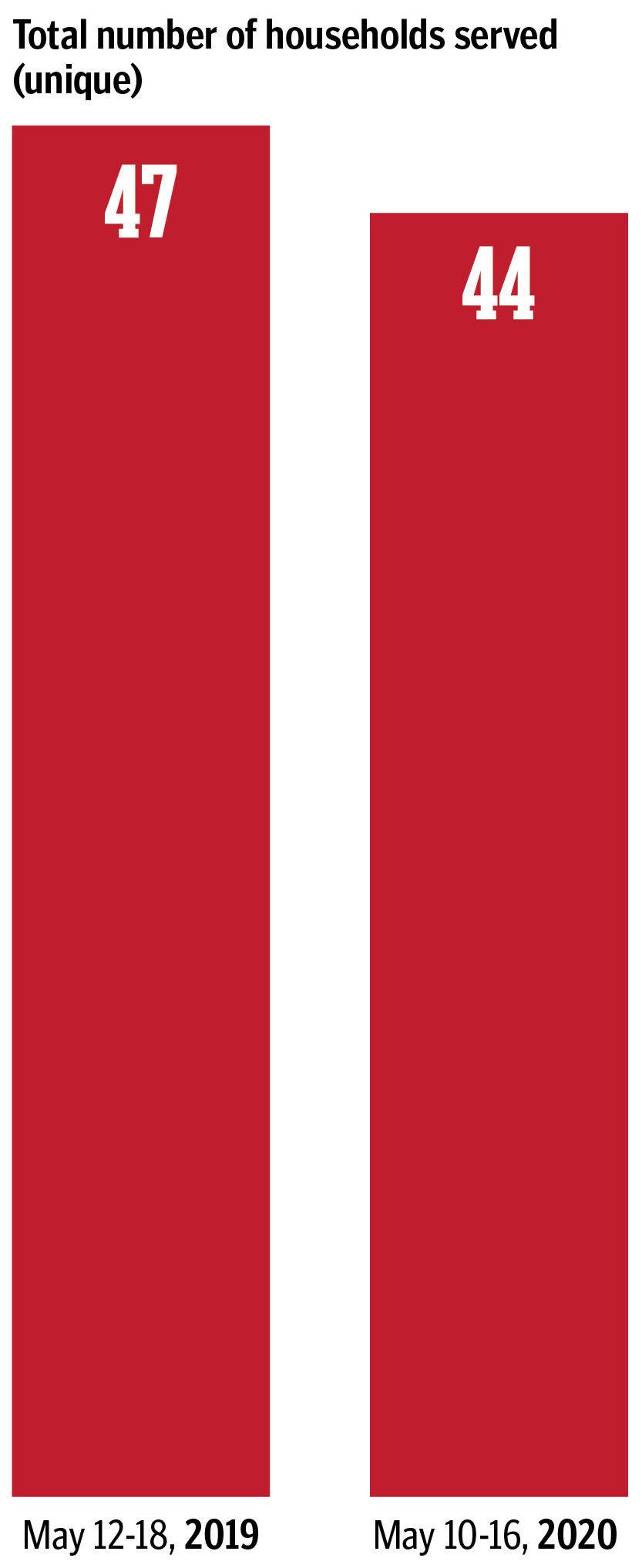 Rappahannock's Food Pantry saw client numbers decline week to week for the first time since the COVID-19 pandemic took hold in mid-March, with visits actually dropping below what they were at the same time in 2019, according to latest data from treasurer Pete Stenner.
This same past week in 2019 saw 47 households served by the Food Pantry. This past week of 2020 the number dropped to 44, a 6 percent decrease.
Pantry Manager Mimi Forbes said they're still getting a new person or two every day they're open. But the surge in demand they saw the first few weeks after non-essential businesses closed and many residents were laid off or furloughed has returned to normal.
One reason may be generous unemployment benefits from the state, which now include a $600 a week boost as part of the federal CARES Act, as well as a one-time stimulus check.
Another reason, said Stenner, may be that the pre-packaged boxes of food the pantry now distributes are providing more supplies to families than they would normally have picked up when shopping themselves, allowing them to visit less often.
Forbes said she's reaching out to social services and the local churches to learn more.
Food supply, on the other hand, is steady. The pantry continues to get food from the Blue Ridge area food bank, though the list of what's available is half of what it used to be, Forbes estimated.
Local farms have stepped up to donate produce and the pantry is now sourcing beef and pork locally to augment the lack of meat from Blue Ridge. A new initiative from the Piedmont Environmental Council is supplying fresh milk from area dairies.
In addition, the pantry is putting monetary donations back into local businesses, by purchasing coffee from Central Coffee Roasters, for example, and using funds from the Lion's Club to buy 50 prepared meals each week from area restaurants.
The offers have been pouring in to such an extent that they may not be able to accept them all at the moment.
"It's what we do normally but it's basically on steroids," Forbes said.
She doesn't expect sourcing and operations to transform over the long term, but she said they may consider limiting the number of clients in the pantry at one time once pandemic measures have lifted and they can start shopping for themselves again.
---
Click here to sign up for the C-19 Daily Update, a free newsletter delivered to your email inbox every morning.