This is the second in a series of conversations with the 2020 Fifth district congressional candidates. Each week, the Rappahannock News will give Republican Bob Good and Democrat Cameron Webb an opportunity to present their views on a single issue. In Part II, Webb and Good share their thoughts on COVID-19 and the road to economic recovery. Webb accepted our offer for a phone interview. Good declined the invitation to interview but recently spoke with this newspaper about his views and also sent a brief statement in response to written questions.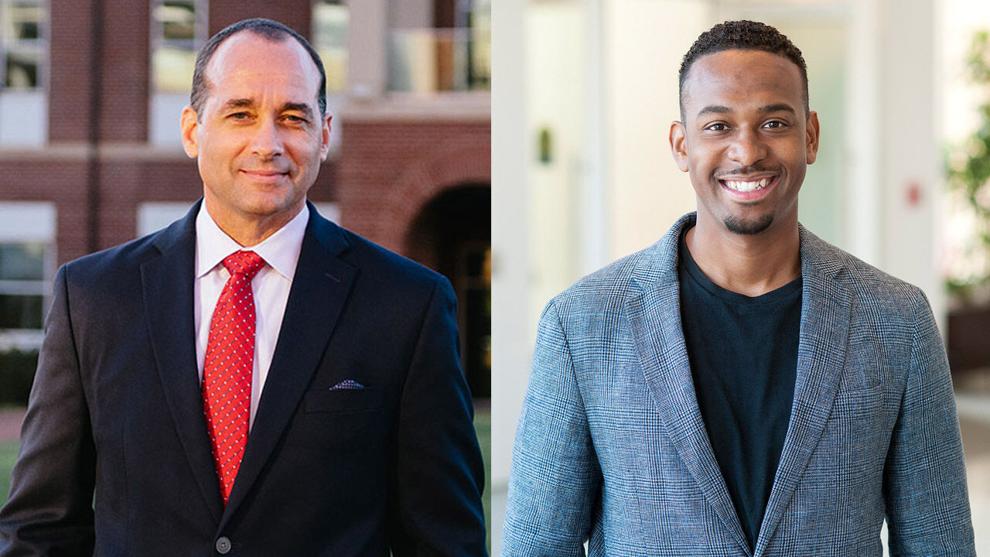 On the government's pandemic response
Good: "President Trump and the White House Coronavirus Task Force are leading an unprecedented, comprehensive, and aggressive approach to slow the spread of the virus. I applaud the President for his hard work to bring a vaccine to the American people in record time. Furthermore, I fully support his bold response to COVID-19, which includes his declared public health emergency and suspended entry into the U.S. back on January 31 as well as making the U.S. the world leader in COVID-19 testing."
Webb: "We have Congress's response and we have the administration's response and they're somewhat different roles. I think [Congress] has been focused on [trying to] stabilize our economy, stabilize families, and stabilize businesses in the midst of all this. I will acknowledge the first tranche of funding, which included that funding for the PPP [Paycheck Protection Program], which included the funding in terms of unemployment insurance, I think that was really critical especially to help early on in this pandemic. There are really important eviction protections that were included and I think that was important … On the other hand, when we talk about the response with regard to actually addressing the virus, that's where I'll get into the testing, which I feel like we still haven't gotten our arms around. That's making sure that in all of our localities we're able to get tests to individuals who may need it and get test results quickly. … You've got to be able to test so that you can isolate and contact trace."
Good: "I'm with the president on opening up our economy. I think that teachers are essential workers and education is essential for our kids. We can take reasonable precautions and reasonably protect them. It's demonstrated that there's very little risk for children, for kids, and so I agree with the president about getting our kids back to school and we will weather this storm together. As we have done in the past, we can responsibly run and grow our economy while ensuring the most vulnerable Americans are protected. I firmly believe the American people understand how to manage their health and take care of their families. It is critical that the production of medications is brought back to the United States in order to secure the health of our citizens and reduce or eliminate dependence on foreign hostile nations." 
Webb: "I think people have presented a really false dichotomy … They've said either we can open up and let things get back to normal or we can stay closed and hope that we get the virus under control. In reality we're doing something in between … And so I think to start, we need a unified message. I hope Mr. Good and I both are telling everybody, wear masks, keep physical distance. You can go eat at a restaurant but eat outdoors, maintain physical distance from folks. … Our work has to look like getting testing rolling, making sure we have enough contact tracers so we can keep track. These are public health fundamentals and nations all over the world have gotten it right. So you can't put the cart before the horse. … It's about saying, hey, if we're opening up, if we're having people out in our community (which we're already doing) we need to do it safely. … If our kids are in schools we need to have the design so that it works. You can't turn a blind eye to the fact that this virus is here. Doing so is frankly dangerous."
On a second stimulus check
Good: "There's no government program, there's no government package that can rescue us from the results of the government shutdown."
Webb: "I think [Bob Good] is right on one hand. We can't just simply pour more money into people's pockets and expect that that's going to be the way that we make it through. The reality is, the only reason we're talking about doing another tranche of funding to individuals is because we have not done the work of getting the virus under control, because we have failed to properly keep the number of new cases at bay. We failed to properly scale up our testing, we failed to properly distance and wear masks. We haven't done our part of that social contract to keep each other safe. And until we do that we're going to keep having to talk about the government essentially keeping folks afloat until the threat is minimized."
On how to mobilize the economy
Good: "As someone with a financial background, I understand that a strong economy is directly correlated with sound fiscal policies. I believe that free, fair, and open markets, the return and growth of American jobs, and the elimination of barriers that obstruct economic vitality are the building blocks for a strong and prosperous future for generations to come. I fully support President Trump's economic policies of low taxes, deregulation, affordable plentiful energy produced in America, and fair trade. I also support his priority of growing and protecting American jobs for American workers. When you're trying to get some 40 million Americans back to work, reforming immigration and limiting the number of immigrants who come and take American jobs for lower wages … is even greater [a priority] to try to get Americans back to work. Permanently establishing and building upon these policies is of critical importance and I am committed to working toward those objectives in Congress."
Webb: "The first step to mobilizing our economy is getting the virus under control. We need to invest at the federal level in testing to ensure we have the supplies to test widely ... Next, we need to stabilize families and small businesses. We've lost so many businesses and jobs during the pandemic and resulting economic downturn, so it's critical to support the small businesses, workers and consumers who are struggling … Along those lines, we must protect against evictions and student loan defaults that would have long-term economic ramifications that would stunt our economy and devastate families and communities. Beyond those initial steps, it is important for the recovery that we create opportunities for everyone, which will help increase consumer spending, support businesses that are getting back on their feet, and help our economy grow across the board. … From investing in broadband to utilizing the newly-implemented United States-Mexico-Canada Agreement to support farmers and manufacturing, to supporting apprenticeship programs and vocational job training, there are many ways we can help grow and mobilize our economy in the wake of COVID and I look forward to working with leaders all across our district to get it done."
On health care after coronavirus
Good: (No immediate response from the candidate).
Webb: "The pandemic is exposing so many cracks, certainly in access to care, certainly in the social determinants of health and who we're seeing becoming sick with COVID-19. I think it becomes a clarion call for us [to make] sure that everyone has access to care … I think it's just a matter of expanding that with a public health insurance option that says, no matter who you are, if it's the cost of private insurance that's prohibiting you, you can get public insurance here at a rate that's relative to your income to make sure that you're covered. The folks who are uninsured, it's impossible for them to get access to COVID-19 testing but for community-based testing and so that creates a layer of challenge. If they do get COVID-19 or end up in the hospital in the ICU for ten days, which seems to be an average. That's hundreds of thousands of dollars that there's no way for them to ever pay. … And then … look at the impact it's had on the cost of prescription medications and folks being able to afford those medications. I mentioned my hospital was losing 85 million dollars a month and that's because we weren't doing elective procedures. We need to move to value-based contracting in health care instead of purely fee per service and that's something that private insurance has helped lead the way on and that's one of the reasons why I advocate for maintaining private insurance because I think they are a key innovator in the American health care system."
---
Click here to sign up for the C-19 Daily Update, a free newsletter delivered to your email inbox every morning.