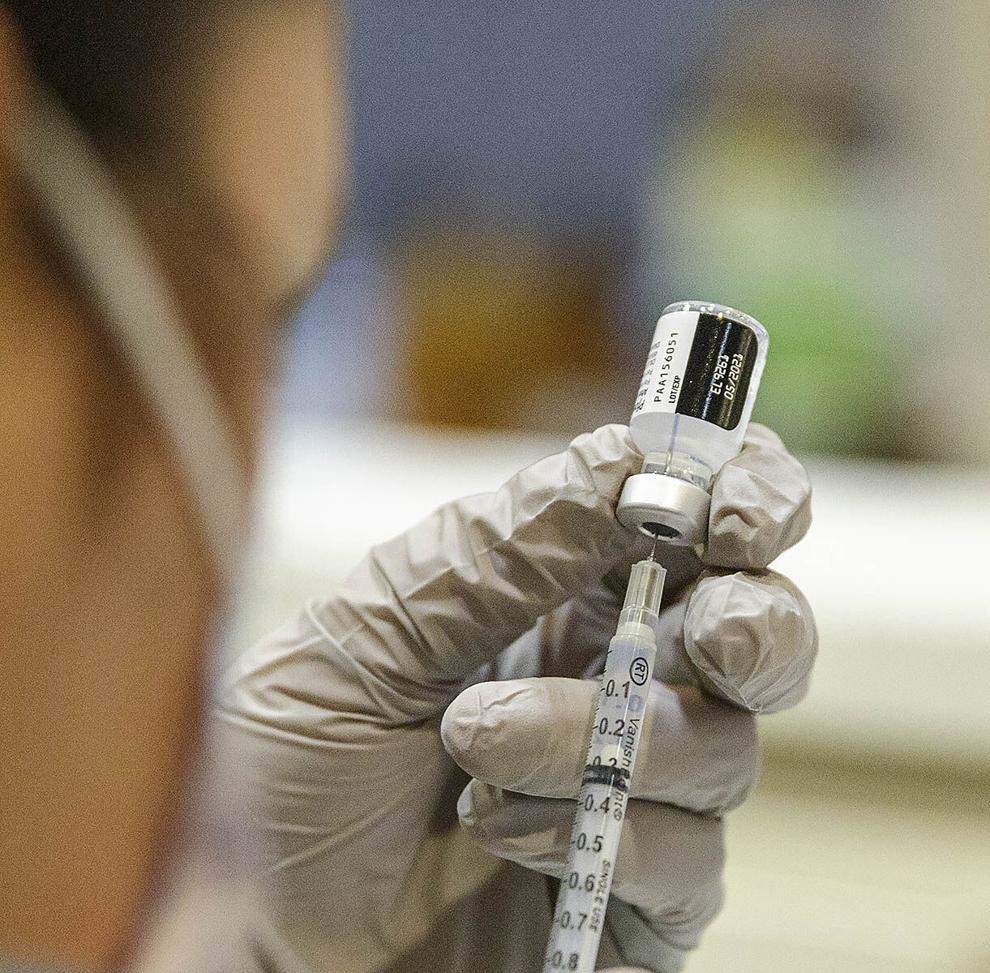 Starting Monday, Gov. Ralph Northam is easing pandemic restrictions on social gatherings, entertainment venues, alcohol sales and will end a voluntary curfew as Virginia's COVID-19 cases continue to decline.
Northam also announced Wednesday morning that several pharmacies across the state will soon begin distributing COVID-19 vaccines, including Walmart, Walgreens, Giant and Safeway. CVS pharmacies began vaccinations earlier this month.
---
Sign up for the C-19 Daily Update, a free newsletter delivered to your email inbox every morning.
---
Northam said he also expects federal approval of a one-dose Johnson & Johnson vaccine this week, and Virginia may start receiving up to 50,000 doses next week.
Virginia's average COVID-19 case rate is the lowest it has been since Thanksgiving, and more than 1.7 million vaccine doses have been distributed, Northam said, leading to the ability to "slowly ease" some state restrictions.
Starting March 1, Northam is modifying restrictions on the following:
Social gatherings: The maximum number of individuals permitted in a social gathering will increase from 10 to 25 people for outdoor settings, while remaining at 10 persons for indoor settings.
• Entertainment venues: Outdoor entertainment and public amusement venues will be able to operate with up to 1,000 individuals or at 30 percent capacity, whichever is lower. If current trends continue, these venues may be able to operate at 30 percent capacity with no cap on the number of people permitted to attend starting in April. Indoor entertainment and public amusement venues must continue to operate at 30 percent capacity with a cap of 250 people. All entertainment venues were previously limited to a maximum of 250 individuals.
• Dining establishments: The on-site sale, consumption, and possession of alcohol will be permitted until midnight, extended from 10 p.m. All restaurants, dining establishments, food courts, breweries, microbreweries, distilleries, wineries, and tasting rooms still must be closed between midnight and 5:00 a.m.
• Overnight summer camps: As of May 1, overnight summer camps will be able to open with strict mitigation measures in place. Registration can begin now.
"We hope that with trends continuing as they are we can look at further steps to ease restrictions," Northam said, noting the state is now less than a week shy of the one-year anniversary of Virginia's first positive COVID-19 test.
After last week's wintry weather across the country caused vaccine shipment delays and canceled clinics, Northam said 220 vaccine clinics are scheduled across the state next week. He also said the Biden administration is expanding a pharmacy partnership to get "more shots into arms."
In the next few weeks, Walgreens, Giant, Safeway and Walmart pharmacies will begin offering vaccines, he said. The doses, however, won't be available at every pharmacy. The Virginia Department of Health is working with the pharmacy companies to target vulnerable populations.
Walmart plans to hold off-site vaccine clinics and will not offer shots at stores. The clinics will allow Walmart to vaccinate a few hundred people per day at different locations across the state, Northam said.
Also starting this week, state health officials will be calling residents who pre-registered for the vaccine about scheduling doses, "so if your phone rings, you need to answer it," Northam said.
Addressing a spike in COVID-19 death numbers in Virginia this week, with more than 700 new deaths reported since Saturday, state health officials said part of the issue is with medical facilities processing death certificates. But the state is also seeing the deaths as "a lagging indicator" after a January surge in cases.
To pre-register for the COVID-19 vaccine, see vaccinate.virginia.gov.