Tessitore sentence suspended, Armel probation revoked, Atkins trial scheduled
Lawrence Wood, Jr., of Amissville, was found guilty on one charge of construction fraud in Rappahannock County Circuit Court on Thursday. Wood, who since 2003 has been indicted on close to 60 criminal violations related to forgery, fraud and bad checks in Rappahannock County alone, has been scheduled to appear for sentencing on Sept. 13, 2021.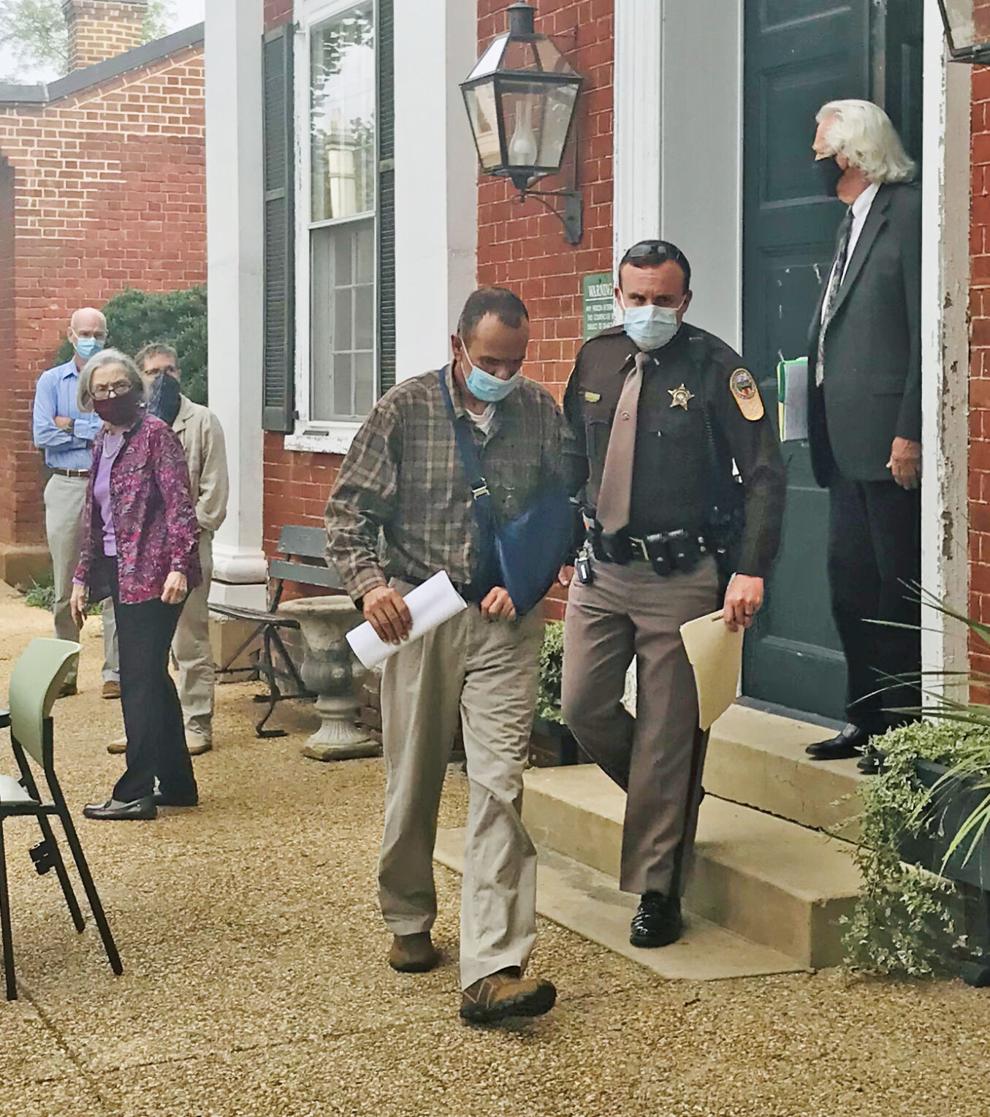 In January 2020, Wood signed a contract with Megan Smith of Washington in which he agreed to build an addition to Smith's house for an estimated cost of $36,500. Wood told her that he required a $16,500 deposit in order to purchase materials for the project. Smith obliged and gave him a check on March 4, 2020 which he cashed three days later.
"As it turns out, [materials] were never paid for by the defendant," said Commonwealth's Attorney Art Goff. Two employees of Cherry Street Building Supply in Culpeper testified that they quoted Wood for materials related to the project in July 2020, but that the contractor had neither ordered nor purchased them. "He [Wood] never asked us to order or deliver them," said Chris Smith, who works at Cherry Street and has known Wood for more than 30 years. 
Wood did use the quote, however, to appease Smith's multiple requests to see either the building materials that Wood had purportedly used her money to purchase or an itemized receipt confirming that the materials had at least been ordered. Wood blacked out the word "Quote" on the document from Cherry Street and presented it to Smith as proof of purchase.   
When September came around and still no headway had been made on the addition, Smith demanded her money back. She alleged that he often failed to show up for work when he said he would and that he avoided communication. "My patience was wearing thin," she said. 
The contractor did not return Smith's money in September, insisting that he had already spent it. Eventually, Wood finally did write Smith a check refunding her $16,500 — but it turned out that the bank account associated with Wood's check was closed. 
Speaking for the prosecution, Goff said that Wood's failure to perform work, refusal to return funds and his outright dishonesty with Smith about having purchased materials was sufficient evidence to suggest that Wood had attempted to "bamboozle" her with "lie after lie after lie." To this day, Smith has recovered "not one red cent" of what she paid Wood last January and the addition has not been built, Goff said. 
David Walls, Wood's attorney, argued that his client had not intended to defraud Smith. Rather, Walls said, Wood was a slow worker. "He has a reputation for good work but slow work, unfortunately," Walls said. "This is a question not of fraud, but of slow work."
Judge James P. Fisher evidently did not find Walls' argument convincing. He found Wood guilty as charged and promptly scheduled a sentencing date. 
Tessitore to serve nine months
The court suspended all but nine months of Brandon Tessitore's 10-year sentence on Thursday and placed him under three years of supervised probation. Tessitore, 28, of Flint Hill, who had no prior convictions, was indicted in March for distributing dextroamphetamine (a stimulant similar to Adderall) and strangulating his pregnant wife, Hannah Tessitore. According to Hannah Tessitore's voluntary statement, her husband "bent my thumb back … kicked me then threw juice on me so I pushed him away and he grabbed me by the throat."
In court on Thursday, Brandon Tessitore showed remorse for his behavior. "I apologize for my actions and I won't be a problem on probation," he said. 
David Walls, Tessitore's public defender, added that his client had "definitely become a more humble person" as a result of the time he spent at Rappahannock Shenandoah Warren (RSW) Regional Jail.
Before suspending the sentence, Judge Fisher admonished Tessitore. "I don't know what the status of your relationship is [but] don't treat someone like that," the judge said. "You can grow from this, you can recover, you're a young man. … Be busy and have a good job." 
'I've lived a life of lost years'
Also on Thursday, the court reinstated the 39-month sentence of Douglas Armel, Jr., 57, who was found in violation of his probation. Armel's record shows he has been involved in the Rappahannock County justice system since at least 1996. In 2017 he was convicted of bank robbery in Knoxville, Tenn., and was found in violation of the terms of his Rappahannock County probation from a prior offense. In light of the violation, Armel was returned to Rappahannock, where the judge revoked his probation, forcing him to serve the remainder of his sentence in jail. 
"I've kind of lived a life of lost years … it's all been stolen from me because of addiction," Armel said. "It wasn't until I went to federal prison that I met an addiction specialist who gave me one-on-one counseling." Speaking in his own defense, Armel said he wished he had gotten drug counseling sooner, and stated further that during his years in prison he made every effort to better himself. 
Armel's story did little to persuade the court. "My judicial philosophy is there's nothing much I can do," Judge Fisher said. "Every crime has a price tag attached to it."   
Atkins trial scheduled
Counsel for Washington resident Tammy Atkins, who stands accused of embezzlement, scheduled her trial for Sept. 13 at 1 p.m.
---
---