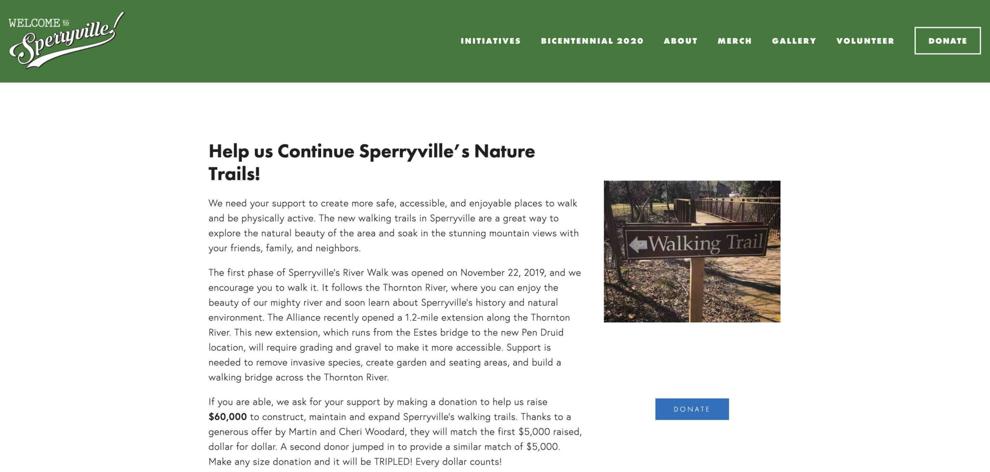 The Sperryville Community Alliance is announcing a campaign to raise $60,000 to enhance, maintain, and expand the network of walking trails throughout the community. These walking trails seek to connect the village from the River District to the Route 211 corridor. They provide a space for seniors and families to walk and exercise as well as an opportunity to enjoy nature along the historic Thornton River.
The Sperryville River Walk, which follows the Thornton River off Main Street, was opened on November 22, 2019. The Alliance recently established a new 1.2-mile extension that continues from the Estes bridge to the new Pen Druid location. This fundraising campaign seeks to raise funds to grade and gravel this trail to make it accessible, remove invasive species, create garden and seating areas, educate users on the local environment and history, and build a walking bridge across the Thornton River.
From $5 to $500, every dollar counts. Tax-deductible donations can be made one of three ways:
On May 4, contribute to the Give Local Piedmont at www.givelocalpiedmont.org and select Sperryville Community Alliance.

Donate online at www.sperryfest.org/donate

Mail a check to Sperryville Community Alliance, Attn: Sperryville Trail Network, P.O. Box 63, Sperryville, VA 22740.
The Sperryville Community Alliance is a 501(c)3 nonprofit, tax-exempt charitable organization established in April 2019 with a mission to support the well-being of the community and residents of Sperryville by promoting activities to enhance the safety, inclusiveness and vitality of the community.
---
---